​​Heydar Aliyev Centre
by Zaha Hadid Architects with DIA Holding
Client The Republic of Azerbaijan
Awards RIBA Award for International Excellence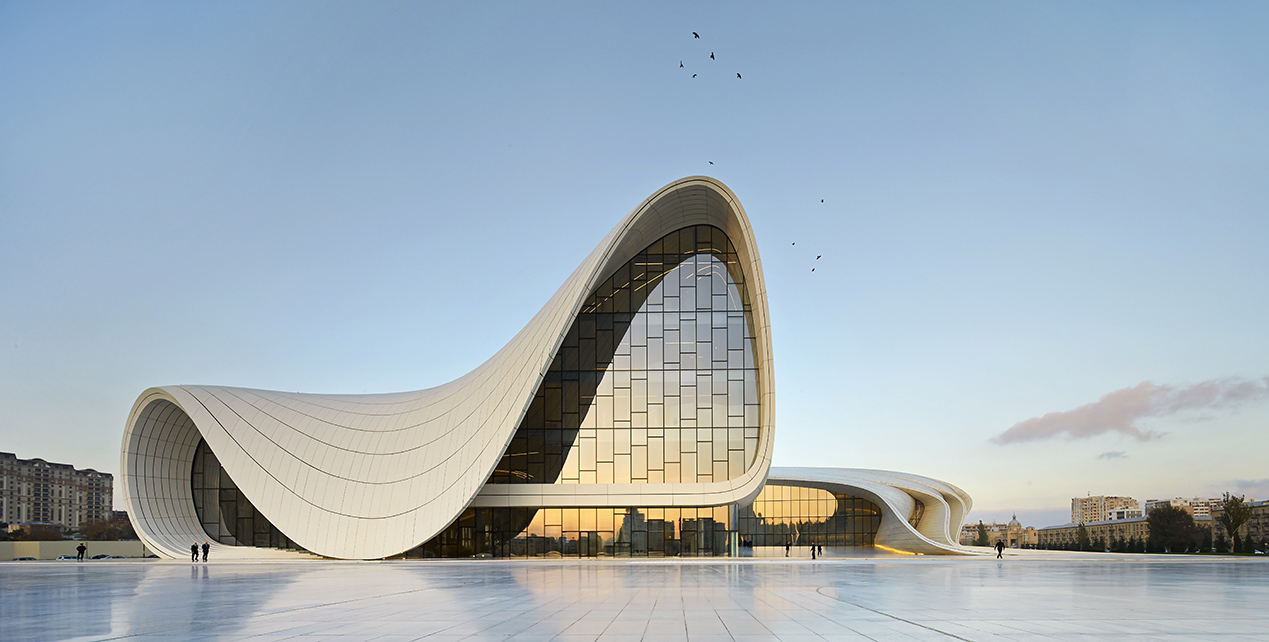 Designed to celebrate Azerbaijan's independence and first president Heydar Aliyev, Zaha Hadid Architects', Heydar Aliyev Centre in Baku offers a vibrant programme of arts, music and performance to audiences in the vaulted spaces and distinctive wave-like form that dominates the eastern aspect of the city.
The building represents a break from tradition - not least in the post-Soviet landscape of Baku, and now welcomes over 1000 visitors a day as both a public social space and a cultural nucleus for the city. The complex landscape has been brought together into a single, fluid composition which appears out of the hill. The building is distinctive not only for its scale and undulating form, but for its use of white cladding and paving, a marked departure from the traditional architecture and aesthetic of the city. The heart of the building is found in its sophisticated and welcoming central auditorium; a warm performance space whose innovative use of oak to line and sculpt the interior showcases a sophistication in both vision and joinery.

The project is not just the building a new urban city space on a grand scale. The control of the landscape is sophisticated, assured and comfortable. The park illuminated by the building as a lantern has created a place to enjoy the grass, perch by the cooling water, stroll slowly up the ramps, roller blade at speed on the smooth surfaces or just promenade.

The building has three separate 'zones' generated from the original brief – a library, permanent exhibition as well as an auditorium with multipurpose support spaces. The white interior has the scale of an ocean liner with waves of curling white plaster enveloping the balconies as they wrap and coil around the auditorium. This space geometrically merges gracefully and seamlessly with the other two areas. This is really sophisticated dynamic handling of space – that is consistent throughout with the original concept. Carefully detailed and minimal glass balustrades never detract from the sculptural intent. Lighting is equally well handled in response to the architectural intent either at high level as random strips or at low level to emphasise the emerging sculptural walls. Joinery is inventive and responsive to each twist and turn that elements need to address. All details are supported by the quality of the build which is very good.

Cocooned within all this white skin is the auditorium. This is the kernel of the building and stepping into the space, which still has the sweet smell of new timber, is an astounding experience. It is a womb like meticulously detailed oak interior where the continuous ribs of timber engage elegantly with the rows of seats. The details of secondary rails and lighting to steps and space for theatre lighting are all handled in a sophisticated and mature manner – without fuss and without resort to unnecessary details. It is both elegant and challenging and is probably why others have written that this building delivers some of Zaha's best architecture.
Contractor Dia Holdings
Structural Engineers Tuncel Engineering, Akt
M&E Engineers Gmd Project; Hb Engineering
Lighting Design Mbld
Fire Consultants Etik Fire Consultancy
Acoustic Engineers Mezzo Stüdyo
Facade Consultants Werner Sobek
Cost Confidential
Internal Area 101,801 m²
Date Of Occupation 11/2013