​​The Ring Of Remembrance, International WWI Memorial Of Notre-Dame-De-Lorette
by Agence D'architecture Philippe Prost (AAPP)
Client Conseil Regional Nord-Pas-De-Calais
Awards RIBA Award for International Excellence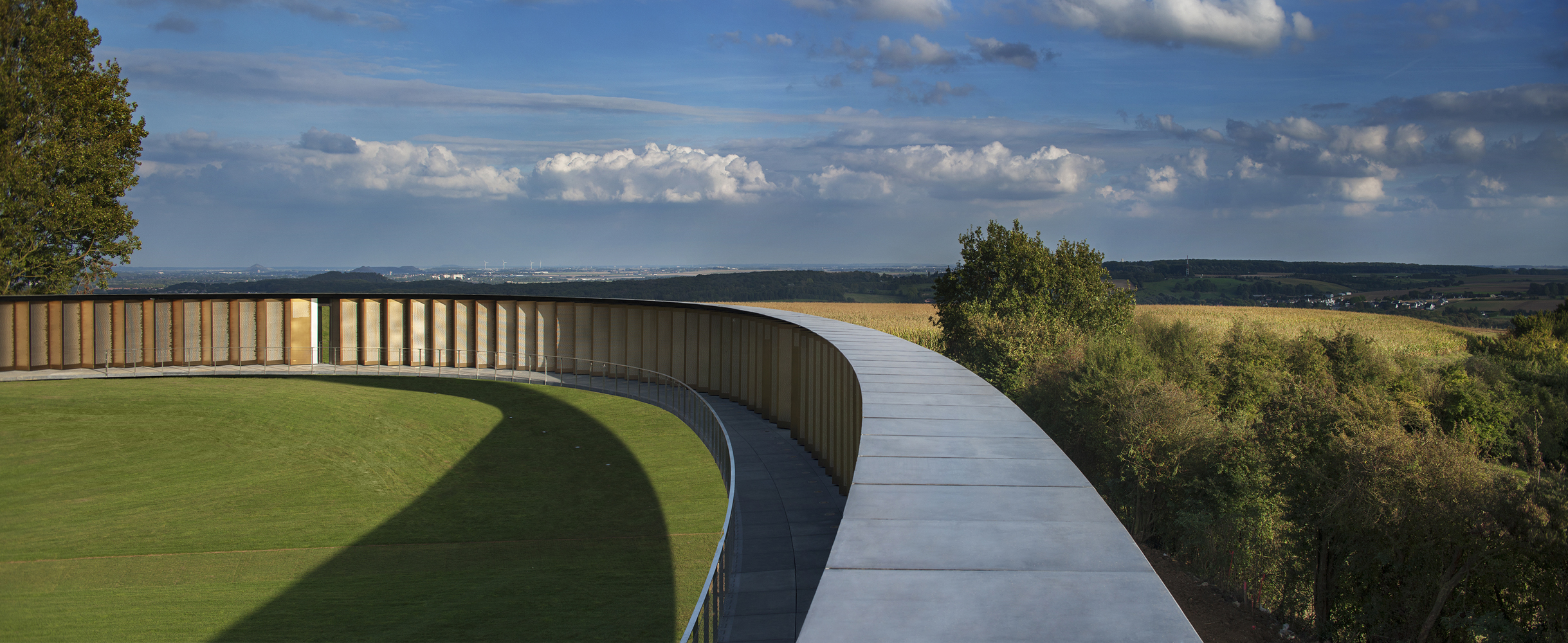 The Ring of Remembrance memorial in Notre-Dame-de-Lorette near Arras commemorates the thousands who died in the region during World War I. The unification of former enemies is the strong idea that underlines AAPP's design scheme of the ring, inscribing all 600,000 names irrespective of their nationality, creed or rank.
Located on the Hill of Lorette the location has long views over the battlefields of the plain of Artois, the piece sits lightly in the landscape, rooted at one end but cantilevers out precariously as the landscape falls away, and representing the fragility of peace.
Philippe Prost describes his elliptical form for the memorial as giving 'shape to brotherhood' and 'expression to peace'. The ring symbolises unity in the form of a human chain, like people holding hands. He won the project in competition timed to mark 100 years since the start of the war. The memorial is located on the Hill of Lorette adjacent to the huge French National Memorial. It is one of the few high points in this otherwise flat landscape, which made it strategically important during the war and the focus of particularly brutal and bloody struggles.
The exterior and structure of the 328m ring is made out of black fibre-reinforced high strength concrete. This innovative use of a new material, together with the hidden assistance of pre-stressed post-tensioned cables, enables 20% of the ring to cantilever out horizontally as the landscape falls away. This is the masterstroke of the piece and a discrete but not inconsiderable feat of engineering. It means that the ring not only creates a powerful enclosure but is also open to the landscape or battlescape and all the other memorials in the area. It is an appropriately dark and sombre presence that sits lightly in the landscape. It is rooted into the hill at one end yet seems to hover precariously over it at the other in an uneasy balancing act.
The visitor enters a half buried, trench-like walkway that takes them to the interior of the ring. The names are cut into the bronze surface of full height panels revealing their stainless steel core; they are folded out like the pages of a book and listed in alphabetical order. Seeing 'Adolph Winterfeld' close to 'Ernest Winterburn' , close to 'Richard Winterbottom', close to 'Wilhem Winter' and 'Paul Winter' is a powerful reminder of the shared humanity of former enemies. They could have been brothers but instead they found themselves instructed to kill each other. There are four 'pages' of Smiths and many names from exotic far flung places. The bespoke font flexed in size to fit all the names in the ring and has a very particular yet timeless appearance. The choice of materials is robust and innovative and the detailing is immaculate. It has been made to last. From concept to execution it is a very fine piece of design.
Contractor Eiffage Tp
Structural Engineers C&E Ingenierie
M&E Engineers Choulet
Cost Consultant Bmf Bureau Michel Forgue
Landscape Architects David Besson Girard
Graphic Design / Font Specific Design Pierre Di Sciullo
Lighting Design Ouest Lumiere
Cost £3,900,000
Internal Area 1,385 m²
Date Of Occupation 11/2014