​Blavatnik School of Government
by Herzog & De Meuron
Client Blavatnik School of Government
Awards RIBA National Award 2016, RIBA South Award 2016, RIBA South Client Of The Year 2016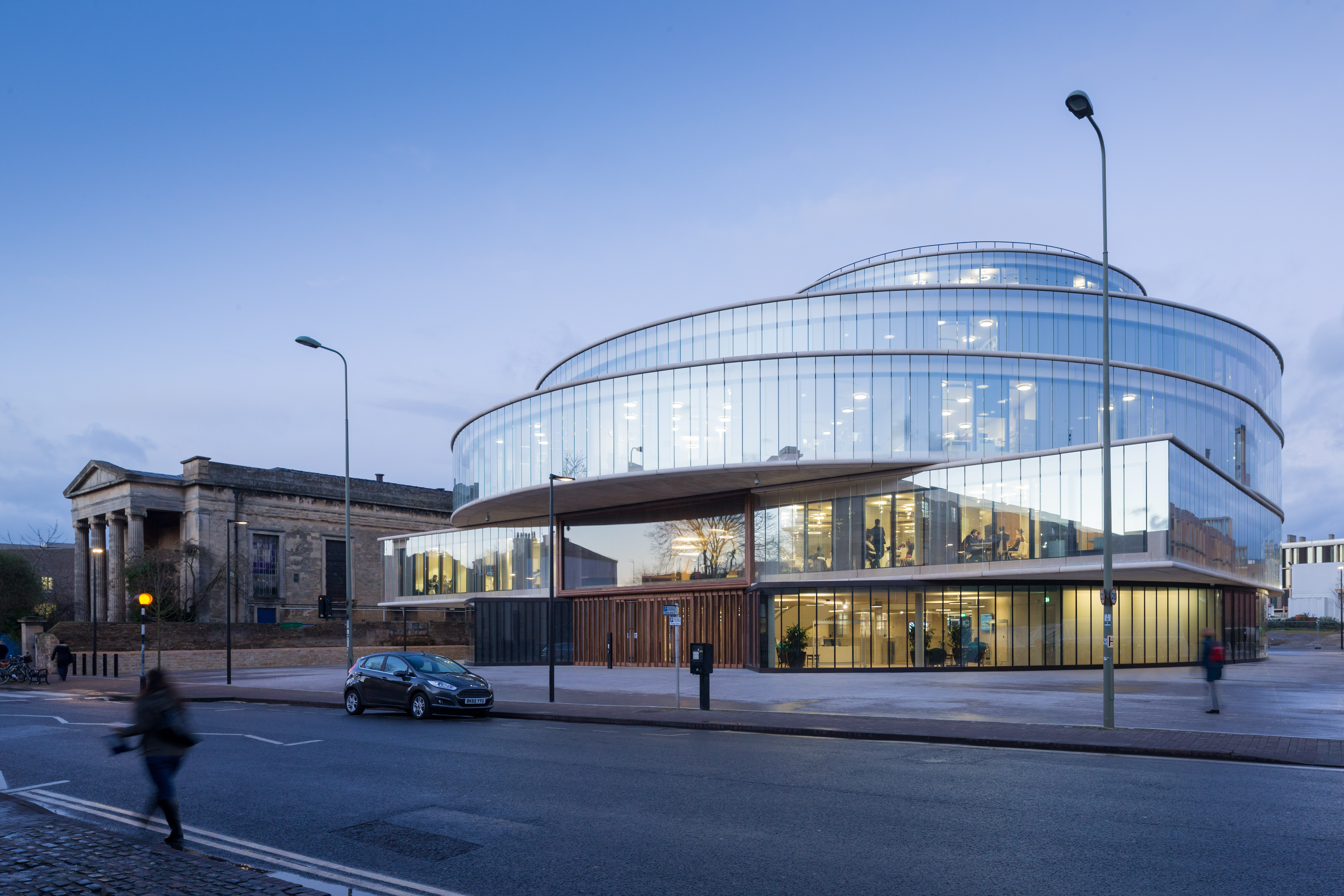 The Blavatnik School of Government seeks to improve, inform and support better public policy and government in every country of the world. The new home of the School of Government is prominently located between Woodstock Road and Walton Street, with Somerville College to the south and Green Templeton College to the north. The building has been designed as a precise geometric form which allows its important historic neighbours to maintain and improve their presence along Walton Street, whilst also opening up generous and inviting access into the new Radcliffe Observatory Quarter.
From the street, this is a statement piece. It is radically different from the urban and intellectual context of its Oxford setting, but with subtle references that ground it. The more you stand and stare, the more these references become clear and add a richness that elevates this building beyond a bold iconic statement.
The project plays on the idea of the picture frame – the window on the world – the players within and the world outside. This is both intriguing and theatrical: the stage is set for an interesting collaboration or confrontation. On display, ready to interact - anything is possible.
Inside, the building is quite simply breathtaking. It is one of those rare moments in architecture when the spirit soars. This is a modern cathedral of learning that at the same time stimulates, soothes and excites.

The client's brief to ensure that students engage at all levels is handled very cleverly. This is exactly how the plan works too, with offset balconies and wide twisting staircases, interactive spaces at the junction of stairs and communal spaces between. The traditional Oxford quad has been reinterpreted and the rule book thrown away, resulting in a space where people naturally come together and engage both physically and emotionally. The result is a relaxed and uplifting experience – it does not feel in any way contrived. This is a complex building in its geometry with stacked orthogonal and rectilinear forms working brilliantly against all the odds - it is a truly inspirational piece of design and one so fitting for its purpose.
Contractor Laing O'rourke Construction
Structural Engineers Pell Frischmann
Project Management Gardiner & Theobald Llp Environmental / M&E Engineers: Hoare Lea
Access Consultant David Bonnett Associates
Quantity Surveyor / Cost Consultant Ec Harris
Landscape Architects Townshend
Project Management (Client Representative) University Of Oxford Estates Services
Facade Engineering And Design Consultancy Murphy Facade Studio
Cost Confidential
Internal Area 7,934 m²