​Changes to the RIBA website
We've launched a new version of the RIBA website, as part of our ongoing commitment to improving the way we communicate with you.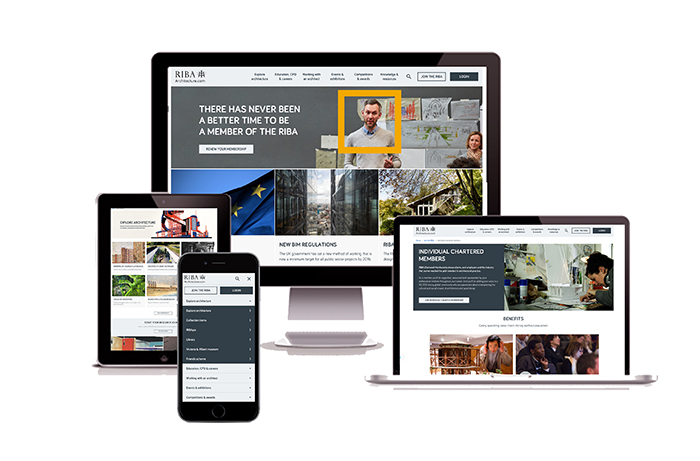 We'd love to know what you think. If you have any feedback, questions, can't find what you're looking for, or want to participate in future research sessions, take our short survey.
The last version of the RIBA website launched in 2013. It connected the RIBA's awards, exhibitions and collections to a public audience for the first time, but as the site grew, people found it difficult to use, and struggled to find what they were looking for.
This time we've started by prioritising the most important things for our users. We've worked with RIBA Members, website visitors, practising and aspiring architects and enthusiasts, and focused on the results of a lot of conversations, research, feedback and testing.
In the past year, we've also built a system to let architects enter the RIBA Awards online, and individual members are able to renew their RIBA Chartered Membership on the web too. We'll be rolling out updates to these services over the coming months, making them accessible to other members soon.

Some digital services - such as parts of the Members' Area or our Find an Architect service - are still being worked on.
We've collected up some FAQs to help people find what they're looking for, and give a bit more information about specific parts of the site.

Relaunching the website is just the beginning, and we'll continue to roll out improvements, new features, more content, and technical changes over time. This version of the website is 'in beta' - an imperfect, first publicly available iteration our users can test. This means the site may be rough around the edges in some areas, but we will continually improve and shape the site based on comments we receive.
We'd love to know what you think.
If you have any feedback, questions, can't find what you're looking for, or want to participate in future research sessions, take our short survey.
What's new?
Mobile responsiveness
Everything you can read, do, or access across the new site now works responsively across desktop, mobile and tablet devices.
Homepage and navigation
We've taken a 'user centred design' approach to simplifying our navigation menu (we used to have 4!) and made it function in an easier way. By identifying the key things our users expect and look for, we hope everyone can get to where they're going in fewer clicks than they used to. The homepage will host a changing collection of features, updated to reflect what's happening in the institute, the profession, and the world.
What's on
People found it difficult to browse event listings on our old site. We've now added the option to sort or filter our event calendar by date, location or event type. We've also redesigned event detail pages to display the most important information first, and showcase the amazing imagery we know people expect from the RIBA.

Visiting us
With a packed programme of exhibitions and events, and the upcoming opening of RIBA North, we needed to make it easy for anyone to plan a visit. Whether you're attending an event, the Library, Bookshop, Cafe, Gallery or our collection at the V&A, we've tried to untangle confusing logistical information to help people make the most of their visit.
Resources and advice
Members, practice staff, clients and students rely on us to provide them with current factual, legal and professional advice. Building a resource centre has allowed us to surface important documents and guides, with some available exclusively to different categories of members.
Search
We're launching with a much smaller site than we used to have. This means your search results should be more refined, and presented in a clear and ordered way. Images and summaries should help you find what you're looking for quickly, and links to RIBAPix will let you browse our image library too.
We've put together a guide to help people find the most popular tools, services and pages, which we'll continue to update based on your feedback.