RIBA Site Signboards Print Service
RIBA Site Signboards are designed to achieve the greatest promotional impact for practices: they provide one of the easiest and cheapest methods of promoting your firm's work. All offices are encouraged to make use of the copyright-protected RIBA Site Signboards, which are exclusively produced by RIBA-licensed manufacturers.
The boards are available exclusively for RIBA Architects, RIBA Chartered Practices and RIBA Client Advisers, with up to three lines to include name, telephone number and website address.
View guidance on using RIBA Site Signboards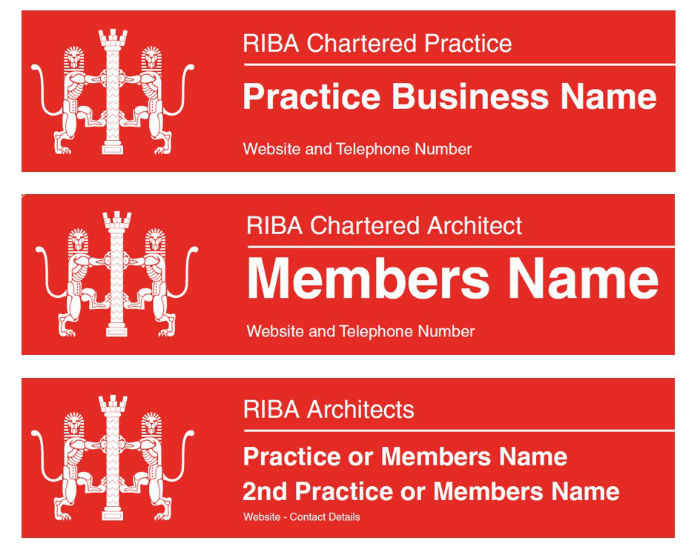 Buy RIBA Site Signboards direct from the RIBA
The RIBA Site Signboards Print Service offers the RIBA Site Signboards at a very competitive price. Orders received before 1pm Monday to Friday will be dispatched the same day.

The signboard is available as standard in two sizes, produced on 5mm rigid foamex (suitable for outdoor) or as a vinyl sticker (suitable for windows) and is printed to a set layout. Other sizes and materials available, prices available upon request.

Quantity

5mm foamex or Vinyl

1220 x 305

Postage

5mm foamex or vinyl

2400 x 610

Postage

1

£49 + VAT

£15 + VAT

£90 + VAT

£22 + VAT

2

£40 + VAT each

£75 + VAT each

5

£35 + VAT each

£65 + VAT each

£38 + VAT

10

£30 + VAT each

£30 + VAT

£57 + VAT each
Postage costs are per total order, discounts may apply. Boards of 1220 x 305 will be sent as next day delivery and 2400 x 610 will be delivered within 48 hours.
Example. One 5mm Foamex board (1220 x 305) delivered the next day would cost £64 plus VAT (£76.80)
Placing your order
To place your order please complete the order form and email back to ribadesignservice@riba.org. We will contact you to take a card payment by phone before the board is issued. Please ensure you provide payment contact details.
If you have any questions or would like to speak with a member of the team please call us on 0207 307 3738.
View guidance on using RIBA Site Signboards, as well as the full list of approved suppliers.