Communities: Promoting Lifelong Learning and Wellbeing
We work with a range of audiences including older learners, people living with dementia and those who are blind or partially sighted. Our community outreach programme takes inspiration from our world-class architectural collections and the buildings and places around us. While our onsite programme has been paused and our HQ building closed temporarily because of the coronavirus (COVID-19) pandemic, we continue to reach out safely through digital channels.
Community groups: Online visits
From September 2020, community groups can book a free guided online visit to explore our Freestyle architecture exhibition and enjoy getting creative in an art-making workshop inspired by the exhibition.
How long is a visit?
Online visits are guided by RIBA staff and last 1.5 hours via a videoconferencing platform.
What happens in during a visit?
The visit starts with a guided tour of the Freestyle exhibition, which explores the history of architectural styles from the 1500s to the present day using virtual reality.
Based on the buildings from the exhibition, in the artist-led workshop afterwards, participants will experiment with new ways to create art, such as drawing with erasers, tape, scissors and thread. No prior artistic ability is required.
Visits are social and interactive; we encourage conversations and questions throughout!
How do groups organise a visit?
Visits can take place anytime between 10am and 5pm Monday to Friday from September 2020 onwards. Community groups are welcome to contact us to arrange a visit for a time slot suitable to them. Please email Wilson at wilson.yau@riba.org for more information or with preferred times and dates.
For these online visits, RIBA staff will join your group on your videoconferencing platform. Once a visit has been confirmed you can send us an invite to your online group or meeting. With the creative activities, participants supply their own materials but we use basic art materials and household stationery and we will supply a list in advance.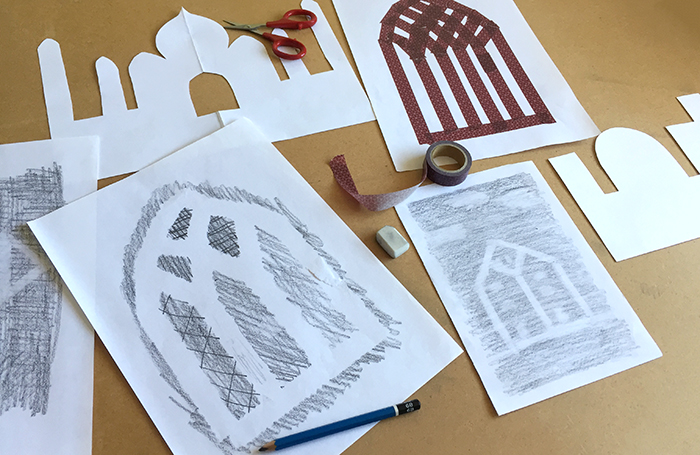 Individual learners: Online events and resources
We have a new range of free downloadable resource guides to support creativity at home, covering topics such as keeping a sketch book, drawing on an iPad and experimenting with new art techniques.
Our new series of 'Create, Now!' online workshops for August 2020, based on these resource guides, are all now fully booked. To find out when bookings open for the next workshops please check What's On or sign up for our newsletter. These events are free, suitable for individual older learners and do not require prior artistic experience.