02 September 2021
Building with earth is an effective construction method that has been used in vernacular architecture across the world for many centuries.
Increased demand for low impact buildings is increasingly highlighting the advantages of using earthen materials: earth has a very low embodied carbon footprint; it is abundant; and can have an excellent thermal and acoustic performance.
Architect Martin Rauch, Director of Lehm Ton Erde (Loam Clay Earth), will be speaking about Scaling up Earth on 30 September as part of this year's RIBA Smart Practice Conference 2021: Stepping up to the Climate Challenge. Rauch has been at the forefront of rammed earth design and construction over the last two decades and has also published numerous books and resources on the topic.
He suggests that Europe has neglected its tradition of building with earth in part because it is perceived as "pre-modern and unsophisticated, a building material for poor people."
"But if we look back to 100 years ago, about half of the world's population lived in earth buildings," he explains. "And even today it is still around 30%."
Rammed earth
Perhaps the best known earthen construction technique is rammed earth. As the name suggests, it is a process in which earth, or aggregates such as clay or sand, is rammed into formwork to create walls.
Such techniques are not solely the preserve of experts or specialists. Gloucestershire-based Millar+Howard Workshop used a rammed earth technique for its Elmore Court project, a functions venue for weddings set behind a Grade II listed house.
"It became apparent that we needed a very dense material to provide high levels of acoustic containment," explains Milo Mason, Millar+Howard Project Coordinator.
Another positive factor was the enormous thermal mass that earth can achieve.
"The density is a big plus," adds Millar+Howard Director Tomas Millar. "It helps regulate temperature as the heat is released from the walls at night while also absorbing more heat, as well as any moisture, from occupants. It, therefore, works brilliantly for an entertainment venue, as wedding guests start dancing."
The Building Research Establishment's Rammed earth: design and construction guidelines, published by the BRE and written by professors at the University of Bath, is one resource that the practice found useful. To further bring them up to speed on rammed earth construction, Millar+Howard found a local contractor, John Ramsden, that was familiar with the technique; while also taking advice from a local geotechnical firm.
These specialists were essential for confirming the soil's viability. Suitable soils should be 60 to 70% sand and only 10 to 20% clay, according to the University of Bath. Rammed earth walls are typically 300 to 450mm thick, varying by design requirements.
"It turned out the local soil was near perfect," Tomas Millar enthuses. "And we learned a huge amount from the contractor. There are health and safety issues surrounding the pneumatic rammers for example: you need a rota so that no worker is using one for too long a period."
A key rule of thumb in traditional earth buildings is: "dry feet and a good hat." This is one of Martin Rauch's guiding principles. The design needs to minimise water ingress from the ground, which would weaken the stability of the base, while an overhang will prevent erosion.
"Rammed earth is very sturdy and looks great," assures Tomas Millar. "The walls feel like concrete."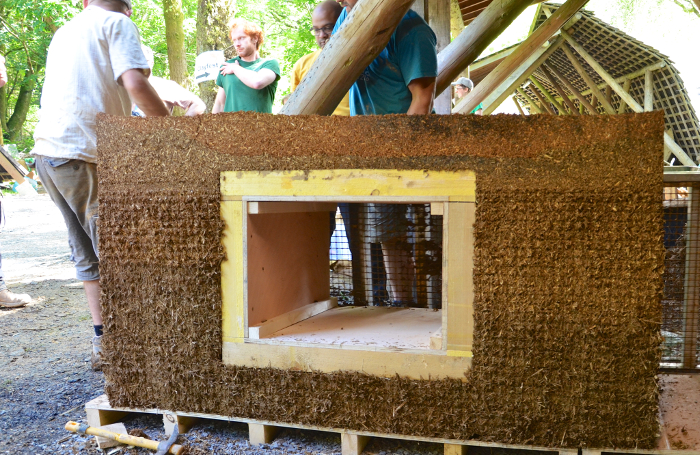 Reinventing cob houses
Cob — a mix of clay and fibre such as hemp or straw — is a different type of earth building. In areas such as Devon and Dorset, centuries-old cob houses are still inhabited today.
Norwich-based Hudson Architects see great potential in its revival and are part of the CobBauge programme, an EU-funded research project seeking to improve the thermal performance of traditional cob.
Director Anthony Hudson anticipates that CobBauge will offer a low impact alternative to modern building materials that could be used for residential buildings.
"Earth is an abundantly available material, and the science of developing a cob system that is up to thermal standards is nearly there," he explains.
The CobBauge system comprises two layers that bind together to create a minimum 600mm wide wall. One half is the structural layer that is 350mm wide and only 10 to 15% clay with the rest of the cob mix comprising straw or hemp fibre. The other half is the thermal layer and this should have around 30% clay in the mix. These layers are cast together in formwork, with the thermal layer on the exterior, and are later finished with a render.
"We continue to see this mix of earth materials performing much better than building regulations minimums," Hudson reports.
Construction is currently underway at the University of Plymouth for the first permanent CobBauge structure in the UK; while planning permission is currently being sought for a house in East Suffolk.
Earthen construction meets new technology
Martin Rauch recognises the need to speed up the construction process for earth building if it is to be a viable alternative. In recent years he has been working on developing offsite construction for rammed earth to scale up the process.
For the Ricola Herb Centre in Switzerland, he set up a factory near the construction site that operated similarly to a precast concrete facility. Here, Roberta was created: a semi-automated machine capable of making bricks and lengths of wall out of earthen materials. Builders could cut these prefabricated components into blocks that could be stored on site.
"We had to automate the process and reduce the amount of manual work," explains Rauch. "That was absolutely crucial, in order to build with earth on a large scale and thus remain competitive."
Both Martin Rauch and Anthony Hudson will be discussing earthen construction methods at this year's two day online RIBA Smart Practice Conference 2021: Stepping up to the Climate Challenge. Tickets are now available.
Thanks to Martin Rauch, Director, Lehm Ton Erde; Anthony Hudson, Director, Hudson Architects; Tomas Millar, Director, and Milo Mason, Project Coordinator and Architectural Technician, Millar+Howard Workshop.
Text by Nicole Robinson. This is a Professional Feature edited by the RIBA Practice team. Send us your feedback and ideas.
RIBA Core Curriculum topic: Sustainable Architecture.
As part of the flexible RIBA CPD programme, professional features count as microlearning. See further information on the updated RIBA CPD core curriculum and on fulfilling your CPD requirements as a RIBA Chartered Member.