05 November 2020
The UK government has introduced a second national lockdown to control the spread of the coronavirus pandemic. It has stated that the single most important action we can all take to fight coronavirus, protect the NHS and save lives, is to stay at home.
The government website explains the new restrictions regarding going to work. The first item on its list explains that:
"You must not leave or be outside of your home except for specific purposes … You can leave home for work purposes … where you cannot do this from home."
Later, it states:
"Everyone who can work effectively from home must do so."
These measures are "underpinned by law". This legislation, the Health Protection (Coronavirus, Restrictions) (England) (No. 4) Regulations 2020, states that people should only be outside their home for the purposes of work "where it is not reasonably possible to work, or to provide those services, from home."
Guidance provided for offices that remain open describes a number of safety measures that such workplaces should implement in order to be COVID-secure. It states the following:
"Objective: office workers should work from home if they can."
The Health and Safety Executive (HSE) states that concerns over health and safety issues in offices that remain open should be reported to local authority environmental health departments.
RIBA members and chartered practices should consider their wider responsibilities to protect staff, clients and communities when deciding how to continue with their work during this period.
There are some parts of an architect's work that cannot be done remotely and government guidance is clear that this can continue where it can be done safely: for example, visiting a COVID secure construction site.
However, many architectural services can and should be provided from home at this time. All RIBA chartered members and practices are required to uphold the highest standards of conduct at all times and practices should continue to fulfil their existing duties under health and safety legislation to consult with staff on safe working arrangements.
Government guidance states that "where it is necessary to work in other people's homes — for example, for nannies, cleaners or tradespeople — you can do so". This suggests that visiting a client's home is permissible. It provides safety guidance for such situations.
There have been no changes to the law regarding construction sites: they are allowed to remain open, as has been the case throughout the pandemic.
This makes it all the more important that construction sites are as COVID secure as possible. Architects are urged to stay up to date with the industry's Site Operating Procedures (SOPs), which are updated periodically by the Construction Leadership Council (CLC). The latest update, Version 6, was released on 20 October.
Guidance has been updated on shielding, self-isolation, testing and what to do if a worker develops symptoms or has to self-isolate.
As before, the core requirement remains that workers on site should maintain a distance of two metres, or one metre with risk mitigation where two metres is not viable. The SOPs advise what such mitigation includes – face masks being one of the most common – and the update includes the CLC's latest statement on the use of face coverings.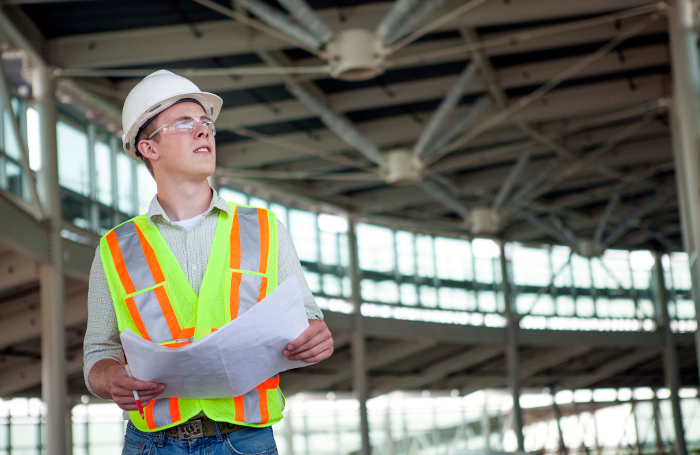 Employers should make face coverings available; these must be worn in canteens except when seated at a table to eat or drink, and employers should make sure they are worn whenever all of these three criteria are met:
an enclosed space
social distancing not possible
contact with people they do not normally meet
The RIBA has previously published advice on site visits. Dieter Bentley-Gockmann, Chair of the RIBA's Regulations and Standards Group, insists that where a site visit cannot be avoided, good practice should start with a risk assessment. Contractors should be able to provide anyone visiting a site with a methodical statement for safe site visits, which should be requested in advance.
If a visit to a construction site is absolutely necessary, architects should be aware of what safety measures are in place there in advance.
Considerations will include: whether site visits can be contact-free (such as no thumbprint turnstiles); how staff will be socially distanced; what effective hygiene and handwashing facilities are in place; and whether the site has been organised to allow a one way flow of distanced people, with segregated walkways for instance.
The government has provided specific guidance on construction and other outdoor work as part of its wider guidance on working safely during coronavirus. Section 4.1, 'Manage contacts', sets out guidance on site visits that can be read alongside the CLC's Procedures.
Adrian Dobson, RIBA's Executive Director Professional Services, notes that all the signs from government suggest construction sites will be permitted to carry on working during any partial lockdowns or circuit breakers that may be introduced this winter. This makes it vitally important that safe working environments are maintained and that architects stay well informed on industry guidance and procedures.
Text by Neal Morris. This is a Professional Feature edited by the RIBA Practice team. Send us your feedback and ideas.
RIBA Core Curriculum: Health, safety and wellbeing.
As part of the flexible RIBA CPD programme, Professional Features count as microlearning. See further information on the updated RIBA CPD Core Curriculum and on fulfilling your CPD requirements as an RIBA Chartered Member.
Article updated on 5 November 2020. First published on 29 October 2020.