Sustaining Client Satisfaction
14 September 2017
Ever since its inception, the RIBA Client Liaison Group (CLG) has been exploring architects' relationships with their clients to inform business development strategies. Four years later, it has gathered a significant body of research evidence setting the agenda for the future health of the profession.
Its most recent findings arose from the seminal Working With Architects survey conducted last year. Based on responses from close to a thousand clients about how satisfied they had been with the service received from their designers on a specific job, the initiative was hailed as a successful model for other professions to follow.
At the time, Paul Nash, President of the CIOB, applauded the RIBA approach, airing the possibility of his organisation asking architects what they think of contractors. As he put it, 'It could only improve understanding." More recently, Nick Moss of rising stars SixTwo Architects rated it as "the most important thing that the RIBA has done in recent years'.
The CLG is currently touring the country in collaboration with Constructing Excellence to disseminate the survey findings. The events are set up as hybrid debates between architects on one side and clients on the other.
The twist is that participants have to put themselves in each other's shoes and imagine what kind of relationship they would ideally like. So far, the tour has visited Croydon, London, Cambridge, Leeds, and Newcastle, with further stops scheduled for Cardiff and Birmingham.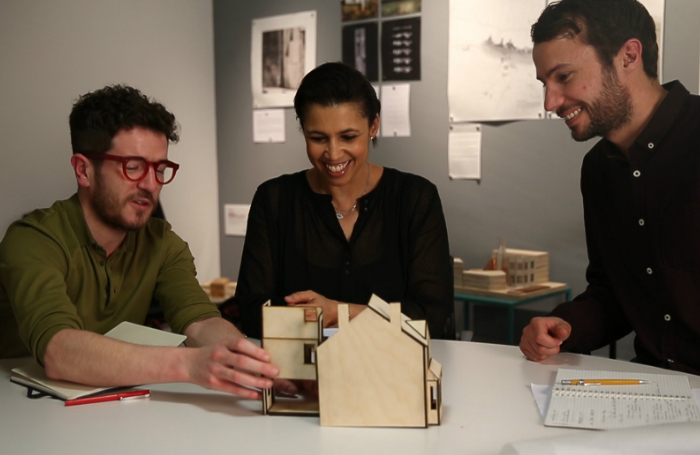 The CLG's objective is to reset biases to neutral and stimulate honest, constructive debate. As Nick Moss said when he took the stand in Leeds, the biased view of architects is a big risk to the profession. 'Perception is dangerous because it becomes real in their minds. That's what we're fighting against.'
As you would expect, the CLG's primary objective is to target strategic benefits for architects. However, it also has the wider construction industry's perennial weaknesses in its crosshairs, the famously low productivity rates, for example, perhaps being symptomatic of friction at the consultant-client interface.
Overall the sessions have been a success, with illuminating discussions hinting at winning tactics for individual practices and possible solutions for the industry's known challenges. The format confirmed much that the CLG's work has already uncovered.
More interesting was the chance to put clients' performances under the microscope. Conducted in the spirit of respectful intellectual exchange, architects were encouraged to air some pent-up grievances.
Clients' unhelpful tendency to hide critical commercial information was the comeback to accusations about architects' lack of business savvy. Architects also take a dim view of clients' possibly deliberate strategy of pitching project team consultants against each other with mismatched briefs and objectives.
While clients' motivation here is clearly to cancel out their consultants' natural value-draining instincts, in architects' eyes the strategy merely leads to disharmony. Clients were called out for too often allowing a culture of blame to arise, exacerbating already difficult situations.
Clients also confessed to some shortcomings. They understand the difficulties it causes architects when they are too passive or not responsive enough or, worse, fail to shoulder the responsibility for making decisions.
They also hold their hands up to taking advantage of architects' dedication to the cause. They accept that they wilfully ignore that design quality is a function of time and that if they don't pay for the time it is difficult for architects to perform.
For their part, architects admit they've work to do to improve the soft skills identified as lacking in the CLG's 2015 report Client & Architect: developing the essential relationship . On the technical front, they feel that they don't attend to user needs rigorously enough, and that delivery competence – accuracy, buildability and timeliness – is a rare skill. They acknowledge their collective failure to learn from their mistakes.
It is this last point that is perhaps most telling. No CPD in the world is going to improve professional practice if architects aren't checking that how they implemented their learning actually worked. This applies as much to the product of their work – the building – as to how they produced their work – the service.
This would seem to be at the heart of business success for today's architects. As Graham Page, Design Manager for Wilmott Dixon put it at the Croydon event, 'Clients look for architects who are open to learning and not content to repeat mistakes or take refuge in always doing the same thing. Ask, 'What do you need us to do?' in a truly collaborative way: that's what leads to repeat business.'
The plenary session for Guerrilla Tactics CPD (14 to 15 November) will pick up on the learning theme by highlighting how a mindset of continuous learning and improvement can be beneficial to client relationships with rich rewards for practices.
Text by Matt Thompson. This is a 'Practice News' post edited by the RIBA Practice and Client Services teams. The RIBA would like to hear your feedback and ideas for Practice News: practice@riba.org.
Posted on 14 September 2017.