Culture Intelligence on RIBA Radio
What is Cultural Intelligence?
CQ™ – Q stands for quotient, because it's a measure as well as a skill – is another way of saying Cultural Intelligence.
Cultural Intelligence is the capability to work and relate effectively with those who are different from you. It's the behavioural framework that allows you to consciously create procedural changes, to mitigate the influence of hidden bias.
Research proved that in order to be successful at working with those who are different from us we need to have four capabilities: CQ Drive, CQ Knowledge, CQ Strategy and CQ Action.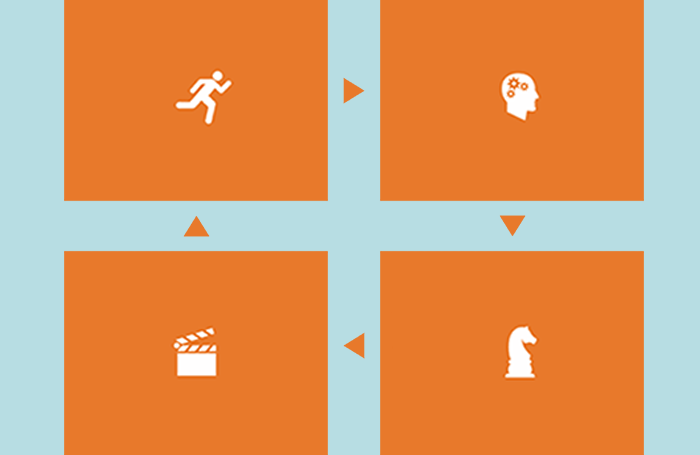 RIBA Radio is focusing on promoting diversity and inclusion within the architecture profession, underpinned by the key themes of CQ.
CQ Drive (Motivational CQ): the level of a person's interest, persistence, and confidence to function with those who are different from them.
CQ Knowledge (Cognitive CQ): the level of a person's understanding about how cultures, values, approaches to life are similar and how they are different.
CQ Strategy (Meta-cognitive CQ): the degree to which a person plans for, remains aware during, and checks assumptions after interactions with others.
CQ Action (Behavioural CQ): the extent of a person's flexibility and appropriate use of a broad repertoire of behaviours and skills when with those who are different to them.
First, we build a solid foundation where CQ is the stepping stone to an intersectional approach to leading inclusion and effectively managing diversity. CQ serves as a mental model, for individuals and teams – starting with the most senior leadership – to ultimately inform all actions in an organisation.
Concurrently, to create equitable outcomes, the inclusive approach needs to be embedded as a change strategy into the organisation. McKinsey identifies four cornerstones as the basis of change: fostering understanding and conviction, reinforcing changes through formal mechanisms, developing talent and skills, and role modelling. McKinsey research suggests that you're eight times more likely to implement change successfully with all four cornerstones in use, than if you try just one.
To bring about sustained and sustainable inclusive change, you need to implement this new way of thinking and working across all four areas of the business:
How you attract people
How you treat and progress your staff
How you create the services and products of your business
How you attract and treat your users/customers/audience/members
Additional resources
CQ on RIBA Radio
Thursday 18 November 2021
CQ Overview
Dr David Livermore – President of the CQ Center gives us an overview of the concept and its applicability to architecture and the built environment. We'll also discuss its limitations and criticisms.
Watch a discussion between Marsha Ramroop and David Livermore on the importance of CQ.
Dr Pragya Agarwal – Author of SWAY, (M)otherhood, Wish We Knew What To Say: Talking with children about race, and academics, understanding the nature of bias and how we can challenge it. Dr Pragya Agarwal is a behavioural and data scientist, author, speaker and consultant. As a Senior Academic in US and UK universities, she has held the prestigious Leverhulme Fellowship, following a PhD from the University of Nottingham. Her publications are on reading lists of leading academic courses across the world.
Inclusion Charter transparency – The charter was launched last November asking people to commit to transparent inclusive cultures. What has this meant in practice? A panel discusses the context, actions, measures and outcomes they've experienced.
What's happened so far – Where is architecture on the road to inclusion? We speak to three people who have been campaigning for change.
Friday 19 November 2021
CQ Drive
Getting it wrong – Why do we feel fear when working with those different from us. How do we end up being "cancelled"? What are examples of this and how can we face up to our mistakes?
Discomfort – Defensiveness is a usual reaction when dealing with aspects of discrimination, especially racism, sexism and ableism. How do we lean into our discomfort, especially around white "shame," to move through and learn and grow.
Data – Being motivated to act around EDI can be driven by seeing figures of disproportionality in black and white.
Motivation – CQ Drive is also about feeling like you want to do something because we get enjoyment out of it – who better to ask than those who relish the challenge of taking on difficult tasks, like sportspeople and inspirational leaders – we ask them how to become motivated when it all seems so hard.
Monday 22 November 2021
CQ Knowledge (part one)
Women – Gender pay gap – Knowing and understanding the issues behind the gender pay gap and the assumptions about women which lead to it we'll uncover here.
Women – Reproductive health – How women's bodies require certain provisions to be made in the workplace is one that must be discussed as men are seen as the "norm" and women are somehow "abnormal" when it comes to workplace assumptions and policies – periods, fibroids, IVF, baby loss as well as menopause all impact women in the workplace and should be accounted for, not seen as an extraneous need.
Women – Unpaid care – the emphasis in society is placed on women to fulfil the needs of caring for children, the elderly and those with extra needs in a family; and whilst this provides an economic benefit for society it is not factored into social support, and so many women must work too.
Women panel – Pay, sexism, women supporting women, the context of women in architecture, the issues surrounding why they off-ramp, will all be discussed here.
Race – Angela Saini - Angela Saini is an award-winning science journalist and author. She presents radio and television programmes, and her writing has appeared across the world, including in The Financial Times, Wired, New Scientist, and National Geographic. Angela's latest book, Superior: The Return of Race Science, was published in May 2019 to enormous critical acclaim and became a finalist for the LA Times Book Prize and the Foyles Book of the Year. She debunks the idea that race is a biological concept and highlights how we can educate ourselves to understand the concept of race differently.
Race Panel – Angela is joined by two members of the architecture profession to describe the issues faced by those from racialised groups in the profession.
Tuesday 23 November 2021
CQ Knowledge (part two)
Socio-economic diversity – Architecture is seen as elitist due to the expense and length of education and the perceived networks required to get ahead in the sector. We look at these and examine possible solutions.
LGBTQ+ – Feeling safe to come out depends on who you are and the people around you, but what about spaces and design to allow this too, we explore all aspects of sexuality in architecture.
Disability – Shani Dhanda is an award-winning disability specialist, listed as one of the UK's most influential disabled people. As a keynote speaker and practitioner for inclusion across business, government, non-profit and wider society, Shani helps organisations break barriers and integrate inclusion into their business frameworks. Shani's style and approach are described as "a winning combination of authenticity and passion, helping to remove the awkwardness and fear of having confident conversations about disability within business and society." She'll be opening up the conversation and talking about her time when she worked at the RIBA.
Disability panel – Shani will be joined by two others in the built environment to discuss attraction of disabled people into the profession, access, progression, inclusive design and how disabled clients are treated.
Wednesday 24 November 2021
CQ Strategy (part one)
Inclusive recruitment panel – TBC – In order to plan for how we address inclusion issues in architecture how we bring people in has to be a different kind of process. We talk about this and how we can move forward differently to how we've always recruited.
Architecture education – There are some fundamental issues around cost, curricula, how students are treated, decolonisation – if architecture is to become inclusive it needs to understand where it comes from, so this is an issue of "self-awareness" around the profession.
Outside London – London has the highest concentration of architects in the world – and 70% of income generated comes from London and the SE – what does this mean for inclusion and perception of those outside London? What assumptions are made about them – should the sector start to look out a bit more?
Menopause - As the average age of women RIBA Chartered Architects is 44, it's important that we develop guidance for the architecture profession. 59% of working women aged 45 to 55 say the menopause has had a negative impact on them at work. Impacting both attendance and performance, it's clear this is not just an individual issue, but an organisational one.
Thursday 25 November 2021
CQ Strategy (part two)
Inclusive design – Churchill said that we shape our buildings and thereafter our buildings shape us, so how we plan for our projects and checking our assumptions in the sector is crucial to creating a more inclusive world.
Decolonising – Architecture and the RIBA has had their standards and approaches of excellence rooted in colonialism and white imperial perspectives. Managing the narratives around that and telling different stories to open up the assumptions about what makes great architecture is necessary to creating an inclusive profession.
International – The assumptions made about international architects their standards and whether they can practice in the UK is a subject that needs to be unpicked. International architects and the Director of International at the RIBA discuss.
Thinking about impact – A discussion about how impact is different from intention, and how underrepresented groups often suffer from the impact regardless of intention around decisions, policies, practices and procedures. The context of the lives of the underrepresented, how we can move their situation forward, and what's been delivered and how the architecture world can learn from those is an important part of the awareness piece in the profession.
Friday 26 November 2021
CQ Action
Adaptations that work – Projects and schemes which attempt to adapt current ways of working in order to open doors wider and make the profession more inclusive to the underrepresented.
Supporting the underrepresented – specific tools that target certain characteristics in order to amplify voices and support them to progress.
Inclusive outcomes – How inclusion has impacted practice in terms of innovation, better outcomes, maximised effectiveness and better creative ideas.
Next steps – Director of Inclusion, CEO and Chair of Trustees outline thoughts reflections and potential ways forward following the RIBA radio discussions and output.