Harbour House
By John Pardey Architects
Client Private client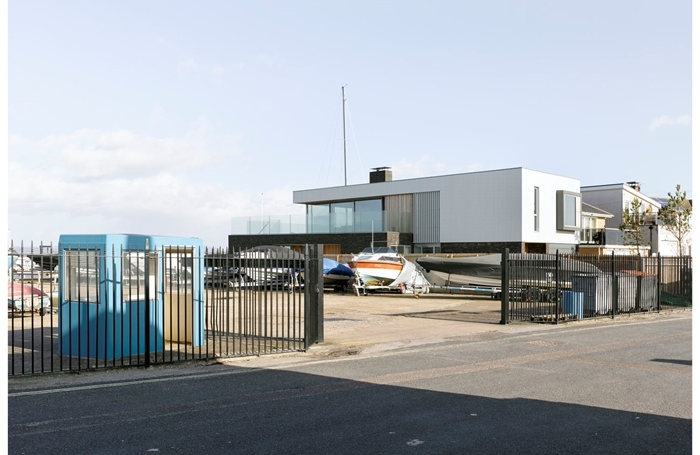 At the end of a parade of houses facing the high street and the sea, Harbour House untethers itself from the gravity bound footings of its neighbours.
This upside down house comprises two interlocking forms; a primary double storey and flat-roofed rectilinear form which contains most of the accommodation, and which in its plan manifestation relates to the geometry of an established group of houses to the east, and a secondary single storey form which visually overlaps with the main volume, but which is skewed to reflect the existing angle of the western boundary of the plot which is aligned with an existing slipway to the harbour.
This secondary element provides a generous terrace to the upper level living areas, and an external stair which connects to a useful covered outdoor space at garden level. These overlapping forms are positioned close to the eastern boundary of the site, permitting access from the road to the slipway.
A further layer of visual organisation is present in the material choices, a dark brick base or plinth is present on both forms, supporting an apparently lighter, white, timber-clad upper level, the base material extending to an expressed vertical chimney in contrast to the otherwise horizontal composition. Detailing is crisp and restrained, with careful attention given to the relationship of the internal spaces to the expansive harbour views.
Nautical references abound in the low forms, horizontally proportioned windows, white cladding and strip timber floors and ceilings, all conjuring the image of a civilised promenade deck on a cruising vessel. The dark brick base in contrast to the white timber upper levels further references the waterlines on the pleasure boats in the adjacent yard, and the whole assembly provides a fitting narrative within its maritime context.
The architect has used his evident skill in domestic architecture to overcome difficult planning issues, and practical site constraints, creating a beautifully simple home which successfully negotiates the boundary between a small row of harbour front houses and the local boatyard, and which provides a bright and elegant living environment relevant to its waterfront location.