Alila Yangshuo
by Vector Architects
Client Landmark Tourist Investment Company
Awards RIBA International Awards for Excellence 2021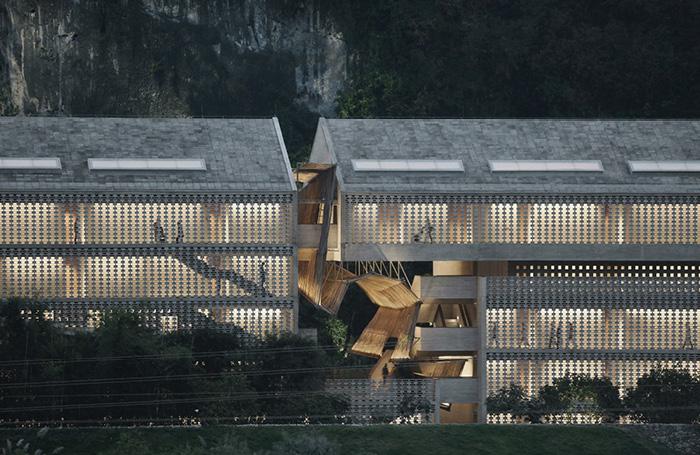 Located on the banks of the River Li and at the base of the karst mountains in the Chinese district of Yangshuo, Guangxi, the quiet transformation of a former sugarcane mill building built in 1972 and its surrounding, long since abandoned industrial landscape, has created a beautiful new hotel complex in this ecologically protected setting.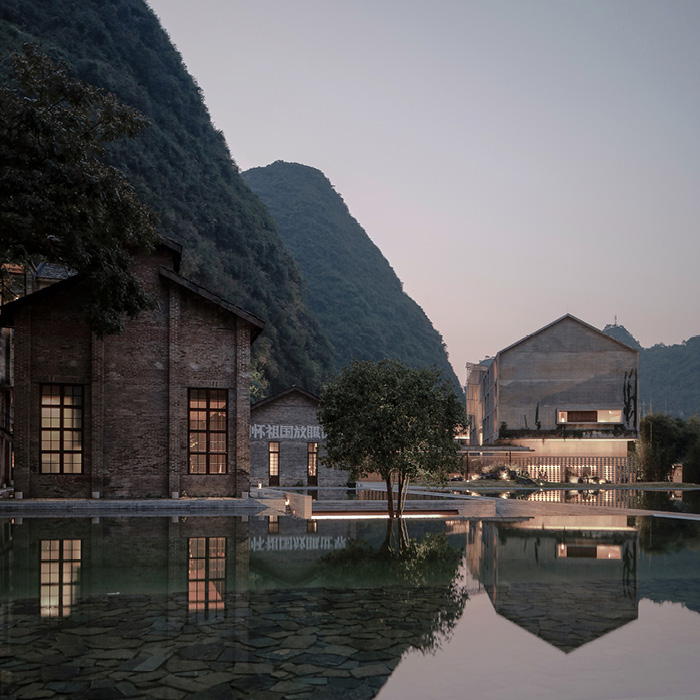 Vector Architects conserved the layout of the old sugar mill: the crane truss used to transport raw sugarcane from the river, and the refining workshop where the syrup flowed to the next building for extraction. Between these restored structures, now housing shared facilities for residents, new elements of landscape: a sunken plaza, reflecting pond and series of planted courtyards have been inserted.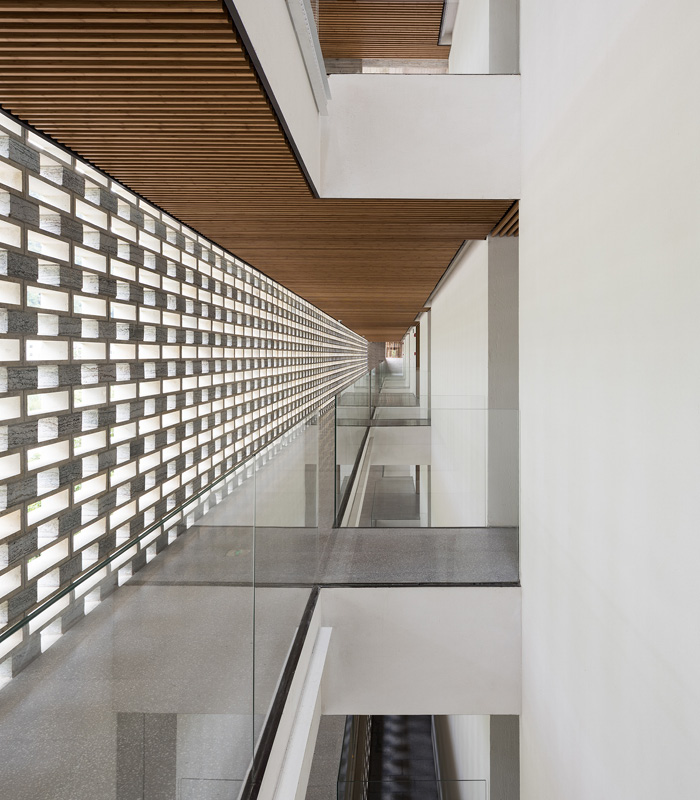 The main residential elements of the hotel flank the retained historic core, in new buildings to the north-west and east. Here the use of textured local stone, set within a concrete frame has created a series of latticed screens, which filter light, allow air movement and moderate temperature as visitors walk from communal spaces to their own individual rooms. Free-flowing woven bamboo structures are hung within the vertical circulation spaces, adding a visual warmth, texture and sense of fragility, in contrast to the permanence of the raw, fair faced concrete stairs and surrounding shear walls. Bamboo gridded ceilings and terrazzo floors line the routes to each room, which all have terraces with views of the surrounding landscape. The pitched roofscapes are crafted from stepped, L-shaped concrete blocks, using local materials and skills, allowing each building to sit comfortably in its carved, karst landscape.
The overall composition of the campus of new and restored buildings, subtly linked by landscape interventions, deeply recognises the site's industrial past, whilst creating a new architecture which is fused into the wider setting of the mountains and River Li.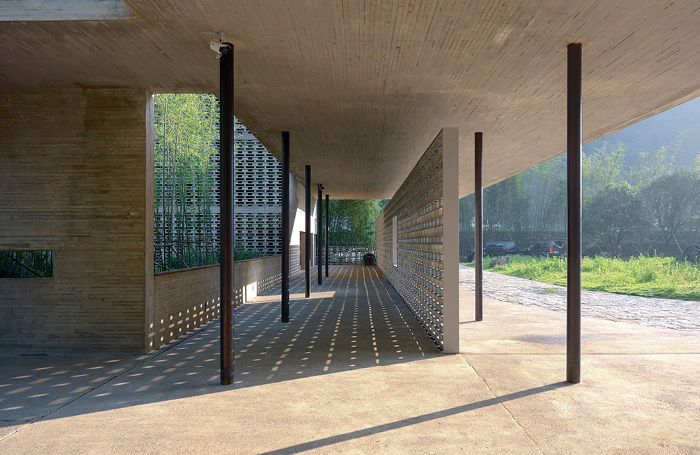 Date of completion June 2017
Location Guilin, Guangxi, China
Cost Confidential
Internal area 16,000 m²

Lighting Design Albert Martin Klaasen / Klaasen Lighting Design
Interior Design Bin Ju / Horizontal Space Design
Environmental / M&E Engineers Shenzhen JS M&E Engineering Design Co.,Ltd.
Structural Engineers Guilin Institute of Architectural Design Co.,Ltd.