Amorepacific Headquarters
by David Chipperfield Architects Berlin
Additional architect practice HAEAHN Architecture and KESSON
Client Amorepacific Corporation
Awards RIBA International Awards for Excellence 2021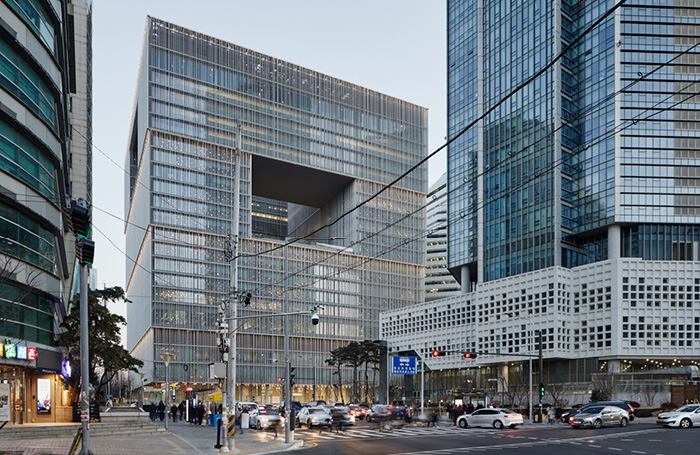 The headquarters for the Amorepacific Corporation sits boldly and handsomely in the growing metropolis of Seoul at the heart of the business district. While it serves as a secured workplace to the beauty product company, the distinct design is also a public destination for all to experience and enjoy.
The entrance level where the delicate brise-soleil façade lifts up with a colonnade that opens to the public and visitors while commuters use the underground pathway connecting the local subway station to the headquarters.
A triple height foyer at the base connects a rich mix of public amenities including a museum, auditorium and library together with shops and exhibition spaces. The judges appreciated this was more than just a headquarter building as it addresses the public spaces as much as the private offices, focusing on its social responsibility.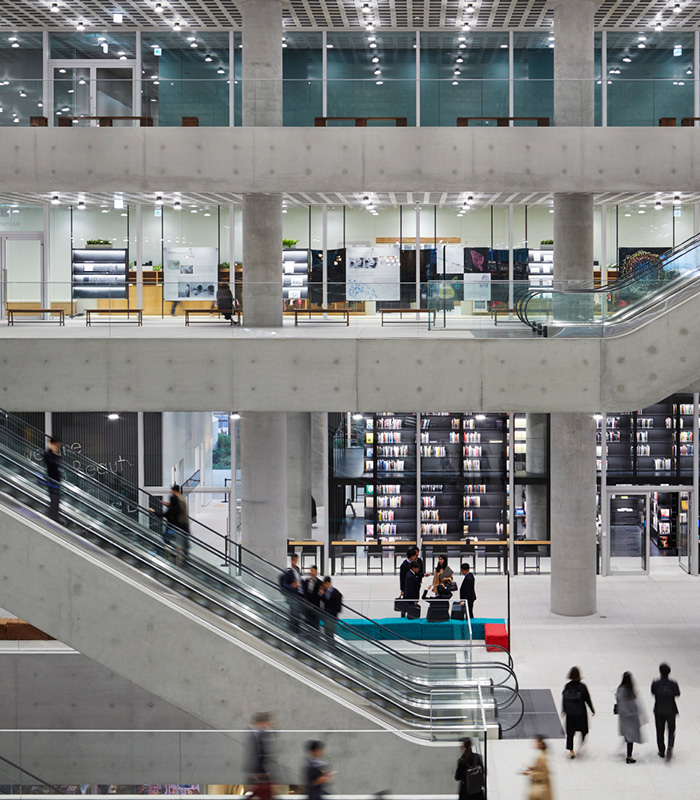 The single yet permeable volume is clad in a light, soft coherent veil which shades the building based on a twin façade arrangement to minimise heat gain. Arranged around a central courtyard, large voids are punctuated out of the volume to enable views over the city, encourage natural ventilation and filter daylight into the internal facing workspaces.
These voids are also platforms filled with trees, pools and sky gardens to provide a healthy environment and nurture wellbeing of the occupants. The gardens also allow nature to be visually drawn from the adjacent park into all parts of the building.
Coupled with opening vents, low energy displacement system and exposed concrete structure for thermal mass, the judges felt this was a considered, smart yet integrated low-tech approach to delivering a sustainable modern office which embraces the climatic characteristics of Seoul.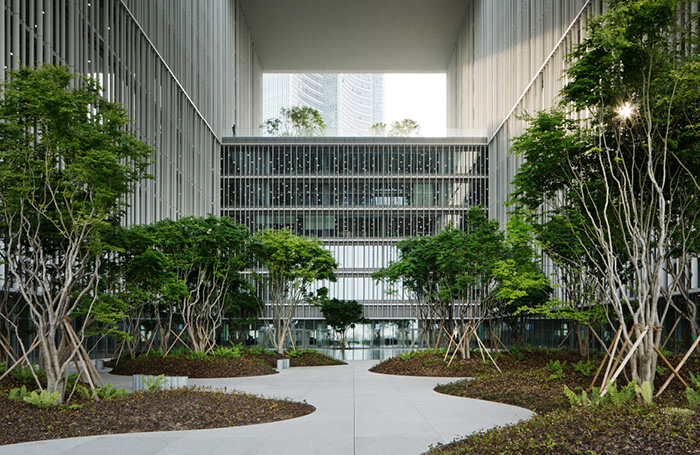 Working with a lighting artist, the abstract form becomes a beacon for the city at night, adding to its civic landmark quality.
The setting and accessibility of the building with its multiple entrances, public uses and transport interchange makes it an integral part of its urban surroundings including connection to the new Yongsan Park.
The judges were impressed by the precision in its execution, integrity of beautiful materials and proximity to nature throughout the building which echoes the aspirations of this modern organisation.
It is without doubt that the complex vision to create a vertical city which is more than an office and is something that mediates between the company's headquarter requirements and the city's social interaction has been realised.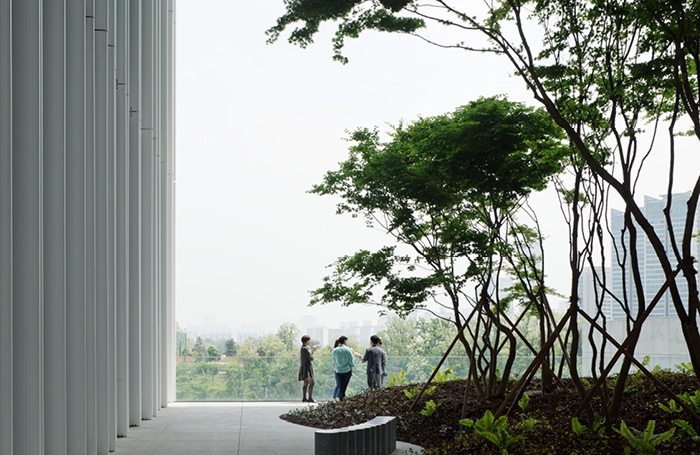 Date of completion November 2017
Location Seoul, South Korea
Cost Confidential
Internal area 216,000 m²

Contractor Hyundai Engineering & Construction
Design Engineers Arup Deutschland GmbH, Berlin & Arup Ltd., London
Landscape Architects SeoAhn, Seoul
Signage L2M3 communication design, Stuttgart