James-Simon-Galerie
by David Chipperfield Architects Berlin
Client Stiftung Preußischer Kulturbesitz rep. by Bundesamt für Bauwesen u. Raumordnung
Awards RIBA International Awards for Excellence 2021
This project was shortlisted for RIBA International Prize 2021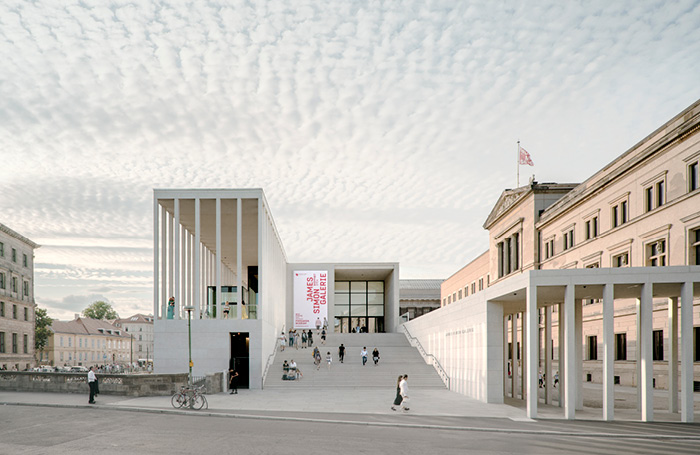 The James-Simon-Galerie in Berlin is a remarkable achievement on many levels, both physically and intellectually. The context of the project is complex and extremely demanding.
The site itself could not be more intense politically, architecturally or programmatically. Museum Island, Berlin is one of the most significant cultural sites in the world. A Unesco World Heritage Site, the island in the River Spree hosts amongst other museums the Pergamon Museum, the Neues Museum by Friedrich Stuler, destroyed in WWII then rebuilt by David Chipperfield Architects in 2009, and the Altes Museum by Karl Friedrich Schinkel. The formal architectural challenge of joining this exclusive ensemble was considerable.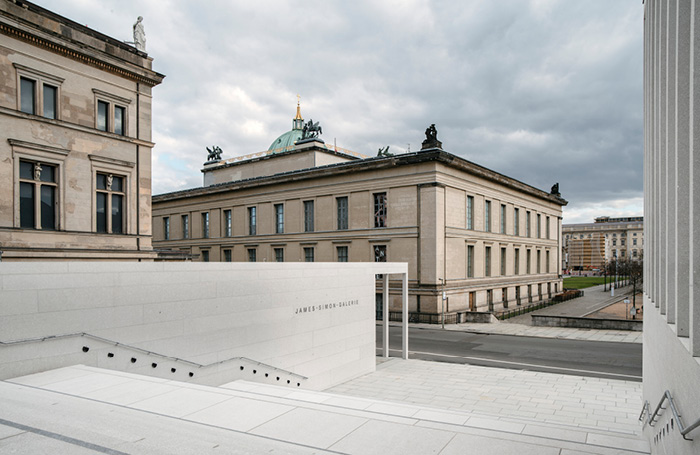 The project brief was to create a visitor centre that would house ticketing, a café, cloaks, restrooms, an auditorium, a special exhibition space and deliveries - a mixture of front and back of house functions. The new building was to act as the front door to the Museum Island for the visitor. However, the solution was not obvious. The site lies to the rear of the Neues Museum and to the south of the Pergamon Museum. This complex planning problem was further complicated by the required connections to each of the museums being at different physical levels. The project also defines the western edge of the Museum Island onto the River Spree, bringing with it construction challenges.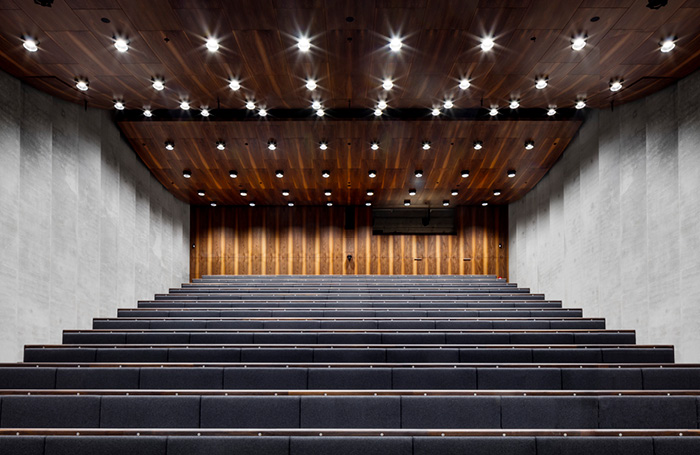 The design of the James-Simon-Galerie engages honestly and directly with extremely sensitive architectural and political territory. The architectural expression responds to the monumental neoclassical architecture of the museums without itself becoming too stern or authoritarian. The reductive nature of the detailing refreshes the expression while the whiteness and slenderness of the colonnade elements lighten the scene while affording sheltered routes and belvederes.
Rather than creating an autonomous singular building, the architects have adopted an architecture of promenade and connection, a building that serves the main museum structures, that defines edges and that creates new external spaces as much as it creates fine internal spaces. Its form is ambiguous. Tts architecture is concerned with framing and linking. The resolution of detail, material selection and build quality is exemplary.
The jury felt that the architects had navigated the at times turbulent and difficult currents around the site and brief with great sensitivity and skill to produce a building of great poise and stillness.
Date of completion December 2018
Location Berlin, Germany
Cost Confidential
Internal area 10,900 m²

Contractor Wenzel + Wenzel GmbH
Quantity Surveyor / Cost Consultant Christine Kappei
Structural Engineers IGB Ingenieurgruppe Bauen
Landscape Architects Levin Monsigny Landschaftsarchitekten
Lighting Design Conceptlicht GmbH
Project Controlling Ernst & Young Real Estate GmbH and Kemmermann Projektmanagement im Bauwesen GmbH & Co. KG
Environmental / M&E Engineers INNIUS DÖ GmbH & Inros Lackner AG
Building Physics Müller-BBM GmbH
Fire Consultant Arge Brandschutz NEG
Lighting Consultant matí AG
Exhibition Planning Duncan McCauley GmbH und Co. KG
Signage Polyform – Götzelmann Middel GbR