Lille Langebro
by WilkinsonEyre with Urban Agency
Client Realdania Byg A/S
Awards RIBA International Awards for Excellence 2021
This project was shortlisted for RIBA International Prize 2021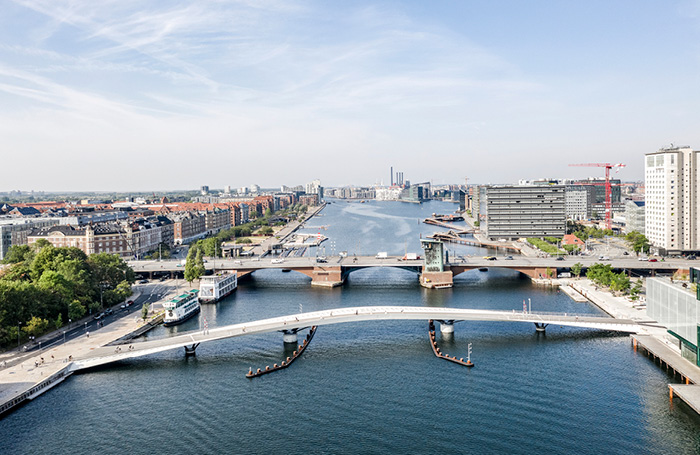 Constructing a new bridge across a river in a city is a rare achievement. For that bridge to be exceptionally well designed, aesthetically, functionally and inclusively, is perhaps even rarer. With this project, we have all three.
The bridge follows an elegant curve that aligns with the great arc of ramparts and moat of Christianshavn, revitalising a part of the harbour that had been underused for decades and reconnecting it to the city centre, with a structure that is both innovative and beautiful. Where the bridge abuts the quayside on either side, generous spaces are created which integrate this elegant piece of urban infrastructure seamlessly into the public realm.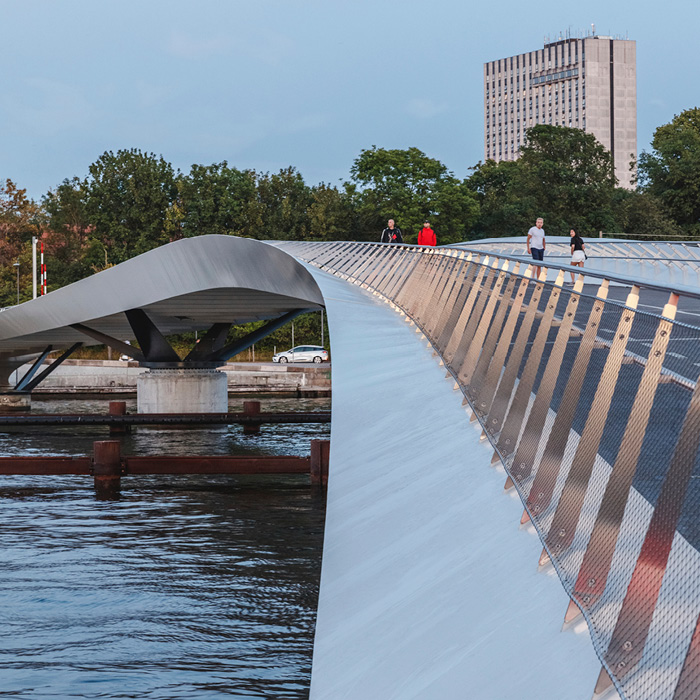 The bridge is aimed exclusively at cyclists and pedestrians and not vehicular traffic, which is catered for by an existing road bridge nearby. This is neither surprising nor unexpected in a city like Copenhagen with its emphasis on cycling and walking. However, this bridge design goes further by ensuring that cyclists and pedestrians, disabled and elderly included, can all use the bridge safely at the same time. This is principally achieved by providing sufficient width for two separate travel lanes, one for cyclists and the other for pedestrians. In this way, the needs of all users are considered, including those who must or simply choose to walk slowly and people reliant on the use of a wheelchair or mobility scooter.
Located in the active harbour, the bridge had to allow for the passage of boats. This key requirement is at the heart of the project's success and it has been achieved without compromising its inclusivity. Instead of relying on a raised structure with steep gradients to allow all boats to pass underneath, the bridge instead has two rotating central sections to allow larger boats to continue unobstructed on their journey. This decision has ensured that a shallow gradient is possible, such that all users can cross the bridge from the street level on either side without undue effort.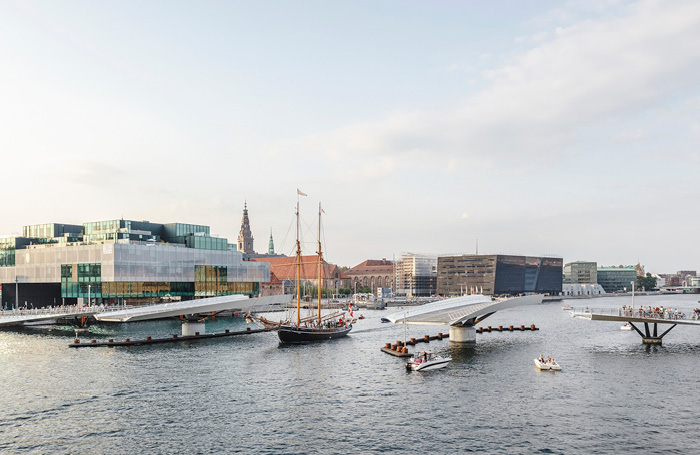 The bridge is formed of two rotating sections, that open in unison. It is an efficient design response which, by working with gravity rather than lifting, uses minimal energy to operate. The bridge will open around 200 times - an elegant spectacle.
Structurally, the bridge rotates its triangular structural members to address different locations and load requirements, allowing a single handrail solution to twist from vertical at the harbour abutment to horizontal at the bridge's apex. This clever transformation, combined with its curved plan form, results in a very elegant and dynamic bridge that is also structurally efficient.
It is commendable that the bridge was initiated in response to local needs and funded by the city authorities mindful of costs. The needs of all users have been addressed in the design, which is both beautiful and functional. The architects should be commended for creating a sculptural form that is a clear response to the site and structural constraints and has revitalised this district of Copenhagen.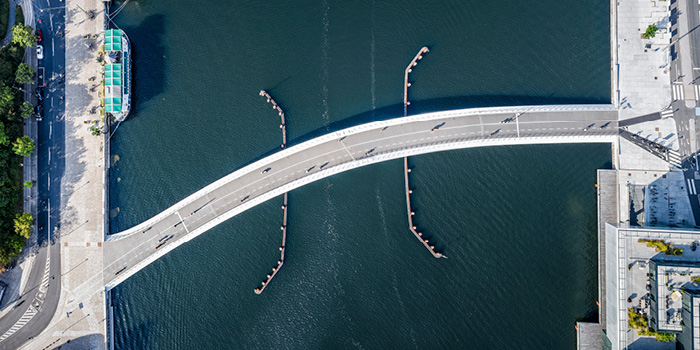 Date of completion August 2019
Location Copenhagen, Denmark
Cost Confidential
Internal area 1,300 m²

Contractor Mobilis Danmark / Hollandia Infra JV
Structural Engineers Buro Happold
Environmental / M&E Engineers Eadon Consulting
Geotechnical NIRAS
Lighting Design Spiers and Major