Msheireb Downtown Doha Masterplan
by Allies and Morrison
Additional Architect Practice Arup & AECOM
Client Msheireb Properties, a subsidiary of Qatar Foundation
Awards RIBA International Awards for Excellence 2021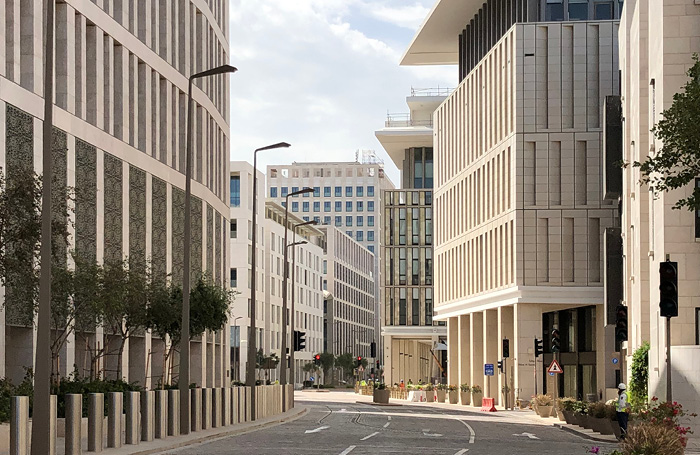 The masterplan champions environmental and cultural sustainability and realises them in built form. It represents a paradigm shift for the region and has lessons for the wider world.
Until the later 20th century, Doha's urban fabric consisted of tightly packed agglomerations of buildings separated by narrow alleyways, providing mutual shading. There were few motor vehicles, and the streets were built to a relatively small human scale. The recent meteoric growth in urbanisation, fuelled by the car and a transition to modernity, is reflected in architecture and urban design which departs abruptly from the vernacular.
This masterplan attempts to change that direction of travel. Allies and Morrison developed a seven-step design code, a design manual and guidelines used across the district, leading to the project comprising a hundred plus new buildings, each distinct yet all expressing a shared architectural language rooted in the culture and the climate.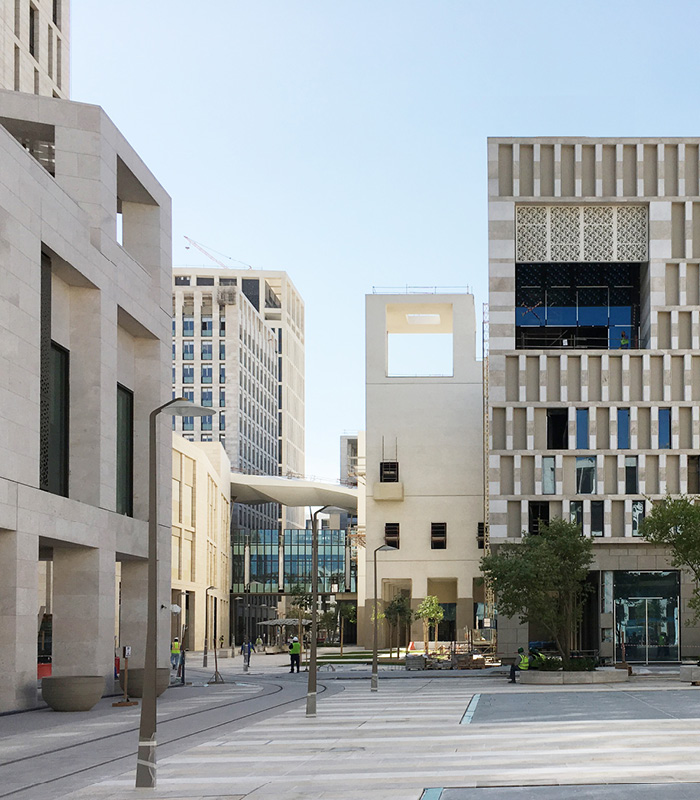 The architects have developed the concept of the walkable neighbourhood, one that takes into account the issue of obesity in the region, with priority given in the design of the buildings and the infrastructure to the pedestrian, the cyclist and the public transport user and which provides car-free connections to the rest of the city.
The masterplan preserves the original street pattern of the tightly knit narrow streets of old Doha. This allows for a low-rise approach with a high urban density, whilst providing a shaded walking environment. A basement allows for deliveries, car parking and servicing infrastructure. The project incorporates a free-of-charge light rail tram system that is designed to be step-free.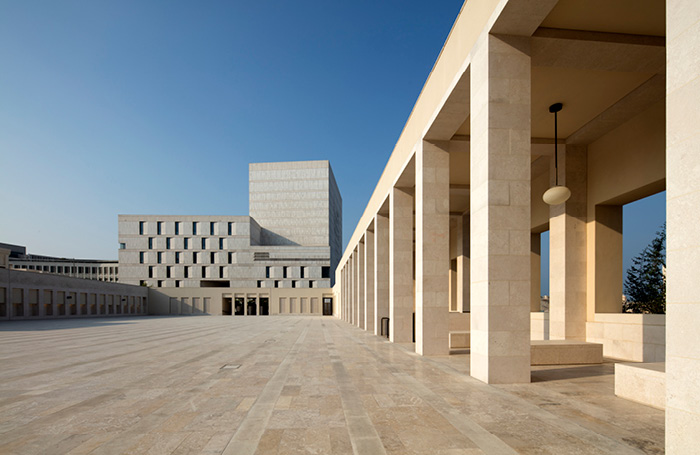 At the building scale, the masterplan provides a response to the hot climate with rationally sized windows, thick walls, clever use of wind to aid cooling, and the use of colonnades and Mashrabiya screens to control solar heat. Passive environmental control is prioritised, with natural ventilation, the use of thermal mass and roofs incorporating solar collection. All new buildings are designed to the LEED Gold standard with some at platinum. The project claims to have the highest concentration of such buildings on one site.
A collaborative design team, involving many practices has delivered a complete restructuring of different typologies including civic, cultural, religious, educational, housing and retail. However, the buildings themselves do not aim to make individual statements, rather they create together a collective, harmonious environment. This is a sophisticated piece of work. Its ambitions to encourage walking and the use of public transport are out of the ordinary for the middle east and have produced a very interesting and very contemporary piece of city.
Date of completion April 2019
Location Doha, Qatar
Cost Confidential
Internal area 764,000 m²
Phase 1B-C Architect Adjaye Associates
Phase 3 Architect Eric Parry Architects
Phase 2 Architect Gensler
Phase 4 Architect HOK
Phase 1A-C and 3 Architect John McAslan + Partners
Phase 3 Architect Mangera Yvars
Phase 1B-C, 3 and 4 Architect Mossessian Architecture
Phase 2-3 Architect Squire + Partners
Phase 1A-C and 2 Architect Allies and Morrison
Landscape Architects Burton Studio
Furniture Designer Harry Dobbs Design
Executive Architects Burns + McDonnell, Gensler & HOK
Structural Engineers Arup and Buro Happold
Environmental / M&E Engineers Arup, Buro Happold and Atelier Ten