The National Memorial for Peace and Justice
by MASS Design Group
Client Equal Justice Initiative
Awards RIBA International Awards for Excellence 2021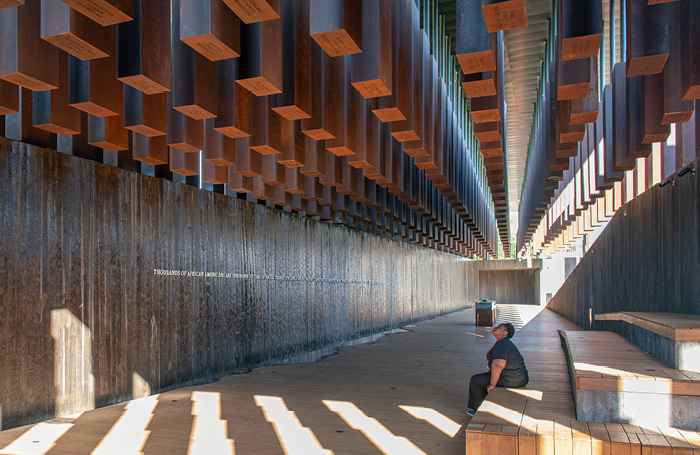 The National Memorial for Peace and Justice, in Montgomery, Alabama by MASS Design Group is America's first memorial to the victims of racial terror lynchings.
This powerful and highly significant project seeks to make visible and document this harrowing period of American history and transform national conversations around racial justice in America.
The idea for the memorial began in 2010, when the Equal Justice Initiative (EJI) began research to uncover and document racial terror lynchings in the American South. After producing a report in 2015, EJI engaged MASS Design Group to help design what would become the Community Remembrance Project: a movement to visit sites of lynching, collect soil, and build public markers. MASS funded the early design work themselves to build the consensus, vision and support for the project.
From the entrance, the visitor is taken on a journey through a six acre landscaped public park towards a raised, open monument building at the park's centre, and then through a series of internal and external spaces occupied by 810 Corten steel monuments.
These monuments are placed in a variety of spaces and settings created for contemplation and reflection, and to capture both the gravity and horror of lynching and seek to honour the over 4000 individuals murdered across over 800 US counties.
The soil collected from the sites of lynching in Alabama are displayed in glass jars in the Equal Justice Initiative's Legacy Museum in Montgomery, Alabama, with the location and victims name in memory.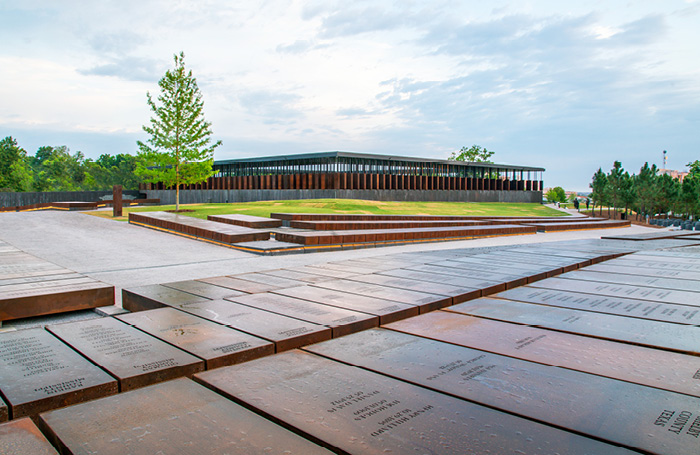 The project is also a living memorial which is designed to change and evolve into the future. The experience of moving though the memorial provokes feelings of deep unease, remorse and loss but also speaks of an unresolved and silenced history, where in addition to the hanging monuments, 810 duplicate monuments lie on the ground in the park waiting to be claimed and erected in their own communities.
The judges were deeply moved by the project and were highly impressed by the vision and commitment of the client, architect and project team and in the bold and inclusive way that they approached and ultimately delivered this ground-breaking project.
Their willingness to address this complex, harrowing and difficult part of American history through landscape and architectural design with directness and openness, is as we and they hope, the beginning of a national and international reckoning, a healing for the community and a place where all those who have been enslaved throughout American history can be remembered and acknowledged.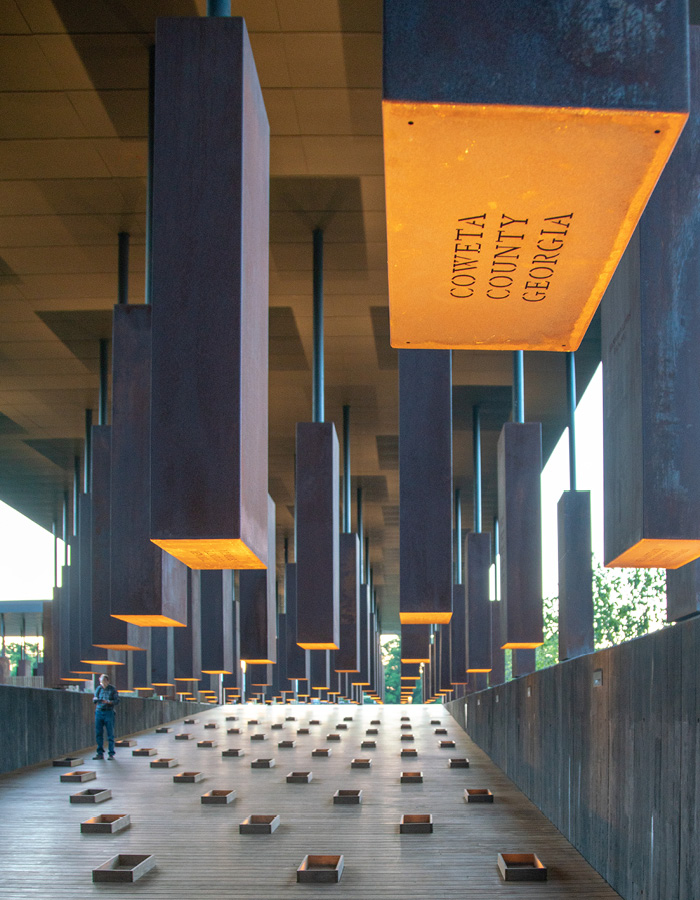 Date of completion April 2018
Location Montgomery, Alabama, USA
Cost Confidential
Internal area 22 m²
Contractor Doster Construction
Structural Engineers NOUS Engineering
Mechanical, Electrical, and Plumbing Mazzetti
Lighting Design Lam Partners
Civil Engineer Pilgreen Engineering
Code Consultant and Fire Protection Howe Engineers
Water Feature Delta Fountains
Specifications Robert Schwartz and Associates
Graphic Design, Signage and Wayfinding Small Stuff
Artist Contributor Hank Willis Thomas
Artist Contributor Kwame Akoto-Bamfo
Artist Contributor Dana King
Plant Material Consultant Steiner Studio