Museum Voorlinden
by Kraaijvanger Architects
Client Museum Voorlinden
Awards RIBA Award for International Excellence 2018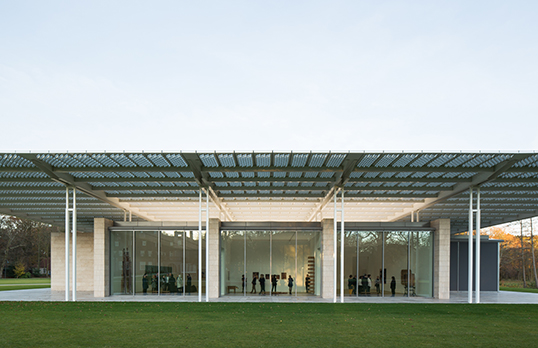 This new 7,000 m² museum for contemporary art paid for by a Dutch Industrialist, sits within the grounds of an early twentieth century, 'Dutch Arts & Crafts' country house.
The building appears as a long, low pavilion, mainly glazed but with stone walls sliding into the back and all sitting beneath a roof perched on elegant columns. It quickly becomes apparent that the roof is in fact a screen – the real roof sits some 2m below this. The screen is the raison d'etre of the design – while the actual roof of the gallery spaces are slightly canted glass panels held by tapered white beams, the roof/screen above is actually pierced with no less than 115,000 aluminium pipes, all angled away from direct sun, allowing an even daylight cascade into the gallery spaces below.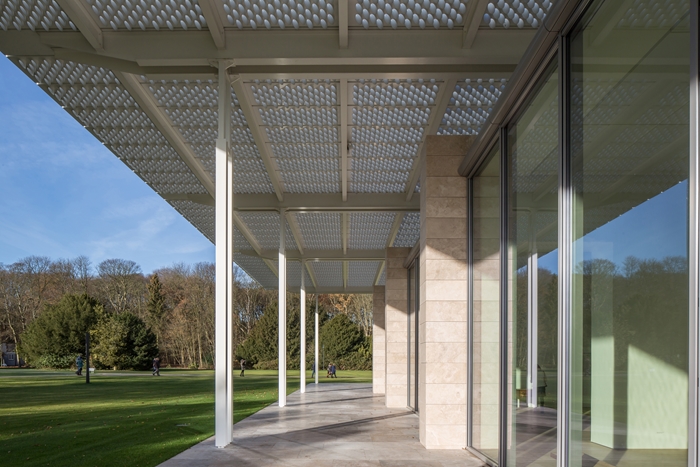 Internally, the spaces are clear, well ordered, beautifully detailed with extraordinary care taken to conceal everything superfluous to the art. White walls and beautiful French oak floors with no other materials to distract from the art pieces. Look up and things get more interesting – the galleries with white translucent blinds are the most successful, glowing with light, while those open to the glass roof offer a complicated series of glazed roof structure and the screen above.
Overall, the building provides a beautiful setting for its modern collection and temporary exhibitions – it sits well in its surroundings. It aspires to be a timeless piece and brings Renzo Piano's de Menil gallery in Texas to mind.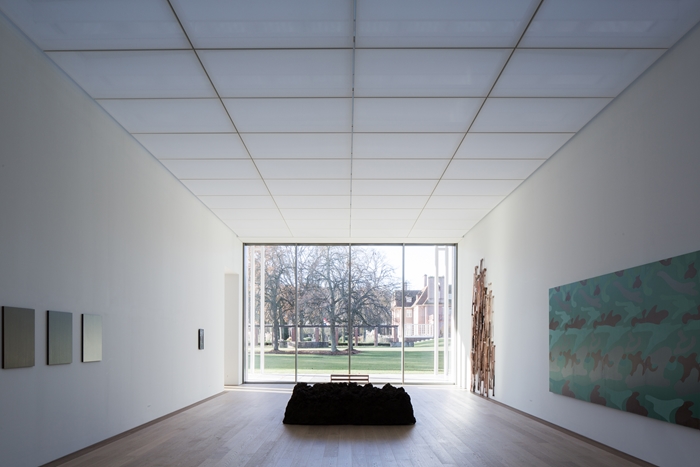 Date of completion February 2016
Location Wassenaar, Netherlands
Cost Confidential
Internal area 6,917 m²

Contractor Cordeel
Structural Engineers Pieters Bouwtechniek
M&E Engineers Arup Amsterdam
Lighting Design Kraaijvanger Architects / Arup Amsterdam
Project Management Museum Voorlinden
Landscape Architects Niek Roozen
Garden Design Piet Oudolf