​​Buendner Kunstmuseum Chur
by Barozzi Veiga
Client Hochbauamt Kanton Graubuenden
Awards RIBA Award for International Excellence 2018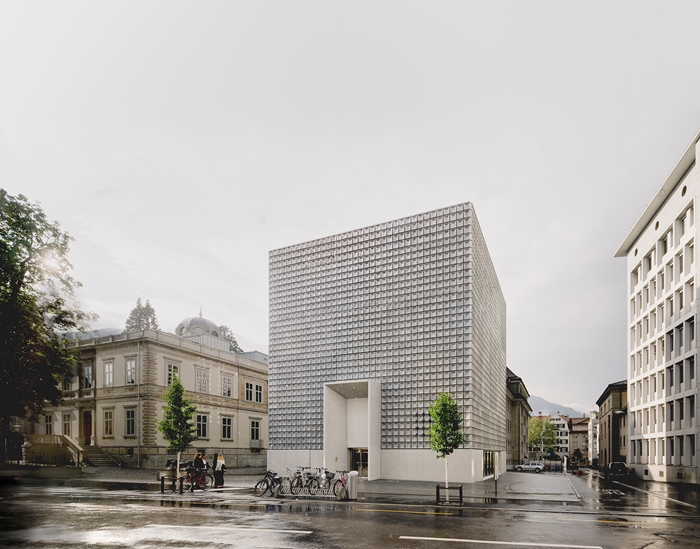 A competition-winning scheme from 2011 to extend an existing art gallery housed in a charming Palladian 18th century villa (the Villa Planta) in the centre of the city that was itself renovated by Peter Zumthor some years ago.
The brief sought to extend the gallery by three times the existing floor area – the architects won the competition by placing a modest cubic block behind the existing villa and building new gallery spaces across the entire plot – below ground.

The elemental cubic block certainly sits well adjoining the villa and there is reciprocity in form - the architect quoted Piero della Francesca's double portrait, saying that independently each portrait would not make sense, only as a diptych does it work.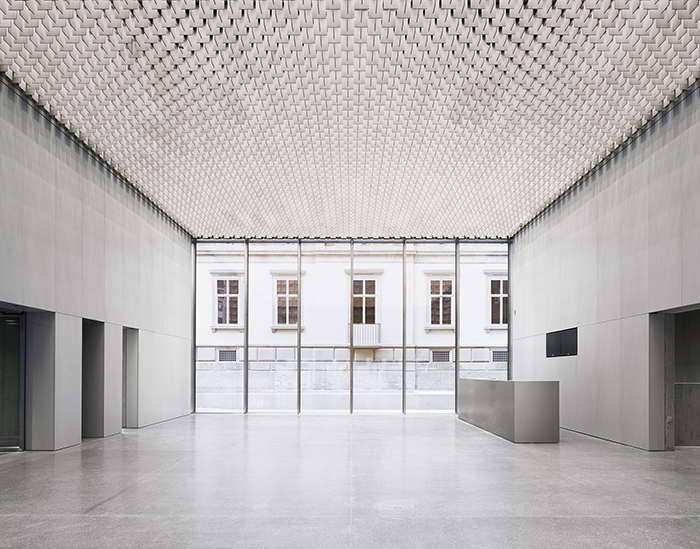 The façades are in moulded concrete textile blocks, with 4,600 square, 50cm blocks that have inset relief panels ending with a rectangular form, echoing the surrounding geometry of the city buildings. The blocks are a take on how decoration can be added in a modern way and they work well in adding interest to the facades.
Entering the ground floor is an empty hall, glazed front and back. It is enticingly simple on plan, with two solid service zones either side of the hall, containing stairs and service lifts. This plan then punches downwards through two subterranean gallery floors where they appear as part of a cruxiform arrangement within a roughly square space, that occupies the entire site. A glazed wall looks back to the rear of the villa.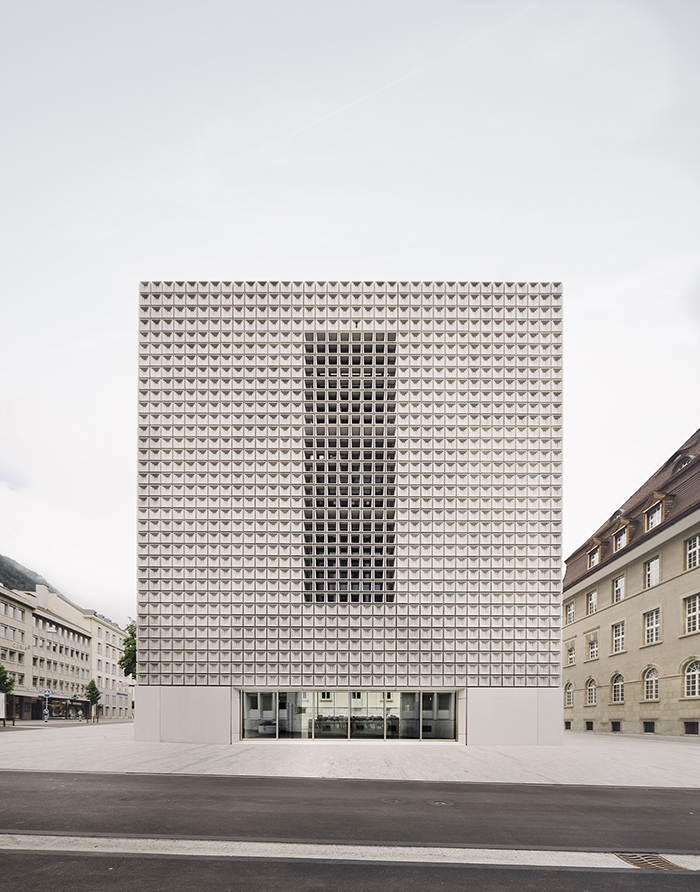 The subterranean galleries rely entirely on artificial lighting, with ceilings formed largely in flat perspex panels with LED lighting. The quality of light is remarkably good, like daylight. The gallery spaces have a still, calm ambience. Cut off from the world they do insist on concentrating on the art works. The staircase that links to the villa is a beautifully made piece in cast concrete.
Overall this is a very accomplished work, an elegant, minimal edifice in the city.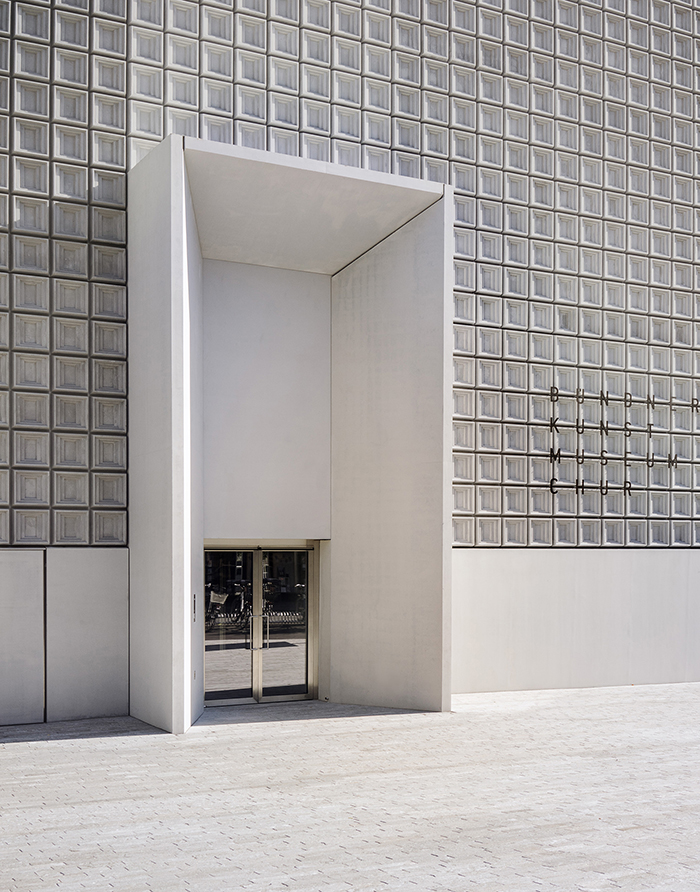 Date of completion June 2016
Location Chur, Switzerland
Cost £19,300,000
Internal area 4,000 m²
Cost per m² £4,825 / m²
Structural Engineers Ingenieurbüro Flütsch
M&E Engineers Waldhauser Haustechnik, Brüniger + Co., Niedermann Planung, Kuster + Partner
Quantity Surveyor Walter Dietsche Baumanagement
Project Management Walter Dietsche Baumanagement
Acoustic Engineers Kuster + Partner
Landscape Architects Paolo Bürgi Landschaftsarchitekt
Interior Design Barozzi Veiga
Lighting Design MichaelJosefHeusi
Façade consultant x-made
Museum Expert BOGNER.CC - die museumsplaner
Local Architect Schwander & Sutter Architekten
Security Consultant Mullis+Cavegn
Fire protection consultant Balzer Ingenieure, AFC - Air Flow Consulting
Signage Weiersmüller Bosshard Grüninger WBG