M4 Metro Line Budapest
by FŐMTERV-PALATIUM-UVATERV - Consortium with Palatium Studio, Budapesti Építőművészet Műhely, Gelesz és Lenzsér, Puhl és Dajka, sporaarchitects, VPI Studio

Client Budapest Transport Ltd, DBR Metro Project Directorate
Awards RIBA Award for International Excellence 2018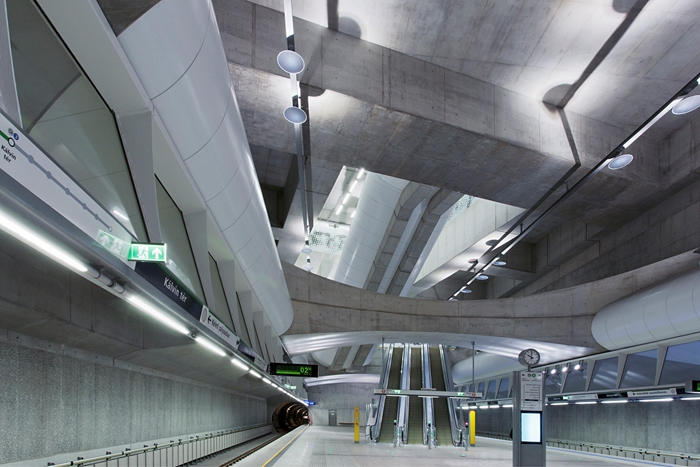 The M4 is a new ten station underground line, constructed using the Milan top-down method, running north-east, south-west through Budapest and connecting with other existing lines. Architects Palatium Studio, who won the competition, took the unusual decision to share the project with the runners-up plus other designers and artists that subsequently spun out of the original firm. A key feature of the project is its participatory quality.
The stations are generally straightforward in plan with a track either side of a generous central platform. Giving each station its particular identity are concrete beams that hold the station walls apart. Each of the architects has chosen to deal with the particular depth of his station and its relationship with the ground level entrance (attributes decided by pure engineering considerations) by inserting bracing beams in different arrangements and layers. Some stations have one or two layers of simple lateral beams others three levels of criss-cross beams above the platforms. Some have no direct daylight, others benefit from large roof-lights.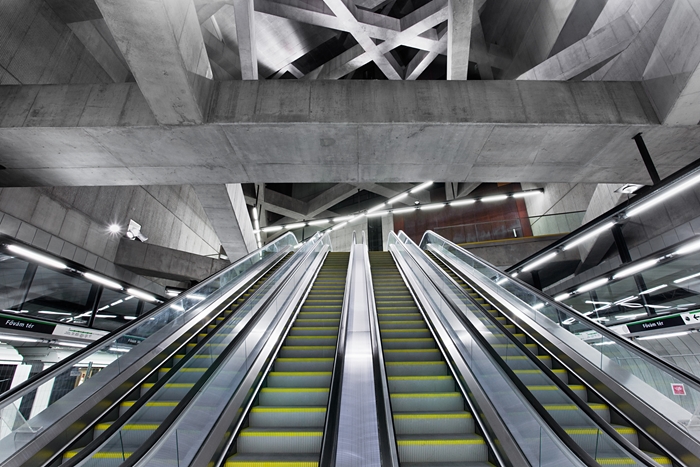 While the stations mostly have their own identity there are neatly resolved common surfaces, lighting and furniture. The platform edge is signalled by blue LEDs on one side and orange on the other so one is never in doubt as to which line is moving north or south and the lights flash on and off when a train is about to arrive. There is virtually no advertising; instead there is art in the form of decorative end walls to the stations, panels behind the bench seating or even scrunched up soffit linings. The tunnels to the two stations next to the Danube enter as swirling mosaic-lined tubes. These are the most ambitious stations on the line and have diagonal cross beams propping the deep sides of the excavation; their above-ground presence is indicated by discreet irregular skylights popping up beside the river.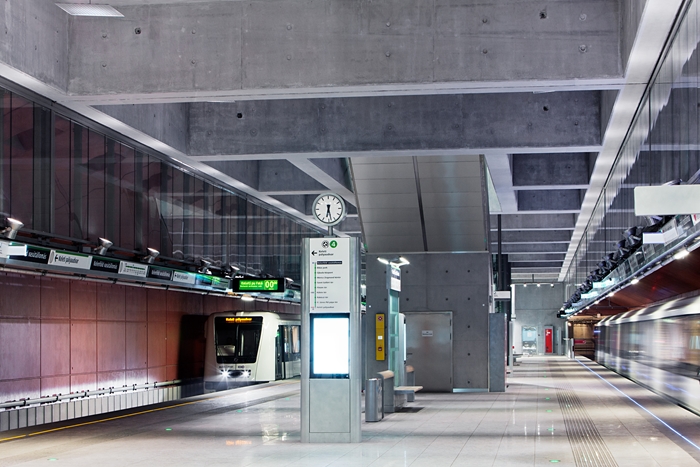 Two technical achievements struck the judges as impressive. Lowered bulkheads above the tracks provide smoke vents directly above the trains and, as the latter are the main sources of combustion, no other compartmentation is apparently required. So there are no dedicated fire stairs encumbering the platforms and escape is up the escalators. The absence of clutter is even better exemplified by clean edges to the platforms without the usual glazed safety-doors. These are finessed by a continuous light beam at platform edge which detects objects (or people) falling onto the tracks and immediately halts the driverless train approaching.
Key to these stations is structure used as a creative tool, sometimes in minimal fashion and in other instances expressively as in the two stations next to the Danube which have an anarchic wild quality. Another significant feature of the project is its participatory quality - the generosity with which the winning architects shared the work and their determination to create architecture in extremely difficult circumstances. And at all times the engineers' ingenuity in achieving this new line is most striking.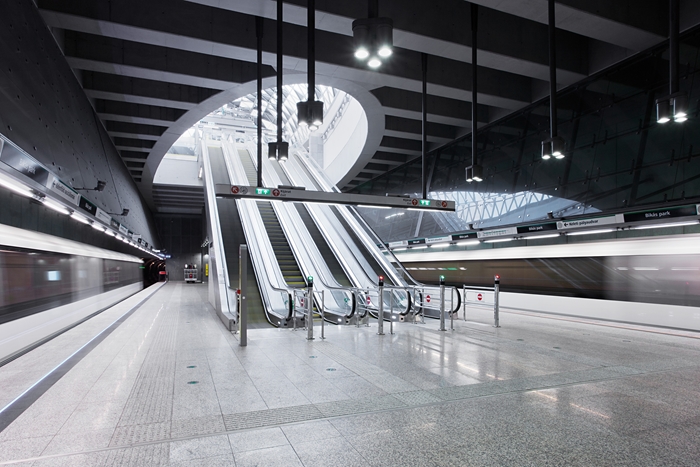 Date of completion March 2014
Location Budapest, Hungary
Cost Confidential
Internal area 100 m²

Contractor Swietelsky Hungary Ltd.
Structural Engineers Főmterv Co. Ltd.
Structural Engineers Uvaterv Co. Ltd.
Landscape Architects s73Ltd.
Environmental / M&E Engineers Mérték Stúdió Ltd.
Acoustic Engineers Fülöp Augusztinovicz, Dr.
Lighting Design Tamás Bányai
Glass Architects Stokplan Ltd.
Applied Arts Márton Bojti, Andrea Hegedüs, György Jovánovics, Tamás Komoróczky, Zoltán Krizsán-Keszei, Tamás Bujnovszky