Sancaklar Mosque
by Emre Arolat Architecture
Client Sancaklar Foundation
Awards RIBA Award for International Excellence 2018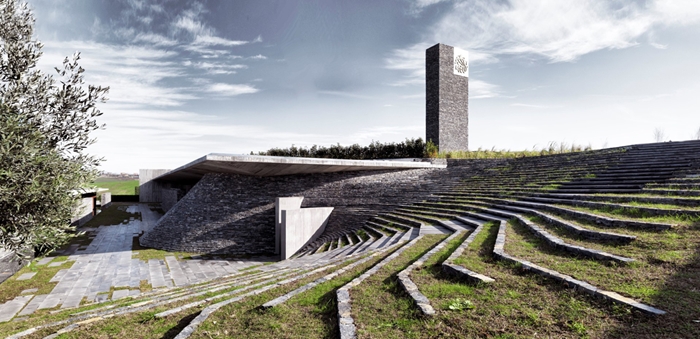 The Sancaklar Mosque is a privately funded mosque built on the outskirts of Istanbul for the clients' extended family and local community. It is a radical reimagining of a mosque with architect and client bravely challenging convention, which in the current, increasingly conservative climate, is particularly impressive. The client had the difficult task of persuading his extended family to commit to a highly unorthodox, contemporary design. Sceptics have changed their view and are now proud of the scheme and its popularity is such that people now travelling to pray there.
A contemporary interpretation of the minaret is the only signal of the presence of the building from afar, the prayer space is built into the slope of the hill. This was the architect's way of side stepping cultural constraints and discussions of form. The journey to the entrance is down through a rugged landscape of rough stone steps and wild flowers, past running water and around a curved drystone wall to face towards mecca.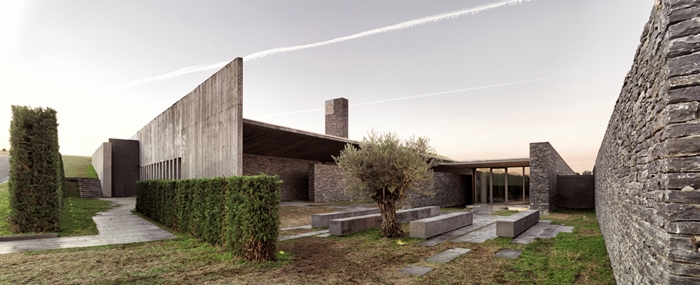 A courtyard is created at the entrance to the prayer hall, defined on the outer side by a teahouse, communal space and library which sits in a shallow pool of water, giving the space a reflective calm in preparation to enter the prayer hall.
Attempts by the architect to have a single entrance for men and women were unsuccessful however the layout of the interior questions convention by placing women next to men facing the Qiblah, albeit raised and physically and visually separate. There is also no dome, but the rising contours in ceiling make subtle reference to one.
The prayer hall itself is a dramatic yet contemplative space, natural light floods down the Qiblah which is a curved wall of boardmarked concrete laid in the direction of falling light. Its contrast with the rugged stone walls and landscape signals its special nature. The Mihrab is a simple niche within this wall flanked by a minbar with semi-circular stone steps leading up to it. The care taken with a restrained palette of natural materials and straight forward detailing is welcome.
It is testament to the success of the project that people travel from Istanbul to the mosque and many are now proud of how special it is. This is particularly impressive in a climate where most new mosques are built in the Ottoman style. A ground-breaking scheme.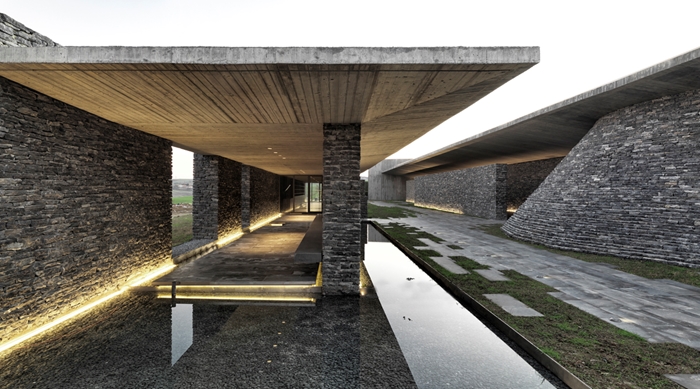 Date of completion January 2014
Location Büyükçekmece / Istanbul, Turkey
Cost Confidential
Internal area 1,290 m²

Contractor Sancaklar Foundation
Structural Engineers Balkar Engineeirng
M&E Engineers Setta Engineering / HB Electrical
Landscape Architects Medosa
Lighting Design SLD / Piero Castiglioni
Acoustic Engineers Sey Consulting
Calligraphy Mehmet Özçay