The Ancient Church of Vilanova de la Barca
by AleaOlea architecture & landscape
Client Secretaria d'habitatge i Millora Urbana, Generalitat de Catalunya
Awards RIBA Award for International Excellence 2018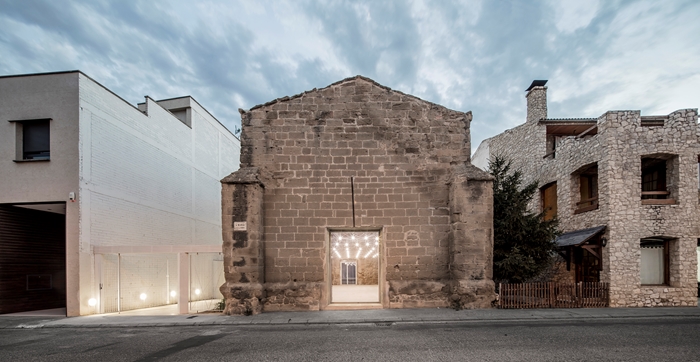 Left as a roofless ruin after being seriously damaged by bombing in the Spanish Civil War, the thirteenth century parish church at the centre of the old village of Vilanova de le Barca has been repaired and reconstructed and brought back to life, not as a place of worship, but as a much valued community-hall for social and cultural use.
The surviving stonework walls of the old church have been skilfully and sensitively stabilised and consolidated and provide the framework for the reinstatement of the missing walls and roof in new materials, thus recovering much of the spatial qualities of the original church. The new work has been carried out in materials and with details deliberately different from those of the surviving original work.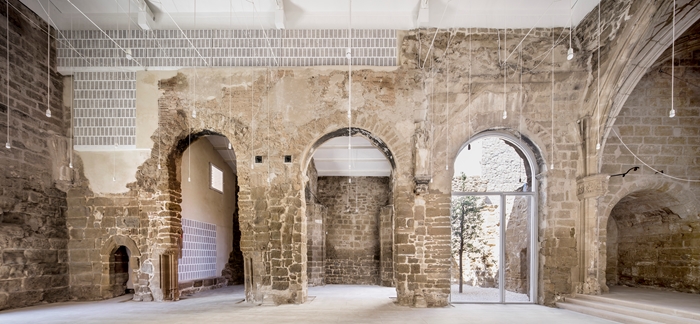 The new, 700 mm thick walls comprise an inner lining of perforated clay blocks, laid vertically in a staggered bond and supported on steel channels spanning between concealed, reinforced-concrete piers (supporting a reinforced-concrete ring-beam at the roof-level), and an outer layer of smooth-finish, light-cream coloured brickwork laid to stretcher-bond. This is carried on steel channels spanning between the reinforced-concrete piers, but with alternate bricks laid a little forward to their neighbours, thus creating a richly textured pattern seen externally to great effect. The new roof comprises clay-tiled roof-slopes supported on a simply detailed steel framework, incorporating thick insulation, supported in turn on steel trusses, spanning between the north and south walls.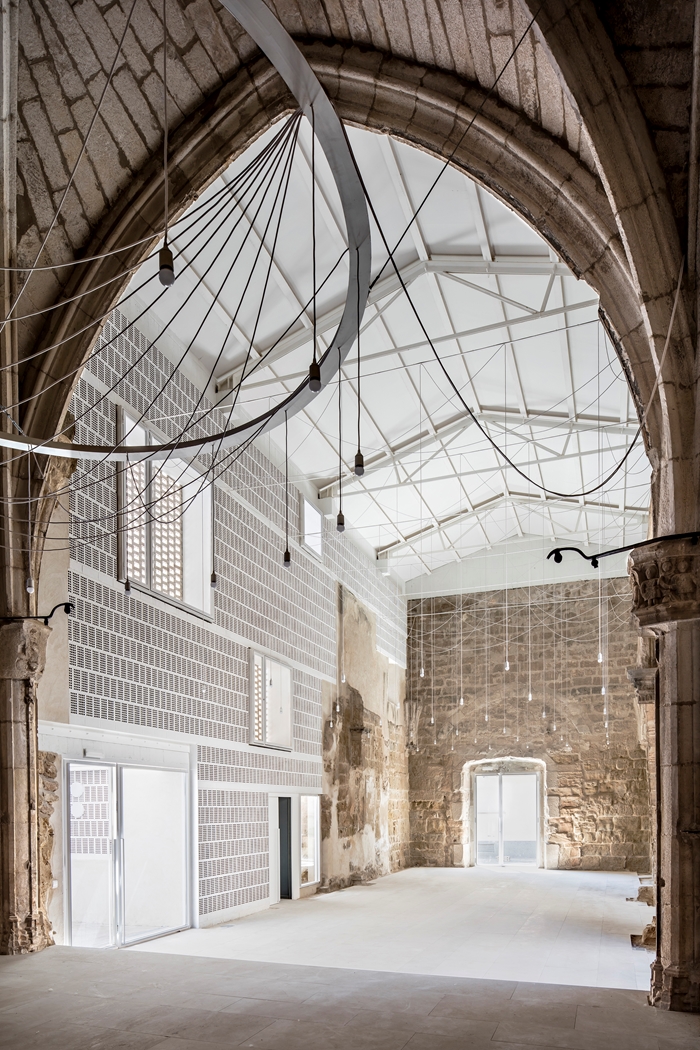 Both externally and internally, the use of perforated clay blocks and brickwork provide real visual and architectural delight, particularly on the west and south sides of the building where the sunlight is beautifully modulated by the perforations in the outer layer of brickwork.
Date of completion April 2016
Location Vilanova de la Barca / Lleida, Spain
Cost £245,000
Internal area 217 m²
Cost per m² £1,129 / m²

Contractor Jaen Valles
Structural Engineers Campanyà Vinyeta Arquitectes