University of Amsterdam
by Allford Hall Monaghan Morris
Client Universiteit van Amsterdam
Awards RIBA Award for International Excellence 2018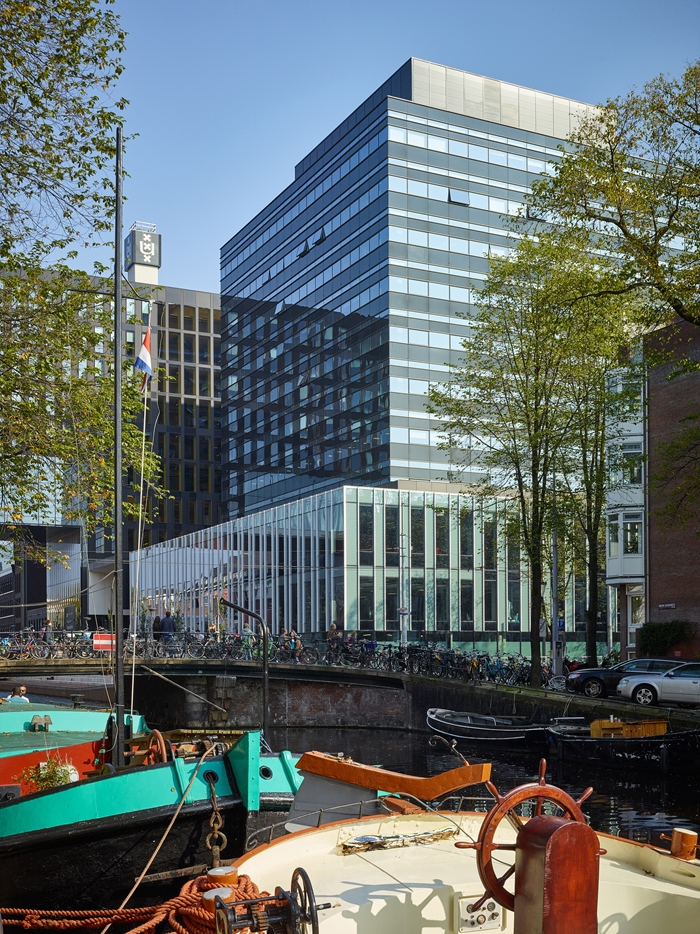 Won through an international competition in 2007, this project reworks – reinvents – some 67,000m² of existing post-war buildings into a new city campus. Located just within the ancient city walls of Amsterdam, two 12 storey, roughly square blocks sit either side of a further 12 storey slab block that sits in, and bridges, a canal.

Strategic remodelling saw AHMM reorder the departments from floor by floor arrangements, to vertical stacks arranged around existing circulation cores – made legible by the bold use of colour and cutting out vertical voids to lift cores.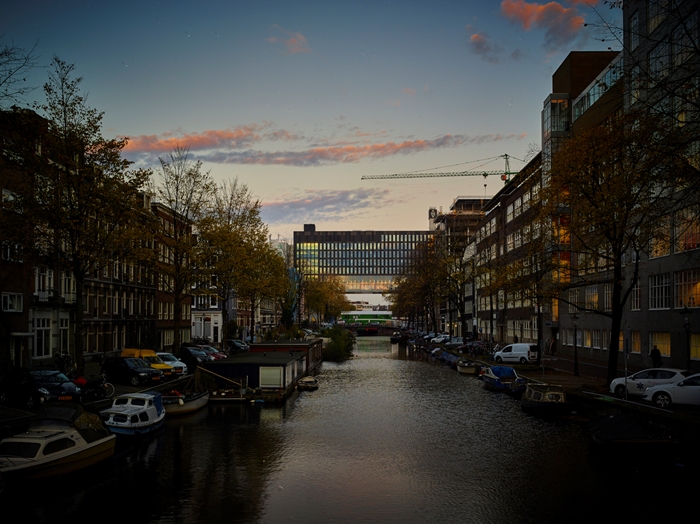 The ground floor, originally given over to cars, was rebuilt for people by creating a spacious foyer. The big move came with the removal of a 40m wide, 12 storey section of the slab block over the canal, rebuilding this to create a 4 storey void over the canal to reconnect the campus and the city. This feat of engineering is made possible by a post-tensioned concrete beam that supports administration floors above, while a new double-height room (café/ hang-out space) for the students is hung below on 50mm rods – a room with a view.
A new elegant bridge is built across the canal to connect the campus and unfussy red brick paviours work well to connect the public spaces and echo the Dutch tradition.
Internally, the project is highly successful – there's little doubt that the reorganisation of the departments work well and the students can find their way around. One of the great things about the reworking of the buildings is the way the concrete frame of the original is left raw, albeit painted, lending the feel of a giant warehouse conversion. The suspended room above the canal is striking and lends identity to the complex. Ground floor spaces are very legible and with giant circular roof lights – something of a hallmark of AHMM oeuvre – very bright and airy.
To reinvent a somewhat distopian '60s vision in concrete slab blocks into a fully functional university for the 21st century, over 11 years, two construction phases, over three connected buildings, with five generations of client representation – is a huge achievement.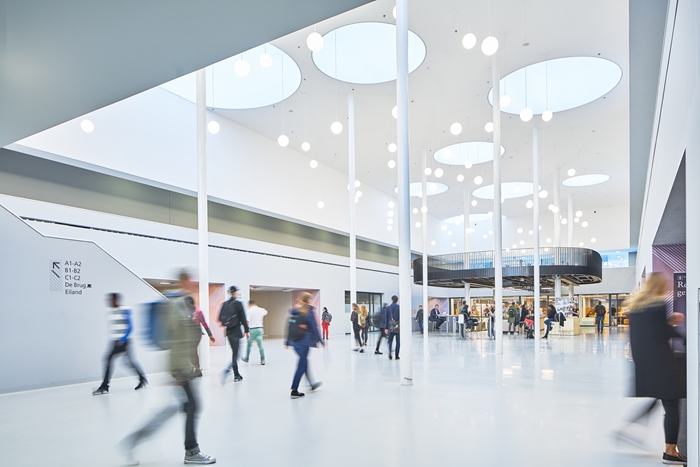 Date of completion September 2017
Location Amsterdam
Cost £84,500,000
Internal area 67,600 m²
Cost per m² £1,250 / m²

Contractor BAM Utiliteitsbouw
Contractor - Phase II JP van Eesteren / TBI
Structural Engineers Pieters Bouwtechniek
Services Engineer Ingenieursburo Linssen B.V.
Building Physics LBP Sight
Subconsultant Architect ZZDP Architecten
Cladding Consultant IBS Consultants B.V
Central Plant Advisor Deerns Raadgevende Ingenieurs BV
Health & Safety Adviesburo Nieman B.V.
Project Manager - Phase II Aronsohn Management
Project Manager - Phase IRoyal Haskoning DHV
Cost Advisor - Phase II Aronsohn Management
Cost Advisor - Phase I Royal Haskoning DHV