Accordia, Cambridge
by Feilden Clegg Bradley Studios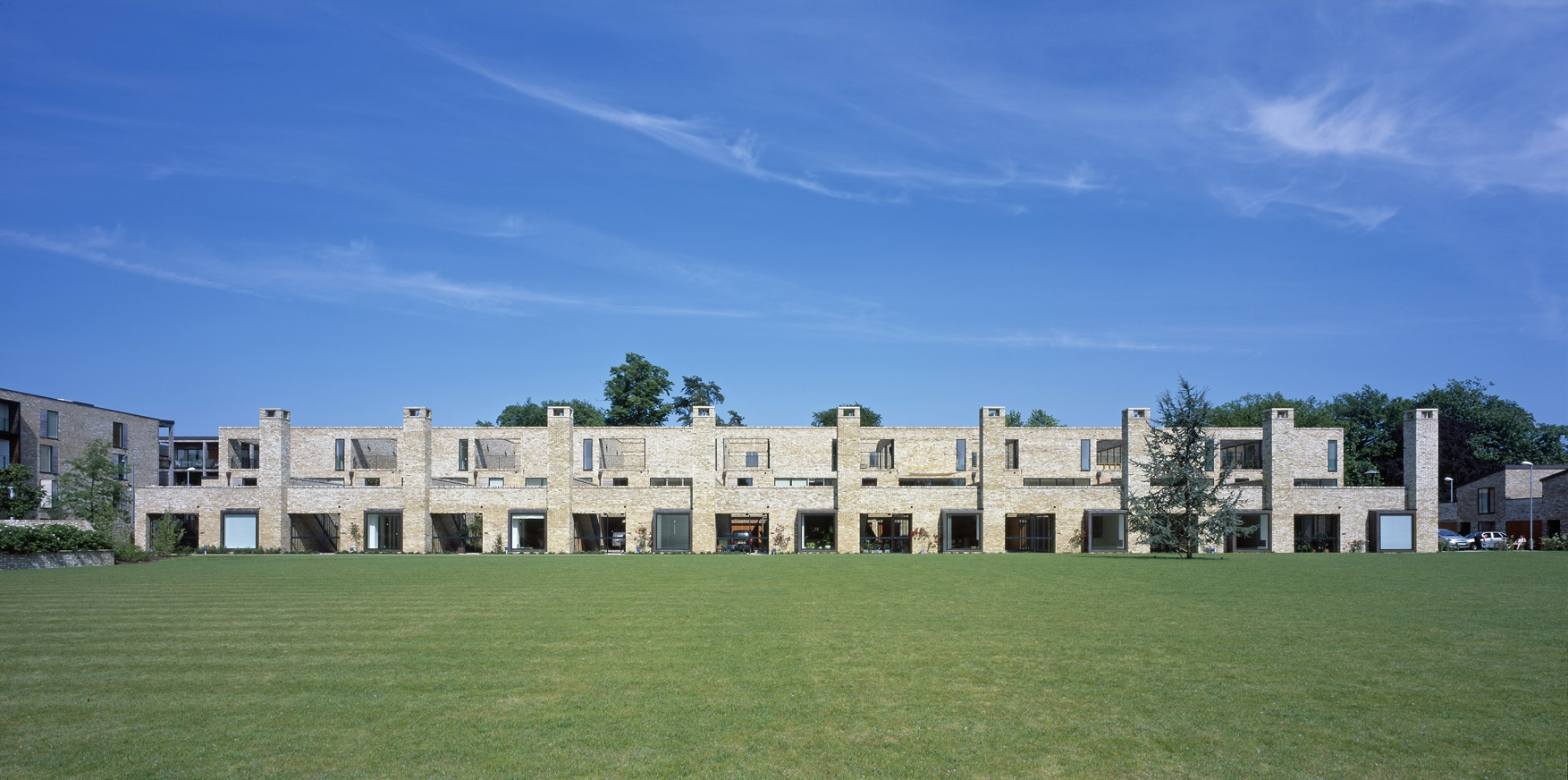 This is high-density housing at its very best, demonstrating that volume house-builders can deliver high-quality architecture while improving their own bottom line.
The scheme was about relationships: between architect and developer/contractor/client; and between private and public external spaces, providing a new model for outside-inside life with interior rooftop spaces, internal courtyards and large semi-public community gardens.
On a brownfield site in Cambridge – formerly owned by the military – beautifully thought-through houses sit in a density of 47 homes per hectare. The planners, led by Peter Studdert, were extraordinarily imaginative. What other authority would have allowed terraces on first and second floors instead of gardens, rather than banning them on the grounds of overlooking? Terraces sit alongside common land where children play safely as if in some idyllic throwback to the 1950s. Houses and flats have good-sized, well-proportioned rooms with views ranging from urban to rural pasture. There is plenty of variety in the house plans, and the detailing produces a different aesthetic in each. These are traditional houses with a twist.
Much of the construction was fabricated off site to increase the speed of construction, reduce waste and improve site safety and environmental performance. This was a post-Thatcherite development that is unafraid of communal aspirations and aesthetics. There was plenty of individuality in the flexible house plans, but there are also village greens and strips of common land.
This was architecture that treats adults as grown-ups and children as people with different needs – the need for stimuli for play that does not involved sitting into front of a screen or a games console, and which involves interaction with other young people.
The Stirling judges awarded it the prize as a scheme that they felt could push things forward in a very ordinary way. It was an exhilarating project that adhered to the tenets of modernism, reinstated values that were lost from housing in the latter part of the 20th century and delivered light and fresh air at high density.
Accordia, the judges felt, marked a shift in British housing, sending a message that good housing matters as the place where people's lives and their attitudes to society are shaped to an industry that had for too long been anti-design and to politicians who had regarded housing in terms of targets to be achieved. Accordia demonstrates that British cities need more of a masterplan, a collaborative approach and an eye for both the detail and the big picture in landscape and architecture.
Masterplanning and lead architects 2007
Architects Maccreanor Lavington
Architects Alison Brooks Architects