​Burntwood School
by Allford Hall Monaghan Morris
Client Wandsworth Borough Council
Awards RIBA Stirling Prize 2015, RIBA National Award 2015 and RIBA London Award 2015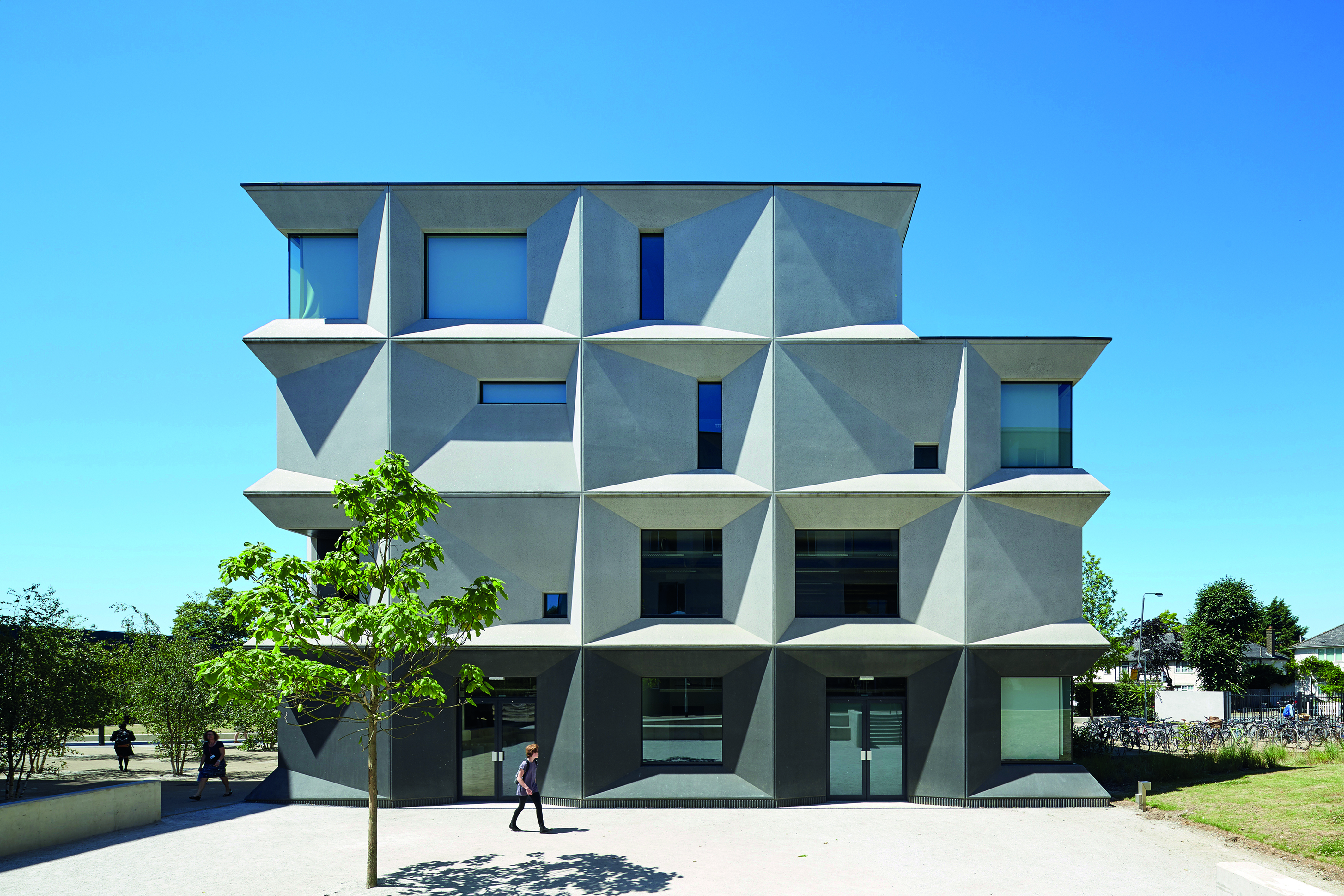 This is a truly collaborative project in which mature architects with deep understanding and experience of what makes for a good school, working with landscape architects who believe that a light touch can transform an existing landscape, and a graphic artist whose work has long made way-finding an art form in AHHM projects, to produce one last hurrah for the Building Schools for the Future programme. And, lest we forget, BSF may have been based on a wasteful methodology but it did have at its heart a desire to improve the fabric and learning environments of all our schools.
Burntwood also reminds us of the previous time when such aspirations were the norm: the 1950s and early '60s when the LCC and GLC programmes led by Leslie Martin were giving London light-filled, beautifully organised schools. Here at Burntwood a fine Leslie Martin-designed building has informed the new architecture and the relationship between the new concrete buildings and the older buildings adds a sense of architectural history and depth to the whole site. It gives the lie to the notion that the super-block with the vast wasteful atrium is the answer to the question, how do we best design a school?
Burntwood has the collegiate air of an Ivy League campus – perhaps it's all the pale, finely-detailed concrete, perhaps it's the elegant covered walkway that links the principal buildings, drawing together the disparate styles and ages of the architecture. The basic module, made up of alternated pre-cast panels, is used creatively to produce blocks of different character for different purpose. One, cut through to form a gateway, affords a great sense of arrival and an immediate impression of quality, openness, confidence, solidity. The architectural expression throughout is bold, characterful and adds to a sense of this being more like a university than a school, and would appear to encourage behaviour to suit. AHMM have produced grown-up buildings for Burntwood School, which make kids raise their game, instead of pandering to them.
These are buildings with great force. A modular pre-cast concrete cladding, using eight different moulds, with canted edges and different sized glazing panels is playfully arranged on a rigid grid creating surprising interior spaces. The rooms are gracious and full of light, and there are many double, even triple-height spaces. Internal corridors all end in well-framed views. This is education architecture as it should be.
Contractor Lend Lease
Structural Engineers Buro Happold
M&E Engineers Mott Macdonald Fulcrum
Landscape Architects Kinnear Landscape Architects
Cost £40,900,000
Internal Area 21,405 m²