​MAXXI National Museum, Rome
by Zaha Hadid Architects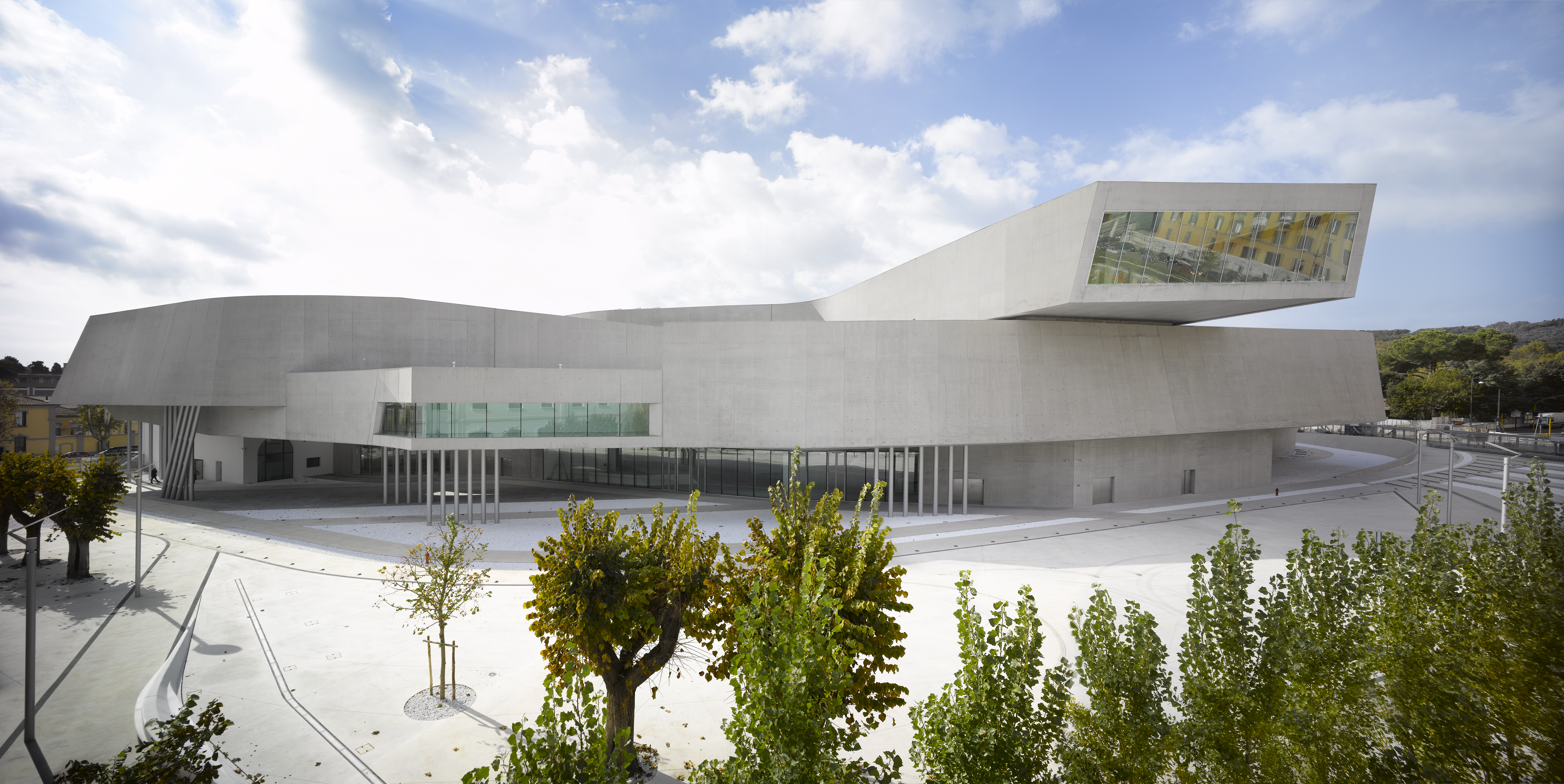 The museum doesn't feel like Rome, but is all the more exciting as it is juxtaposed in its local vicinity with army barracks and industrial warehouses, with glimpses of distant views to Roman rooftops and cupolas. Its suburban context allows it a freedom denied to architects in the centre of Rome.
This is a museum of paths and routes, a museum where the curators have to invent how to hang and place the works of 21st century art that have been collected since the inception of the project. The permeable plaza provides flexible routes and connections, but also forces one to engage with the exhibits in a new context.It is set behind a 2.5-metre-high industrial aluminium mesh fence that protects the outdoor art.
The museum, for all its structural pyrotechnics, is rationally organised into five main suites. The whole is bravely day lit with a sinuous roof of controllable skylights, louvres and beams. At the same time the space conforms to the strict climate control requirements of modern galleries – the skylights both orientate and excite the visitor, but also create uplifting spaces.
MAXXI was described as a building for the staging of art, and while provocative on many levels, this project demonstrated a maturity and calmness that belied the complexities of its form and organisation. The nature of the project meant that throughout the design process the architects had no idea what the series of rooms would be used to hang, so walls that would bear a ton of rusting steel might be graced by miniatures. In addition to the innovative hanging, video projections bounce off the white curves, animating the spaces.
This was a mature piece of architecture, a distillation of years of experimentation, only a fraction of which has been built. It is the quintessence of Zaha's constant attempt to create a landscape, a series of cavernous spaces drawn with a free, roving line. The resulting piece gives the visitor a sense of exploration.