Creating the Clore Learning Centre
Our new Clore Learning Centre will provide a new destination for all ages to engage with and respond to architecture at 66 Portland Place. Ahead of the launch in October, the team give us a sneak peek at the project and reveal the stories behind some of the materials they worked with.
Architects Hayhurst & Co explain the properties they looked for in the joinery, flooring, cabinetry and lighting products...
Joinery and floors: Moso Bamboo Surfaces
We used bamboo as the construction material for joinery and floor surfaces in the new Clore Learning Centre. Hardwood or laminate-engineered fibre board might be the more traditional material of choice for bespoke joinery, but for the Clore Learning Centre project we chose Moso Bamboo Surfaces' as a sustainable alternative that can also be used as a learning tool about the specification of engineered timber board products.
Bamboo is the fastest-growing construction material available and can reach its final length of up to 20m high within a couple of months. This stands in sharp contrast to the growing time of hardwood species, which often take over 50 years to mature. Generally 20-25% of the poles in a bamboo forest can be sustainably harvested each year, meaning that the plant does not die after harvesting.
The Moso Bamboo Surfaces provide a visually stimulating environment for the Clore Centre and extends the rich material palette of the original RIBA building, into the new facility. The bamboo adds a dramatic material element to the Clore Learning Centre, and provides a talking point around materials, construction and sustainability in architecture and design.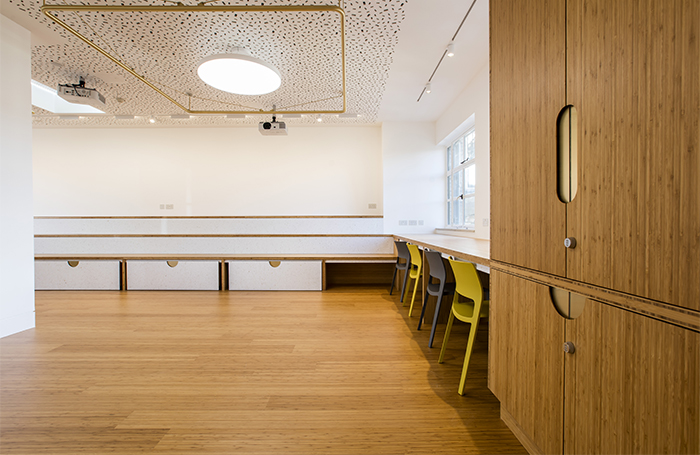 Joinery hinges: Hawa
The adaptable and performative joinery we designed for the Clore Learning Centre is made possible through the use of Hawa's Concepta hinge. The bespoke cabinetry has multiple functions: a presentation tool, an exhibition display and a learning tool, which can reconfigure the space to cater to a wide range of learners and learning events. Hawa's Concepta product allows cabinet fronts to slide away out of sight, so that the furniture in the Clore Centre can be transformed from an interactive learning space to a formal exhibition space in moments.
Magnetic cupboard fronts: Formica
The designs include cabinet fronts faced in Formica's Magnetic Laminate. The surfaces provide a flexible structure for communication and display that can be easily adapted to suit the use of the Clore Studio as a learning space. The laminate finishes provide a neat and decorative result with a magnetic effect.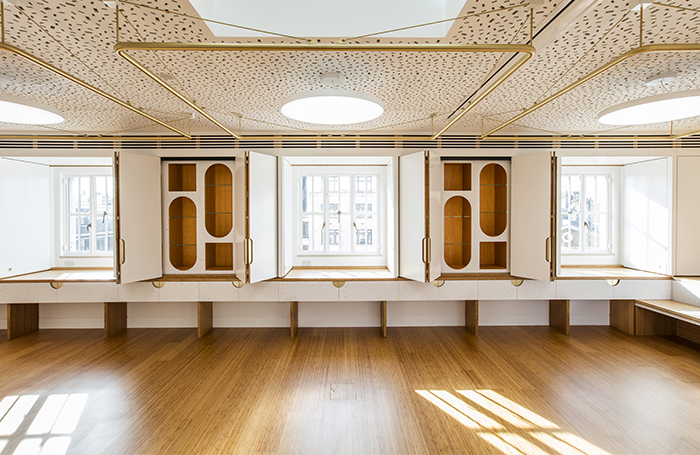 Lighting: Zumtobel
All the new lighting in the Centre has been designed to be as adaptable as possible, to enable total flexibility in how the spaces are used. The lighting installations demonstrate the key role of lighting in learning space interiors.
In the Clore Centre, Zumtobel's Supersystem recessed track lighting allows luminaires to be arranged to benefit different workshops, events and exhibitions. Overhead Zumtobel Ondaria fittings can be tuned to give optimised lighting conditions, whilst also demonstrating the impact of lighting temperature on the feel of a space. A lighting scene panel allows easy switching between lighting programmes optimised for the most frequent uses of the space. All fittings are 'DALI dimmable', meaning they can also be controlled individually. Scenes can be re-programmed as needed to suit an evolving learning programme.
In the Clore Study space, a suspended Supersystem track with adaptable spotlighting allows study of RIBA Collections materials in close detail.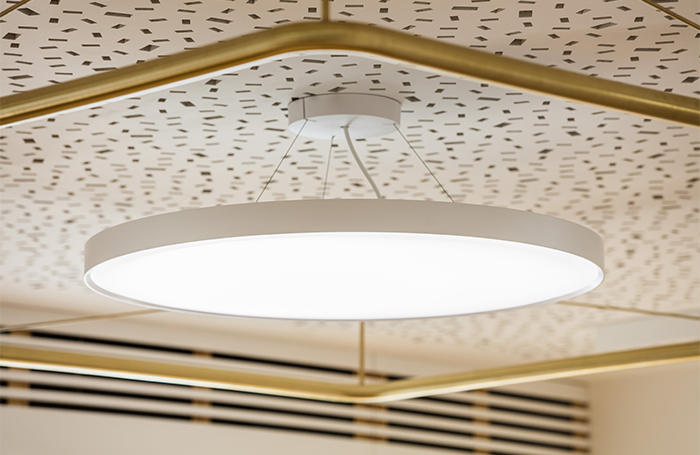 The RIBA project team reflects on how materials were chosen for the terrace surface, sanitaryware, sanity flooring and seating...
Terrace surface: Sika
Our new Clore Learning Centre includes the refurbishment of an outdoor terrace that will help to connect our learning programmes with the built world beyond our HQ. With inspiring views of London's changing skyline and the BT Tower overhead, the terrace will extend our learning activities for all ages to the open air. Sika UK's Sikalastic Rapid Trafficable Waterproofing and Wearing surface will be used in our terrace surface renovation to ensure an all-weather, non-slip environment is provided for our learners.
Sanitaryware: Geberit
Beyond the new learning spaces, the aim of the project is also to upgrade the wider infrastructure of our Grade II* listed HQ, helping us to better meet the expectations and needs of our diverse audiences. Geberit sanitaryware has been used in the complete refurbishment of our 6th floor WCs and in the upgrade of our 5th floor WCs. Both spaces have been redesignated unisex so that visitors have access to WCs without travelling between floors and the refurbishment includes the provision of an adapted toilet to help make our upper floors more accessible.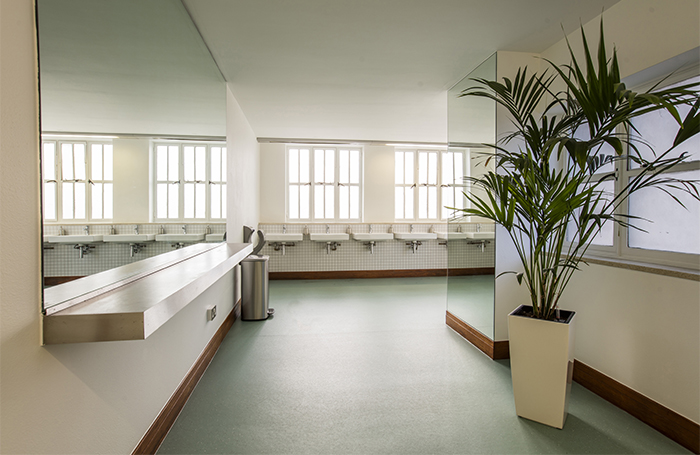 Sanitary flooring: Forbo Flooring
Forbo Surestep Original pale green flooring is used throughout the WCs to provide a durable, non-slip environment. The colour reflects a 1930s palette appropriate to the age of our building.
Chairs: Arper
Furniture was carefully considered to cater for all our participants – from schoolchildren to older learners – as well as meeting our needs for practical and compact storage when not in use. Arper Juno chairs can be easily stacked in our purpose-built storage space and their molded plastic form is durable and wipe-clean. Armrests provide side support and make it easier for older people with reduced mobility to stand up.