​RIBA North venue hire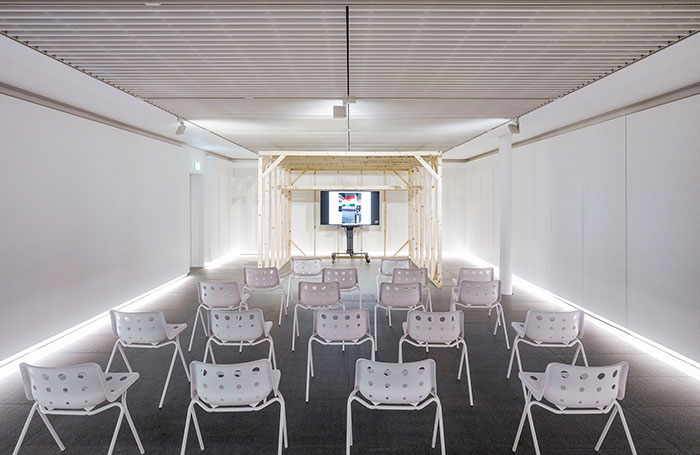 RIBA North is currently closed to the public and not available for venue hire. Please check back later for opening updates.
RIBA North, the Royal Institute of British Architect's new national architecture centre on the historic Liverpool Waterfront, is a contemporary and striking environment designed to inspire creativity and to encourage the exchange of knowledge.
The centre, designed by architect Matt Brook, offers a number of flexible spaces which take inspiration from the minimal Bauhaus aesthetic. Spread over two floors in the award-winning RIBA building, each space can be shaped to accommodate a variety of events, including exhibitions, meetings, training, drinks receptions, conferences and dinners.
Capacity ranges from two to 350 people, depending on your requirements. Conference facilities are suitable for up to 70 delegates, theatre style.
Catering can be tailored to your needs, and our small dedicated team will help you to plan the whole event.
More information about the use of the City Gallery and Digital Media table can be found online. The use of the Digital Media table can be combined with venue hire, providing a professional and exclusive environment to host clients and investors.
Venue hire summary
Perks of the venue include:
spectacular location
contemporary interior, and facilities inspired by the minimal Bauhaus aesthetic
flexible, creative spaces
RIBA branded pens and notebooks on request
local catering
air conditioning, plus temperature and humidity controls
free guest wifi
video conferencing facilities
technical support
a curatorial/exhibition service
access to RIBA Liverpool City Tours
exhibition guides and talks
a large capacity, from two to 350 people
If you want to find out more, then please email RIBANorthVenues@riba.org or telephone +44(0)151 703 0107