Practice Space
The Practice Space at 66 Portland Place showcases recent works by architecture practices around the globe, as well as the RIBA Royal Gold Medal and the RIBA President's Medals. It is a space dedicated to achievement and innovation, with an ambitious programme of displays throughout the year. 
Practice Space, 66 Portland Place, London W1B 1AD
Monday to Friday, 10am to 5pm (Tuesday, 10am to 8pm)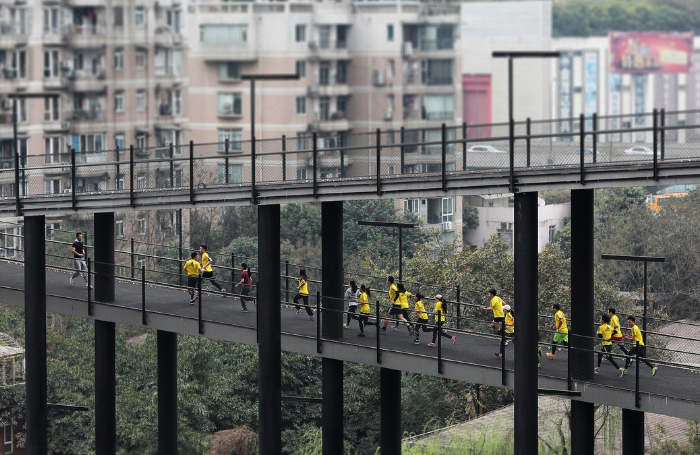 RIBA China Architects: building contemporary China
29 September to 29 October 2023
The last thirty years have seen an unprecedented transformation of architecture in China. Through exchange and dialogue with their international counterparts, Chinese architects have sought to respond to the challenges and demands of contemporary architectural development in the context of the country's rapid social and economic development.
The result of this is the production of many diverse typologies across the profession and design responses and approaches, all shaped within the context of China's architectural lineage.
Landscapes range from open plains to steep valleys and sizeable cities to remote villages, the 33 projects shown here tackle challenging questions including the climate crisis, urban regeneration, rural revival, and rapid natural disaster rebuild responses.
The collection of works is diverse, covering a wide range of types, including domestic builds, urban planning strategies for public buildings, large-scale housing complexes, and even the design of a simple tea house.
The 11 RIBA architects come from different regions in China. This adds another dimension of difference with varied backgrounds giving each their own exceptional role in architectural practice.
The models, images, photographs, and drawings exhibited here showcase their diverse investigative approach, brought together with the commonality of their shared cultural reference unique to contemporary China.
The vitality of the works reveals the enormous range of architectural approaches within contemporary Chinese architecture.
While the projects are shown under the collective banner of contemporary practice in China, the work reflects a very bright future for global architecture, exploring the breadth and quality of individual talent in Chinese architecture.
The 11 exhibitors are:
Bo Hongtao, Chief Architect, Director of CCTN, Architect-in-charge of Urban Regeneration Centre (URC) CCTN
Cui Kai, Honorary President & Chief Architect of China Architecture Design & Research Group (CADG)
Dong Gong, Founder / Design Principal of Vector Architects
Li Li, Principal Architect of Rurban Studio
Li Xiangbei, Founder of XBA Design Institution, Director of Shenzhen Huazhu Architecture and Engineering Design Co., Ltd
Liu Jiakun, Principal Architect of Jiakun Architects in Chengdu Sichuan, China
Meng Fanhao, Co-Founder & Chief Architect of line+ studio
Meng Jianmin, Chief Architect of Shenzhen General Institute of Architectural Design Research
Ren Lizhi, Vice President and Chief Architect of Tongji Architectural Design
Wang Jianguo, Professor, Director of the Urban Design Research Centre of Southeast University
Zhou Kai, Chief Architect Tianjin Huahui Architectural Design & Engineering
Download the exhibition brochure (PDF)
Exhibition designer sponsor: HBA/Hirsch Bedner Associates
Exhibition screen sponsor: Hisense