Accessible architecture? How today's inclusive spaces can help solve 200 years of accessible design challenges
In our latest article revisiting the RIBA Collections, Ed Warner, Founder and CEO of the accessible design business Motionspot and Government Access Ambassador for Accessible Products and Spaces, looks at how modern day inclusive principles can help solve the decades of accessible design challenges evidenced in the collections.
The barriers to disabled people's access to the built environment are as old as architecture itself. Material in the RIBA Collections documents 200 years of these challenges – and solutions – over the course of the 19th and 20th centuries. Evans and Shalev's 1973 drawing for a 'home for the physically disabled' at 48 Boundary Road, London, features an accessible physiotherapy pool with a wheelchair ramp. The residence was later converted into a home for the elderly. In the 1970s, disability activists Ken and Maggie Davis formed a cooperative to build the UK's first fully integrated housing complex, with carefully designed flats on the ground floor for the disabled and flats on the first floor for the able-bodied. The resulting Grove Road Housing Scheme, in Sutton-in-Ashfield, was designed by Wyvern Design Group and became a groundbreaking blueprint for accessible residential design.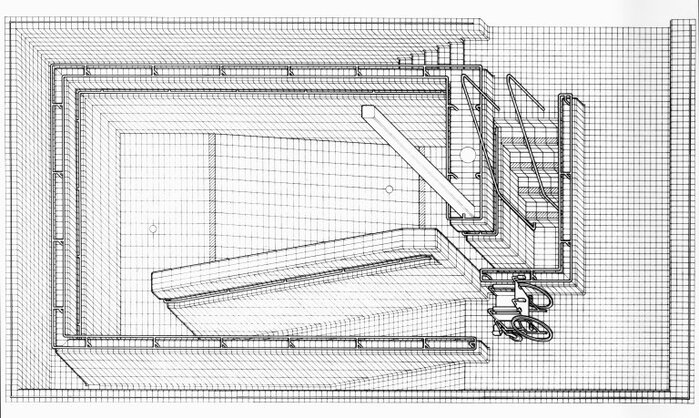 Back in 1931, architect Gordon Cullen was raising awareness of how design could better support people with difficult physical needs, for instance suggesting that cupboards or meters for the elderly should be no higher than six feet.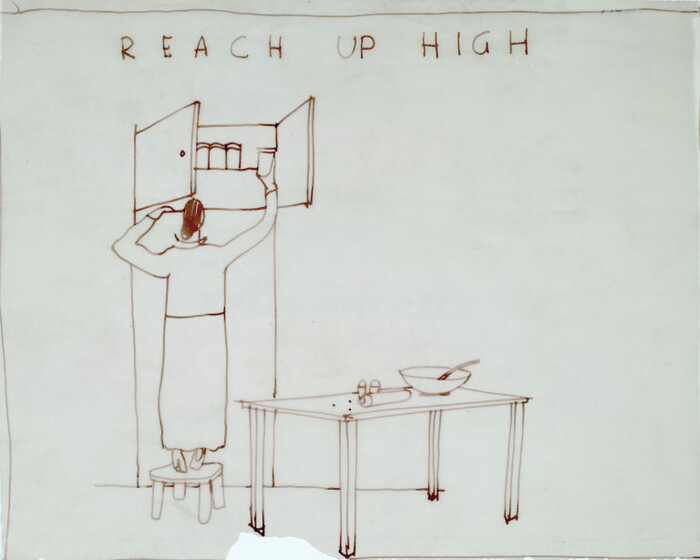 But these advances in awareness of accessible design were hard won. The Victorian approach to design for disability, widely documented in the RIBA Collections, involved the widespread construction of asylums that segregated many disabled people from society, providing very poor living conditions in often highly clinical and institutional settings. Fulljames and Waller's 1852 'lunatic asylum' in Monmouthshire, reproduced in the Builder, highlights the dehumanising effects of these institutions. The seemingly picturesque view of the exterior belies the clinical nature of the institution conveyed in the corresponding plan.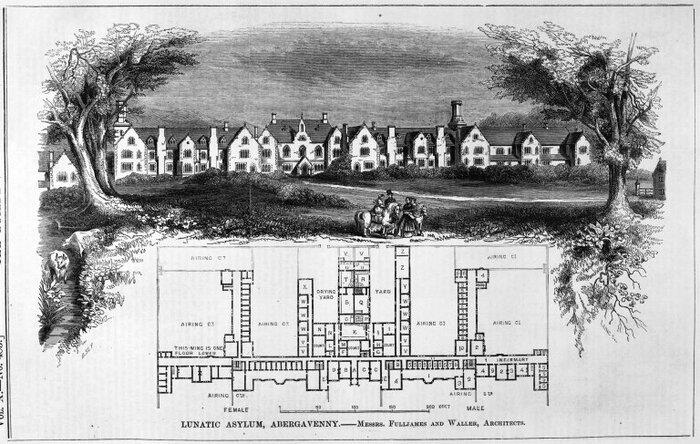 Whilst our modern day building designs, construction techniques and product designs look unrecognisable from those captured in the early RIBA Collections material, it is a sad reflection on our society that almost 200 years on, disabled people are still experiencing many of the same challenges in the built environment. Where adjustments have been made for disabled people, the resulting environments can often feel like second class spaces, with clinical looking products more suited to Victorian institutions than beautiful contemporary buildings.
Thankfully there are signs that things are changing. The more progressive architects and designers in our industry realise that the best environments and products are accessible for all. They are using evidence-based research and innovative design techniques, products and technology to make these spaces and the products within them inclusive for everyone.
What is driving this change? A greater focus on the social model of disability, whereby there is an acceptance that it is the environment that is the disabling factor, rather than the medical model of disability that sees a person's impairment or condition as causing the challenge or barrier in a space. Approaches are also changing as the design community gains a better understanding of the needs of disabled people. "Nothing about us, without us" has been a mantra adopted by accessibility organisations over the years to ensure that any decisions taken about disabled people involve close working with inclusive design specialists and people with the lived experience of disability who can be involved in the early stages of a design process.
Mindsets are also changing that design for disability is about providing wheelchair access. For too long, the industry has treated access as a 'tick box exercise' by demonstrating that a building is accessible because it has a level access entrance, doorways that are the necessary width and a ground floor wheelchair accessible toilet. In the UK, only 8% of the 14 million disabled people are wheelchair users, so the most inclusive developments are those that consider the needs of wheelchair users and the 92% of people who may have another physical, sensory or cognitive disability, including neurodiverse conditions such as autism, dyspraxia and ADHD. When architects and designers understand who they are designing for and blend function with form to create beautiful, accessible spaces, the result is a building that is more desirable for a broader range of users.
Several projects are now reaching completion across the UK, that demonstrate this successful inclusive design approach and innovative product mix. Accessible office developments like the 500,000 sqft Barclays campus in Glasgow raises the bar beyond design for physical access through features such as recalibration rooms for employees with sensory needs, use of biophilic design and natural materials to improve health and wellbeing and help reduce stress and anxiety, and a focus on the design of lighting and acoustics for building users with a visual and hearing impairment. It is the focus on the small details that makes a building genuinely inclusive. Barclays has embraced this ethos by reducing decibel levels in the washroom hand dryers for autistic people, specifying door handles for people with limited dexterity and choosing floor and wall finishes that give the necessary contrast for visitors and employees with a cognitive or visual disability.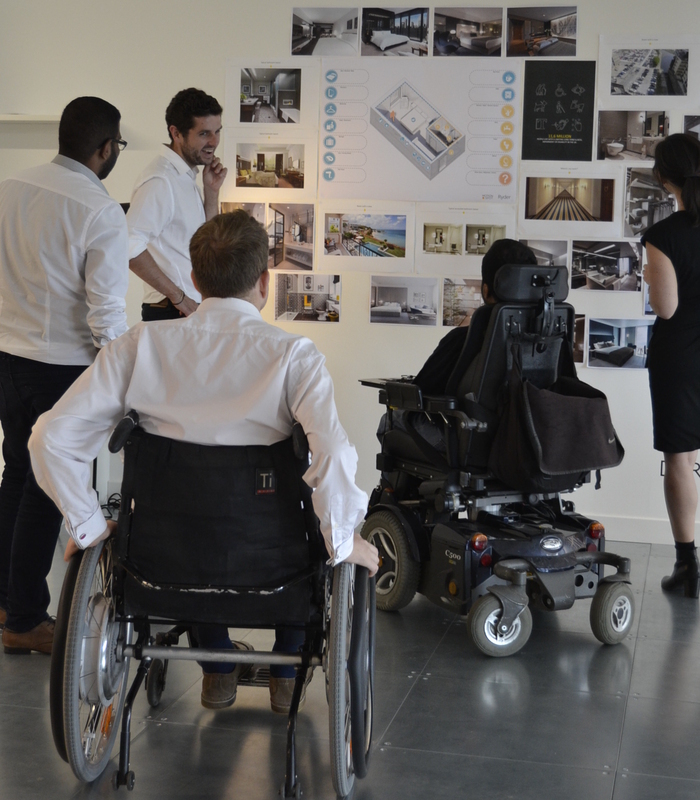 The hospitality sector is at the forefront of innovation in design. Examples like Hotel Brooklyn in Manchester demonstrate how embedding accessible design principles and products at the earliest stage of the design process can deliver an inclusive hotel, without compromising aesthetics. Hotel Brooklyn has created 18 accessible bedrooms and bathrooms with clever hidden design features such as ceiling track hoists concealed in a wardrobe and bathrooms that can flexibly adapt to suit guests' needs through innovative removable grab rail and shower seat technology. As a result, their accessible rooms have become the most popular rooms in the hotel, not only regularly booked by disabled people but often requested by business travellers who prefer the large wet room showers, and families who request a room with a connecting door.
These office and hotel environments have been created by clients and their design teams, who understand the potential access challenges within their buildings and have designed out these barriers from the earliest stage of the design process. In doing so, they have created buildings that are appealing and inclusive for everyone. Their success is also helping to change the mindset in the industry that accessible design is broader than just providing wheelchair access and that aesthetics don't have to be compromised when designing beautiful, accessible spaces. These learnings now need scaling, so all future buildings are accessible to everyone. Architects have a responsibility to challenge the thinking and push the boundaries of accessible design so the buildings of the future are ones that people will be proud of, and can access, for the next 200 years.
To find out more about accessible design listen back to our recent panels on RIBA Radio, featuring Ed Warner alongside Shani Dhanda and Jane Simpson.