Adams Holden & Pearson was a major British architectural practice led by Henry Percy Adams (1865 - 1930), Charles Henry Holden (1875 - 1960) and Lionel Godfrey Pearson (1879 - 1953).
Charles Holden in particular was renowned for his work on the design of London Underground stations, and the RIBA Collections feature a number of these, ranging from specific stations such as Osterley and Finchley Central to the London Underground exhibition at the British Empire Exhibition at Wembley in 1924.
Holden was awarded the Royal Gold Medal in 1936.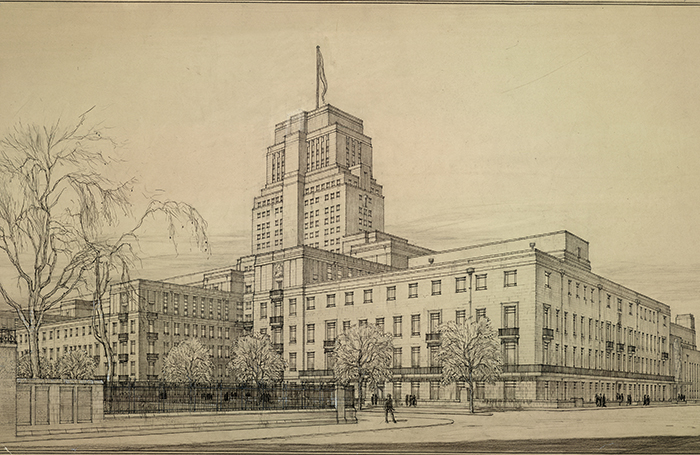 Relevant RIBA Collections material on Adams Holden & Pearson spans approximately 4,800 items including:
Drawings
a large group of drawings relating to the practice's designs of buildings for the University of London, some digitised


See: PA1438/AHP[149]; PA1445/AHP[150]; PA1446/AHP[150-3]; PA1447/AHP[154]; T559
designs, some digitised, for the offices of London Electric Railways at 55 Broadway
See: PA1422/AHP[77]; DR124/AHP[77]

designs for underground stations, some digitised, including St James's Park, Chiswick Park, Woodbury Grove, Mansion House, Leicester Square, Rayners Lane, Finchley Central, Nightgale Lane (later Clapham South), Piccadilly Circus, Uxbridge, Arnos Grove and Bond Street
See: PA1432/AHP[134]; PA1461/AHP[370]; DR53/AHP[167]; PA1429/AHP[115]; PA1428/AHP[113]; PA1431/AHP[128]; PA1424/AHP[91]1-66; T6/2; PA1429/AHP[117]; PA1431/AHP[124]; PA1447/AHP[155]; PA1415/AHP[52]; PA1419/AHP[63]
a number of designs for hospitals across Britain, some digitised
See: PA1405/AHP[12]; PA1412/AHP[41]; PA1424/AHP[93]; PA1456/AHP[244, 245]; PA1457/AHP[245]; PA1455/AHP[230]; PA1400/AHP[1]; PA1411/AHP[29, 35, 39]; PA1449/AHP[165], DR53/AHP[165-6]; PA1415/AHP[45, 46, 53]; PA1454/AHP[212, 213, 214, 219]; PA1431/AHP[126]; PA1406/AHP16; PA1448/AHP[164]; PA1432/AHP[130-1]; [PA1418/AHP[56]; PA1419/AHP[56]; [PA1421/AHP[66]; [PA1453/AHP[195, 204]; PA1452/AHP[185, 186, 192]; [PA1433/AHP[132]; AHP [49-51, 72-73]

drawings for the SS Tuscania, a luxury shipping liner (1919-21)
See: PA1458/AHP[250]; PA1459/AHP[250]
designs for several World War One memorials for various sites in Britain
See: PA1432/AHP[139]; PA1423/AHP[83]; PA1455/AHP[221]

a number of designs by Charles Holden's previous partnership Holden & Holford, including proposals for the post-war reconstruction of the City of London
See: PA1423/AHP[85]; DR18/3
hospital and housing designs by Henry Percy Adams' previous partnership Salter & Adams
See: PA1435/AHP[140]; PA1460/AHP[296]; PA1455/AHP[220]; PA1437/AHP[147]; PA1459/AHP[267]; PA1424/AHP[94-5]; PA1413/AHP[44]; PA1414/AHP[44]; PA1420/AHP[64]; AHP / Sa & Ad [5]

designs by Adams Holden & Pearson are also contained within the Dove Brothers collection
PB1421/5(1-20), PB1421/6(1-14); PA1847/3(1-68)
Photographs
Between 2,000 and 3,000 photographs of Holden and his practice's work are contained within the RIBA photographs collection, and there are seven albums of photographs taken or collected by Holden, as well as those collected by his practice.
Photographic material includes:
1920s photoprints, some digitised

, of the London Electric Railway (later London Underground) Headquarters at 55 Broadway, London [32994-32994/86; AP234/1-AP234/14; CHSC53-CHSC59; 32994-32994/86]



1930s views, some digitised, of Senate House, University of London [DWN6857; 33052-33052/69]
photoprints of London Underground canteen, Uxbridge (1952) [33007-33007/2]
photoprints by John Somerset Murray of London Underground Redbridge station and substation [LS 33011-33011/8]
a 1930s photo print of the London Underground Metropolitan District Offices, Acton (1932) [Ab]
seven 1947 photoprints, some digitised, by Photo Centre Ltd and Rainfordware Ltd of London Underground Gants Hill station (1947) [33012-33012/6]
photoprints of London Underground Uxbridge station and substation (1940) by Edwin Taylor & Son and others, some digitised [33009-33009/8; 33007-33007/2]
digital photographs by Stephen Morris of Chiswick Park underground station
Manuscripts
The Adams Holden & Pearson Papers contain archival material covering the practice's work, including its founders' previous partnerships. The material covers hospital projects, work for Transport for London and the University of London, press cuttings relating to the practice, contracts register, and notes and letters (including private correspondence) by Charles Holden.
See also
contemporary models, photographed

, of Arnos Grove, Rayners Lane, Balham and Sudbury Town underground stations created for the V&A+RIBA 2010 exhibition Underground Journeys: Charles Holden's designs for London Transport [MOD/HOLD/1-4]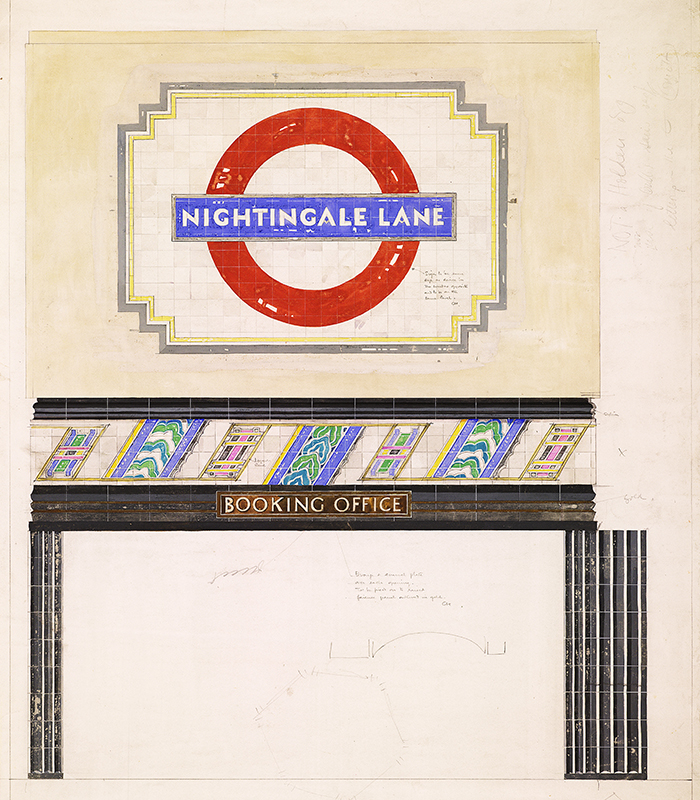 Key literature
Henry-Russell Hitchcock and Catherine K. Bauer, 'Modern Architecture in England' exhibition catalogue (New York, 1969) [72.036.6(42)(064) // MOD]
V&A+RIBA Partnership, 'Underground Journeys: Charles Holden's designs for London Transport', guide produced for the exhibition of the same name
David Lawrence, 'Bright Underground Spaces: the London tube station architecture of Charles Holden' (London, 2008) [725.314(42.1):92H // LAW]
Eitan Karol, 'Charles Holden Architect' (Donington, 2007) [72.036.6(42):92H // KAR]
Alan Powers, 'Modern: the Modern Movement in Britain' (London, 2005) [72.036.6(41/42) // POW]
Julian Holder and Steve Parissien (ed.), 'The Architecture of British Transport in the Twentieth Century' (New Haven and London, 2004) [725.3(41/42) // ARC]
Charles Holden, 'The City of London: a record of destruction and survival[...] proposals for reconstruction as incorporated in the final report of the planning consultants' (London, 1951) [91(42.12):9 // HOL]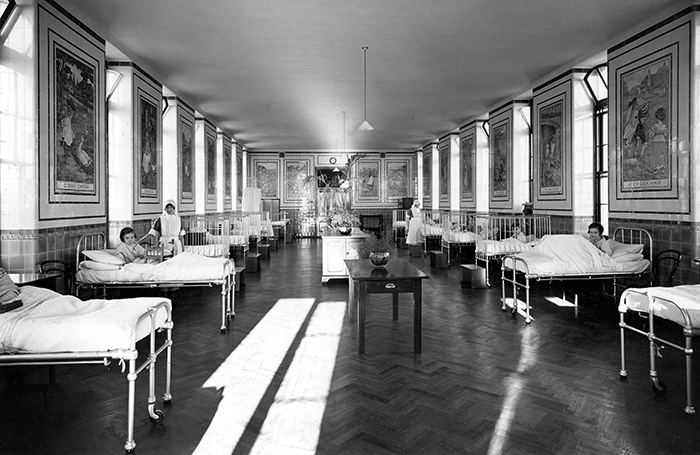 Geographic areas
UK: Bedfordshire, Bristol, Buckinghamshire, Essex, Glasgow, Hampshire, Hertfordshire, London, Manchester, Norfolk, Sussex
USA: Illinois, New York, Philadephia
Canada: Toronto
Key buildings and projects
London Underground head offices (1929); various London Underground stations (1930s); Senate House, University of London (1932 - 37).
Cataloguing status
Fully catalogued on the online library catalogue.
A printed list of the Adams Holden & Pearson Papers is available to consult at the RIBA Architecture Study Rooms.
Digitisation status
Approx. 350 drawings and photographs available digitally
Related collections
Transport for London; London Transport Museum; Historic England Archive; Institution of Mechanical Engineers; Hertfordshire Archives
Access
Access is via the RIBA Architecture Study Rooms for drawings and archival material, and the RIBA Library Reading Room for photographs.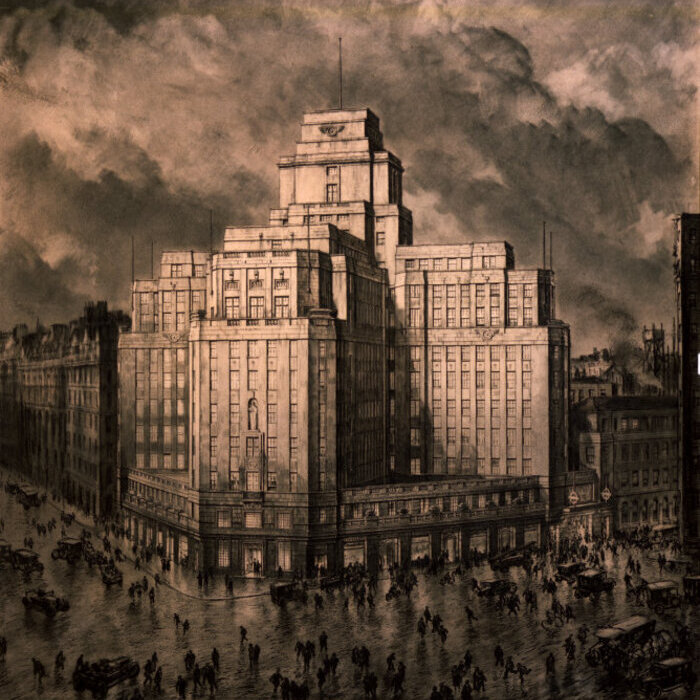 This is one entry in our growing series of research guides covering the significant groupings in the RIBA Collections. For all catalogued material relating to Adams Holden & Pearson, in the collections, please consult our online collections catalogue.