19 October 2021
Revisiting the Collections is a blog series inviting people working to amplify underrepresented voices in the cultural and built environment sectors to share their reflections on material in the RIBA Collections. Through this series, we hope to enhance collective understanding of our collections, forge fresh collaborations, and tell new stories about the history of architecture.
In this piece, Holly James Johnston explains how Strawberry Hill House in Twickenham, south west London, can be read as a "queer architectural rebellion," raising important questions about the connection between architectural innovation and queer identity. Holly is the founder and coordinator of the LGBTQ House Tours project at Strawberry Hill House, and a recent graduate from the University of Oxford. Alongside her academic and heritage work, she also performs as a drag king under the name Orlando. Using drag to educate and entertain, she has worked with organisations such as the Victoria and Albert Museum and Tate, and regularly performs in London.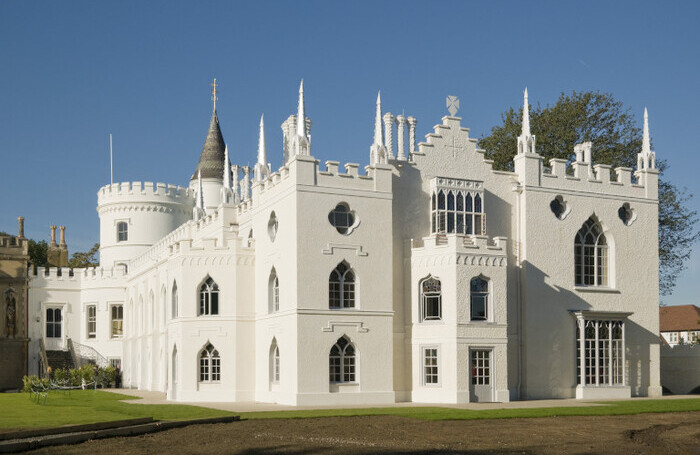 When visitors first step foot into the Hall at Strawberry Hill House, they may not know it, but what they are being met with is an overwhelming sense of 'gloomth'. 'Gloomth' – a hybrid of 'gloom' and 'warmth' – was coined by Horace Walpole (1717 – 1787), the visionary behind Strawberry Hill House. He invented the word especially to describe the sombre ambience he wanted to curate in his "little Gothick castle."
Walpole's creative flair went beyond linguistic invention, however. From an architectural standpoint, Strawberry Hill House was a stylistically subversive, if not pioneering space. In collaboration with amateur architects John Chute and Richard Bentley, Walpole's self-proclaimed "Committee of Taste" created a whole new sub-genre of architecture at a time where the classical Palladian style was in vogue. The castle-like exterior of the house – white walls interspersed by arched stained glass windows, and parapets adorned by turrets, battlements, and pinnacles – was designed so that the visitor didn't know what to expect when they stepped inside. Inspired by Medieval and Gothic architecture, inside the house Walpole and his collaborators turned cathedral stone into domestic wallpapers and gilted papier-mâché ceilings under which to entertain guests. Medieval tombs were taken as inspiration for mantelpieces, and 16th and 17th century painted glass was superimposed into the windows. At once anachronistic and timeless, there is a playful air of unreality to Walpole's "little play-thing house."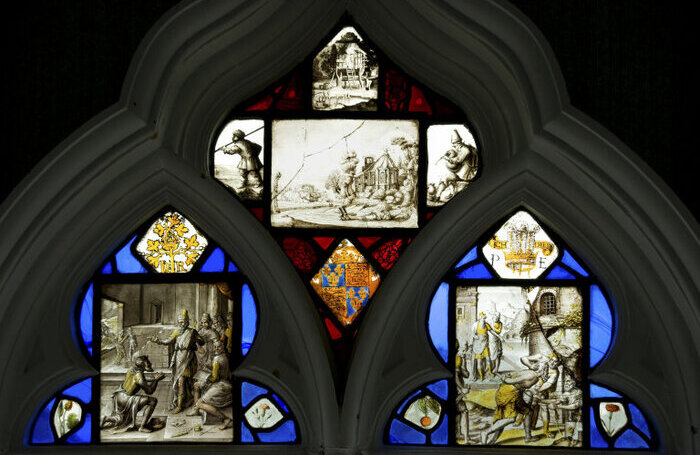 While Strawberry Hill House pushed the boundaries of what a domestic home could look like, today it raises important questions about the connection between architectural innovation and queer identity. In A Monument to Strawberry Hill, RIBA's President's Medal nominated queer architect Kleanthis Kyriakou envisages Strawberry Hill as "a camp act of defiance against the status quo." The installation, which was recently exhibited at Strawberry Hill during Pride Month in June of 2021, sees the Gothic of Strawberry Hill House as a "queer architectural rebellion" that enabled Walpole to indirectly express his sexuality.
Kyriakou's work builds on over a decade's worth of scholarship that has sought to shed light on the link between the Gothic and the queer. The historian Matthew Reeve has argued that the avant garde style of Strawberry Hill House amounts to a queer aesthetic that was understood as such in Walpole's homosocial inner circle. If such architectural pioneering is evidence of a shared artistic – and by extension –sexual taste, then it is possible to suggest that Strawberry Hill House has always been a space where queerness has hidden in plain sight. And for good reason too.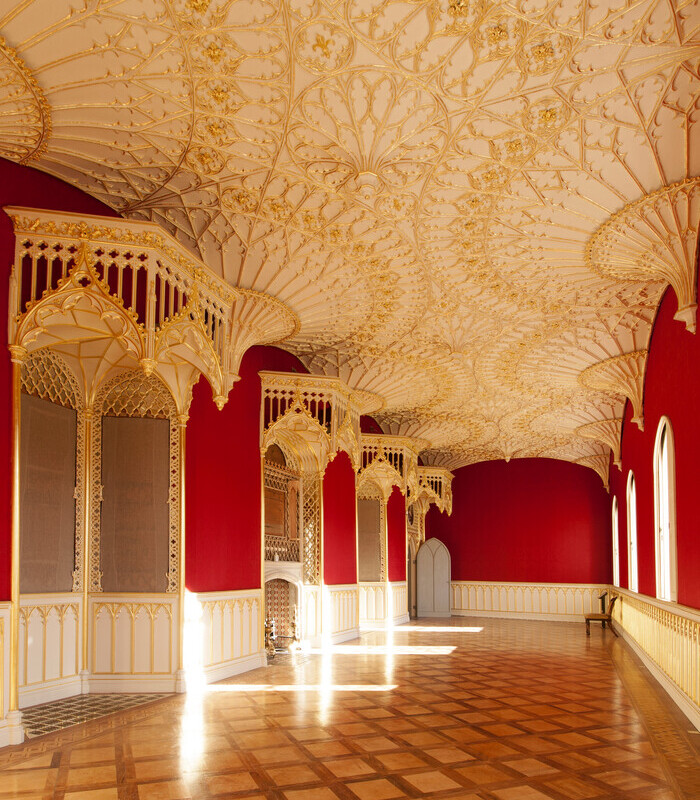 There is no concrete evidence in Walpole's vast correspondence (he wrote over 7000 letters across his lifetime) that suggests he was a queer man, but then homosexuality was illegal in the 18th century, with punishment ranging from the pillory to the gallows. Until 1861, all penetrative sexual acts between men were punishable by death. Walpole himself witnessed what a brush with the law could do to a person. His own brother, Edward, was involved in a homosexual scandal that threatened to destroy his reputation. In 1750, Edward was accused of intent to commit sodomy by an 18 year old man named John Cather, who was employed in his service. Although he was acquitted, and in turn prosecuted a number of men for conspiring to blackmail him, scholarship by the historian Netta Murray Goldsmith argues that it is likely that Edward was in fact 'guilty' of the original charge. Either way, the incident was a sobering reminder to Horace Walpole, then 33 years of age, that homosexual acts had perilous consequences. At best, one might be forced to withdraw from society, as Edward did, or worse, face capital punishment.
As with Edward Walpole, many queer male narratives are often sourced from legal archives. In contrast, Strawberry Hill House presents itself as an archive of queer history whose legibility is made visible by its architectural sensibility. Until recently, however, this history has continued to hide in plain sight. This began to change in February 2019, when Strawberry Hill House hosted a conference titled: Text, Artefact, Identity: Horace Walpole and the Queer Eighteenth Century, in partnership with the National Trust and St. Mary's University, Twickenham. Over the course of the two day event, it became clear that Strawberry Hill has a vibrant queer past that wasn't being explored in the house's current public interpretation. In response, Strawberry Hill House held its first ever LGBTQ+ house tour in November 2019. Two years on and the tours are now a permanent fixture in Strawberry Hill's public events programme, occurring bi-yearly in LGBTQ History Month (February) and Pride Month (June).
In the context of the 18th century, it is understandable why a wealthy, affluent, and creatively minded man such as Walpole might turn to artistic sensibility as a form of queer self-expression. In his faux self-effacing sense of humour, Walpole once remarked that "my buildings, like my writings, are of paper, and will blow away ten years after I am dead." Thankfully, the opposite has occurred. As Reeve's recently published Gothic Architecture and Sexuality in the Circle of Horace Walpole (2020) has shown, Strawberry Hill House sparked a tradition of queer Gothic that can be detected in Walpole's contemporaries. William Beckford's Fonthill Abbey and Dickie Bateman's Old Windsor are but two examples. To this day, Strawberry Hill continues to produce a queer architectural legacy that architects like Kleanthis Kyriakou have drawn on as a way of envisaging a "Queer Gothic Utopia." Photographs of Strawberry Hill in the RIBA Collections, alongside other repositories, play an important part in this legacy, allowing researchers, curators, architects, and campaigners alike to access visual records.
If Walpole wanted to create the impression that Strawberry Hill House has always been there, then he has succeeded in a way he probably did not preempt. By reviving and queering the Gothic, Walpole has provided a way for queer people to see that we have always existed – in the there and then as much as the here and now. In turn, Strawberry Hill House offers us a unique lens through which to access our queer histories.