The Crace family were interior decorators from the 18th century to the turn of the 20th century. Edward Crace was the first to make the shift from coach design to interior decoration in 1768, and went on to work as Keeper of the Royal Pictures in the 1770s.
The Crace interior decoration dynasty covered five generations, with work for the Royal Family continued by Edward Crace's grandson, Frederick.
Edward Crace (1725-1799)
John Crace (1754-1819)
Frederick Crace (1779-1859)
John Gregory Crace (1809-1889)
John Dibblee Crace (1838-1919)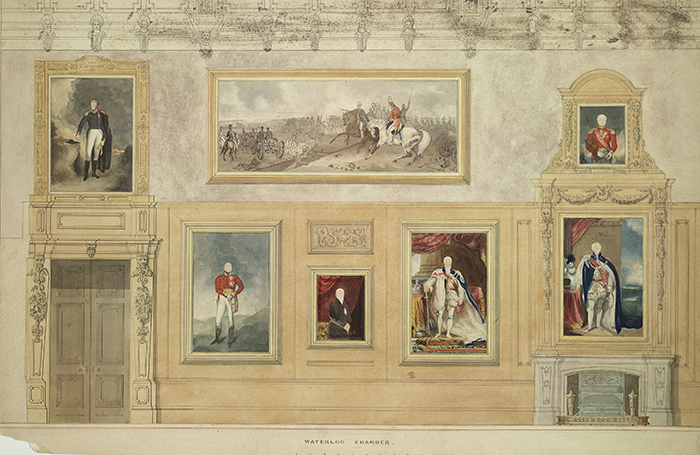 Relevant RIBA Collections material covers around 180 different Crace schemes. Most material relates to the later three Craces, including:
brief biographical files on John Gregory Crace

and

John Dibblee Crace
Drawings
an album of sketches and studies by Frederick Crace

[CRACE]



furnishing design drawings by John Gregory Crace, including for Windsor Castle, the Houses of Parliament and Mercers' Hall [CRACE]
drawings and sketchbooks from John Dibblee Crace's travels in Egypt, Syria and Turkey as well as Belgium, France, Germany, Italy and Spain [VOS/83 & 97]

two design drawings by William Kent for the House of Lords and the Prince of Wales' barge presented to the RIBA by John Dibblee Crace in 1931 [SC58/3-4]

Archives and manuscripts
a catalogue of maps, plans and views of London, collected by Frederick Crace

and edited by

John Gregory Crace

[912(42.1):016 // CRA]

notes from lectures on paperhangings given by John Gregory Crace [MS.SP/7/12-13 & 10/39]
letters from John Gregory Crace and

John Dibblee Crace

to the RIBA, recounting frescoes he had seen in Italy, Switzerland and Germany, and the restoration of Sainte Chapelle, Paris [RIBALC/2/9/3 & RIBAMS.SP\4\12]
correspondence with John Gregory Crace among the Alfred Waterhouse Papers [WaA/1] and the A.W.N. Pugin Papers [PUG.1-11 & 13], including

a letter from Pugin

to Crace containing a sketch of a panel of arms for the House of Lords
notes on John Diblee Crace within the Charles Handley-Read Papers [H-ReC/30/1]
six letters from John Dibblee Crace and Sir George Grove to the RIBA, on behalf of the Palestine Exploration Fund, in the RIBA Institutional Archive [RIBALC/5/11/13, 9/5/14 & 25, 11/8/4, 12/1/10 & 13]
Photographs
photo transparencies showing Frederick Crace

designed interiors of the Royal Pavilion (Brighton), Oxburgh Hall (Oxborough) and Chatsworth House, (Derbyshire) taken in the 1990s by Dennis Hance, Christopher Pringle and others [DHGB5932; DHGB5935; DHGB5970; DHGB10924 & SCGB20590-SCGB20595]

a 1956 photoprint by Edwin Smith of the music room of the Royal Pavilion, decorated by

Frederick Crace

(Brighton) [ESP/ENG/3152 (ES3684)]
a 1950s photoprint by Reginald Hugo de Burgh Galwey showing the ceiling of the Queen's Robing Room, decorated by

Frederick Crace

and

John Gregory Crace

, at the Palace of Westminster [AP141/243]

Rare books
John Nash, The Royal Pavilion at Brighton

(London: J. Nash and R. Ackermann, 1826) - includes drawings by A.W.N. Pugin and James Stepahnoff of

Frederick Crace

's designs [EW Cat.No. 2235#]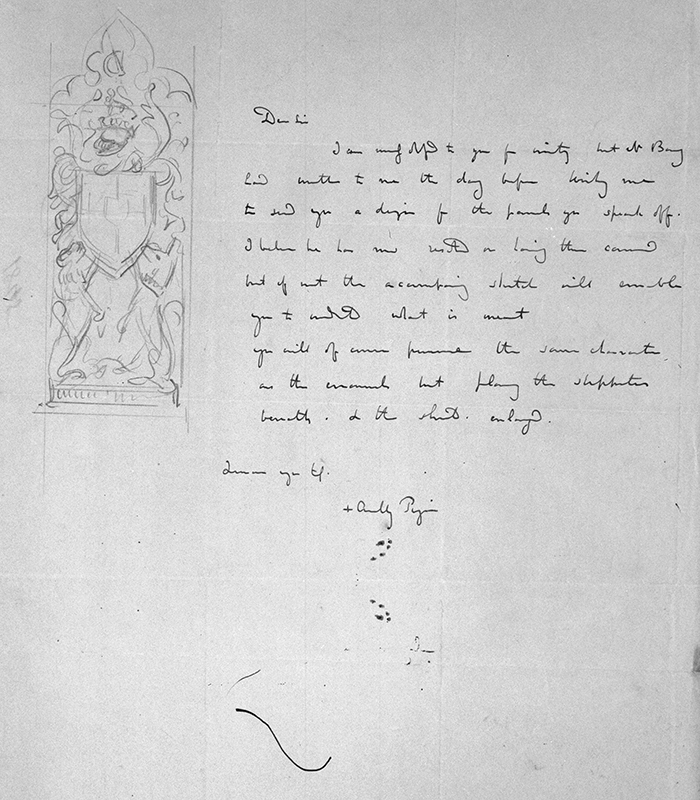 Key literature
Megan Aldrich (ed.), The Craces: Royal Decorators 1768-1899

(London: John Murray, 1990) - published to accompany the exhibition of the same name held at the Royal Pavilion, 9 October - 30 December 1990, [729.1.098.03(41/42) // CRA)]



John Harris, Jill Lever and Margaret Richardson, Great Drawings from the Collection of the Royal Institute of British Architects, (London, 1983) p.52 [72.064.03 // LEV]

Susan Weber, ed. William Kent: Designing Georgian Britain (New Haven and London, 2013), pp.337-338 [72.034(42).8:92K // WIL]
These titles are available in the RIBA Library Reading Room unless otherwise stated.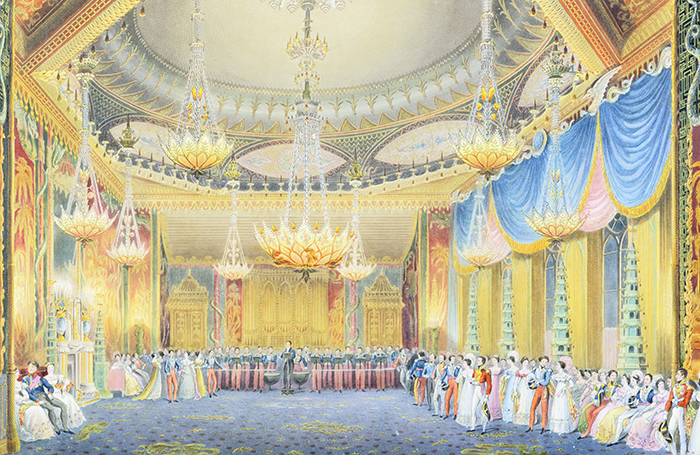 Geographic areas
UK: Wiltshire, London, Windsor, Devon, Buckinghamshire, Staffordshire, Leicestershire, Brighton
France: Avignon, Paris
Germany: Munich
Egypt: Cairo, Amada, Philae
Italy: Assisi, Bologna, Ferrara, Florence, Genoa, Milan, Padua, Parma, Perugia, Piacenza, Pisa, Pistoia, Ravenna, Rome, Siena, Turin, Venice, Verona
Syria: Damascus
Turkey: Istanbul
Key buildings and projects
Interior of the Royal Pavilion, Brighton
Longleat dining hall ceiling, Wiltshire
Windsor Castle, Houses of Parliament and Mercers' Hall, London
Cataloguing status
Catalogued, mostly at inventory record, some economic.
Digitisation status
23 drawings available on RIBApix.
Photographs of the Palace of Westminster: Queen's robing room and Royal Pavilion music room available on RIBApix.
Access
Access to the drawings and archive material is via the RIBA Architecture Study Room.
The photographs, biographical files, catalogue of maps and early volume on the Royal Pavilion are accessed via the RIBA Library Reading Room.
Related collections
The Royal Collection; The Royal Pavilion & Museums; The Keep; The V&A; The British Museum Prints and Drawings Collection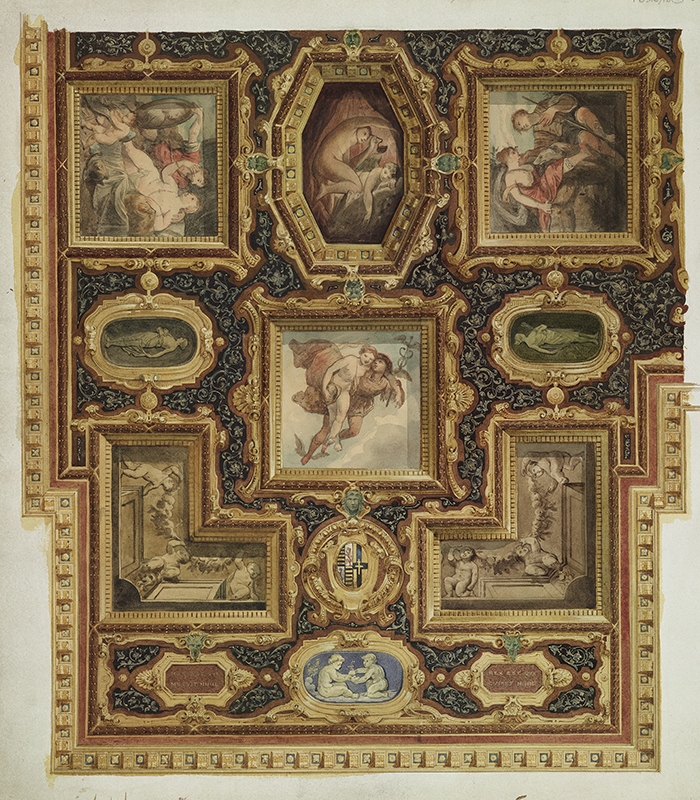 This is one entry in our growing series of research guides covering the significant groupings in the RIBA Collections. For all catalogued material relating to the Crace Family, please consult our online collections catalogue.