"The Partners": Seely and Paget
The firm Seely and Paget played an important role in British architecture from the 1920s to the 1960s, from their controversial transformation of Eltham Palace for Stephen and Virginia Courtauld in 1936, to their work as successive surveyors to the fabric of St Paul's Cathedral.
The firm's partners, John Seely and Paul Paget, seem to have been life as well as business partners; an unofficial relationship that was tacitly accepted, or studiously ignored, by their friends and associates. In a previous article on St Ann's Court, we revealed how the architect Raymond McGrath cleverly designed a house in the 1930s for Gerald Schlesinger that allowed him to live with his lover Christopher Tunnard, while hiding the romantic nature of their relationship to guests. Although living in the same era as Schlesinger and Tunnard, in which homosexual acts between men (even in private) were illegal, John Seely and Paul Paget co-habited openly, perhaps feeling that their status as business partners explained their intimacy. They referred to one another simply as 'the partner' and their friends and family called them 'the partners' too.
The pair had met as students at Cambridge University and quickly became inseparable, with Paget commenting later that "it was just the marriage of two minds … we became virtually one person". Although Paget was not architecturally trained, he and Seely formed their partnership in 1922 and one of their first jobs was the restoration of Mottistone Manor on the Isle of Wight for Seely's father, the 1st Baron Mottistone. On the grounds, they built a small country office for themselves with matching bunk beds, wardrobes, desks and chairs. 'The Shack' subsequently became the pair's retreat from London life and they would entertain guests here at the weekends.
The business quickly flourished and commissions flooded in, including work for the playwright J.B. Priestley. In 1927 the partners bought 41-42 Cloth Fair, said to be the oldest house in London, to serve as both their home and business premises. They restored the house and installed twin bathtubs in the bathroom so that they could bathe together. Paget described their "completely common life together" in an interview shortly before his death in 1985: "We always had a rather good establishment – a good cook and a good man servant and that sort of thing. We lived it up a bit." He remembered this time as "blissfully happy".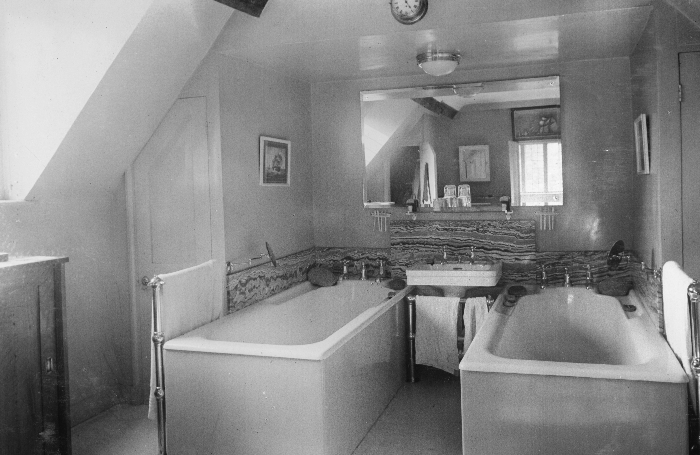 It was in the 1930s that their practice really took off, when they were introduced to the Courtaulds, who wanted to convert the medieval, moated Eltham Palace into a modern home. Initially seen as a shocking intervention to an important ancient monument, their design is now regarded as an art deco masterpiece.
After World War Two, Seely and Paget undertook several restoration projects on buildings suffering war damage including the precinct of Westminster Abbey, Lambeth Palace and Eton College. In 1947, Seely was appointed surveyor to the fabric of St Paul's Cathedral, based on the important work he and Paget had carried out on churches and in the Diocese of London in the post-war period. His two significant achievements in this role were the design of the Cathedral pulpit and the Chapel for the Order of the British Empire.
Sadly, John Seely didn't live to see this work completed. He died in January 1963, leaving Paul Paget to oversee completion. Paget also succeeded his partner as surveyor, but without Seely by his side and lacking architectural training he felt unable to continue for long. He retired in 1969. Paget married shortly afterwards, at the age of 70, to the children's writer Verily Anderson. Together they moved to Templewood, a house the partners had designed for Paul's uncle. He lived there until his death.
John Seely is buried at Westminster Abbey in St Catherine's chapel garden. The Latin inscription on his memorial there translates as "John Mottistone. This is a sign of love and sadness. P.E.P. 1966 A.C.D." (Paul Edward Paget and Alan Campbell Don, Dean of Westminster.)
Find more LGBTQ+ Spaces represented in the RIBA Library and Collections, in our research guide.