2017 Stirling Prize shortlist in mixed reality
22 November 2017
To celebrate the achievements of the RIBA Stirling Prize shortlist, Microsoft, as the Exclusive Technology Partner of the RIBA Awards, teamed up with Trimble SketchUp, to bring each of the six shortlisted buildings, to mixed reality.
Rather than place users in a fully computer-generated world, as virtual reality does, SketchUp Viewer for HoloLens allowed the architects of the Stirling Prize shortlisted buildings, to see their buildings come to life in the world's first self-contained, holographic computer. This enabled them to engage with the digital model and interact with holograms in the real world around them. This experience enables tremendous opportunities within the AEC space to immediately get value from their existing 3D models by being able to see 1:1 scale models, collaborating with a "we-see" viewing session that enables viewers to experience, understand or resolve complex spatial dynamics, and coordinate by choosing from the list of scenes created in SketchUp, then focusing the toggling on-and-off model layers.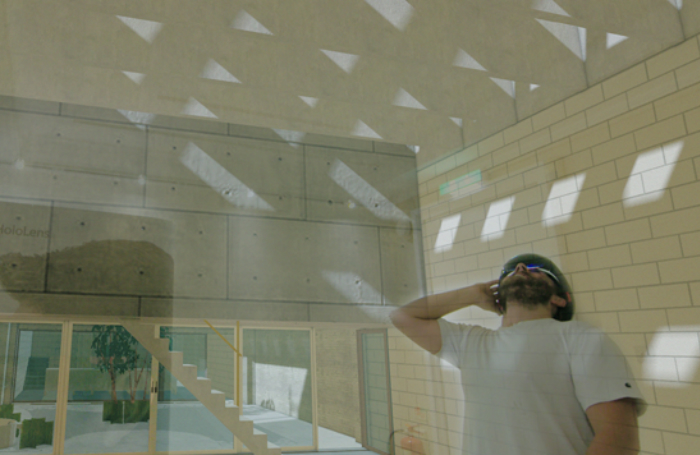 "This demonstrates the value of mixed reality for architects," said Aviad Almagor, Director of the Mixed Reality Program at Trimble. "Microsoft HoloLens transforms the way architects interact, and communicate their designs. Using this technology to explore complex projects shortens design cycles and improve communication."
John Ross, from 6a Architects said: "My impression of seeing Juergen's building in HoloLens for the first time was quite an extraordinary experience. The ability to move around it and through it, and to see with a level of detail was very powerful. I can see how that can become part of a workflow."
John McElgunn, from Rogers Stirk Harbour + Partners, agreed. "It's very easy to show lines of perspective but it's quite hard to get the sense of scale, and [HoloLens] was brilliant for that," he said.
Talking at a RIBA event earlier this year, Dale Sinclair, Director of Technical Practice at architecture, engineering and construction company Aecom, emphasised the importance of technology in creating modern buildings that reflect the needs of a modern public.
"Good data will help with future designs. At the moment, plans are based on one person's ideas in their head, which in turn is based on memory and experience. With robotics, AI and machine learning, we can use data from a much bigger pool of history and use better judgment. Architects don't need 2D, they need 3D."
To celebrate Microsoft's sponsorship of the RIBA Awards, the company has teamed up with Trimble to offer a Microsoft HoloLens commercial edition with a SketchUp Viewer license for £4,529 – a saving of £1,266. Call the Microsoft Store on 0800 026 0061 and cite Stirling Prize Offer by 5 January 2018.