22 May 2023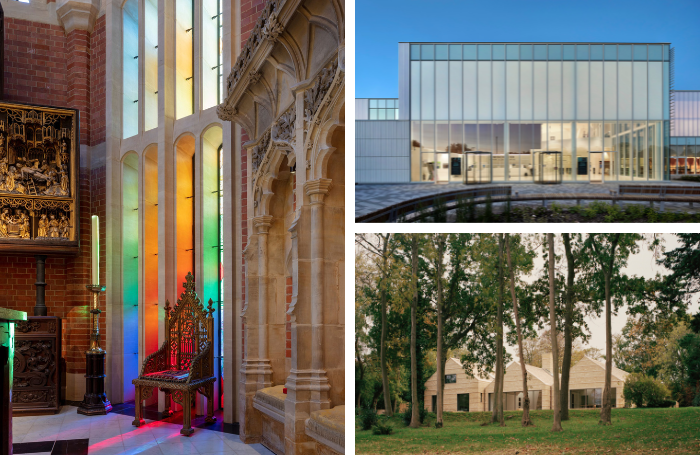 The extension of an historic Oxford chapel that offers a 'masterclass in modern architectural design' (Radley College), a state-of-the-art sports centre (Winchester Sport and Leisure Park) and a house on stilts on the banks of the River Thames (March House) are amongst 11 projects named as winners of a 2023 RIBA South Award, recognising them as the best new buildings in the region.
Presented since 1966, RIBA's awards set the standard for great architecture across the country.
The awards were announced at a ceremony this evening with Radley College Chapel Extension named as winner of RIBA South Building of the Year Award 2023 (sponsored by EH Smith). The project was commended by the judges as exhibiting a 'masterful blend of traditional and contemporary design elements'.
The 2023 RIBA South Award winning projects are:
The 11 projects were selected by an expert jury, who visited all shortlisted projects.  
RIBA President, Simon Allford, said:
"Winning a RIBA regional award is a fantastic achievement. These projects, selected by a rigorous peer review process, represent the very best of the region's new architecture. Inspiring buildings and spaces bring joy to all our lives, and this year's award winners certainly fit that bill. Many congratulations to all."
Full list of the regional special awards announced this evening:
Radley College Chapel Extension - RIBA South Building of the Year 2023 (sponsored by EH Smith) and RIBA South Conservation Award 2023
Winchester Sport and Leisure Park - RIBA South Client of the Year Award 2023
Island House - RIBA South Project Architect of the Year Award 2023
March House – RIBA South Sustainability Award 2023 (sponsored by Autodesk)
 RIBA South Award winners will now be considered for a highly coveted RIBA National Award in recognition of their architectural excellence, which will be announced on 22 June. The shortlist for the RIBA Stirling Prize for the best building of the year will be drawn from the RIBA National Award-winning projects later in the year.
ENDS
Notes to editors:
For further press information please contact Press.Office@riba.org
High resolution images: https://riba.box.com/v/RIBASouthWinners2023
The RIBA Awards have been running since 1966 and are judged and presented locally. No matter the shape, size, budget or location, RIBA Award winning schemes set the standard for great architecture all across the country. RIBA Awards are for buildings in the UK by RIBA Chartered Architects and RIBA International Fellows.
Entries are submitted to the region or nation in which the building is situated. Projects are judged first for RIBA Regional Awards, then RIBA National Awards; the RIBA Stirling Prize shortlist is selected from winners of the RIBA National Awards.
The Royal Institute of British Architects (RIBA) champions better buildings, communities and the environment through architecture and our members. Follow @RIBA on Twitter for regular updates.