22 March 2018
Almost ten years after the landmark HAPPI report (Housing our Ageing Population: Panel for Innovation) sought to raise the bar on design for age-friendly housing, Julia Park, Head of Housing Research at Levitt Bernstein, can point to exemplary projects in the UK that illustrate how much progress has been made and where design thinking is headed.

Back then the UK was lagging behind the age-friendly housing being built on the continent, which HAPPI drew upon. The country has since caught up, Park suggests, although some of the more radical ideas are still to be found on the other side of the North Sea.
Proctor & Matthews Architects' Chapter House scheme in Lichfield, Staffordshire, provides an example of 100% private 'later living apartments' offered by one of the newer high-end retirement home providers, Pegasus Life.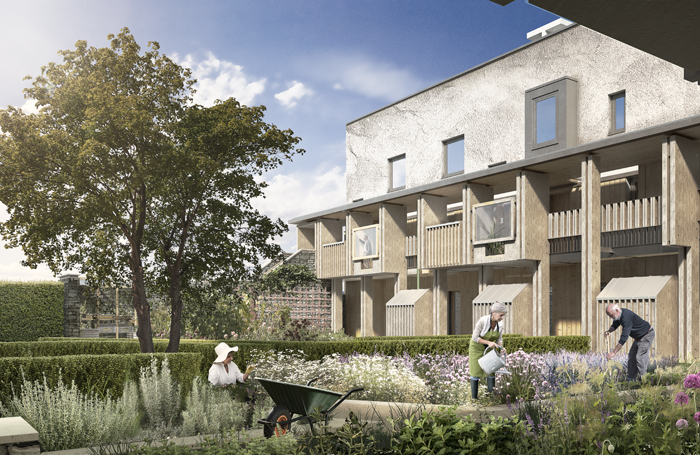 Set alongside the historic Bishop's Lodging and a linear walled garden known locally as Monk's Walk, now incorporated into the 38-dwelling development, Chapter House makes use of internal and external facilities to encourage neighbourly interaction between new residents and locals, nurturing a sense of community and security.
In addition to a communal lounge that opens up both to the external environment and an internal courtyard area, the scheme features a sequence of cloisters and walled gardens that offer a tranquil sheltered environment and create a sense of belonging.
A working orangery and two publicly accessible pocket parks provide opportunities for outdoor activities and interaction with the wider community, while covered south-facing communal balconies enable less mobile residents to interact with neighbours on all floors without the need to venture too far from their homes.
'Age-friendly housing not only needs to provide a secure private retreat for its inhabitants, but must enable residents to live actively and independently for longer within the wider community,' says Proctor & Matthews' Constanze Leibrock.
It is a similar approach to the one adopted by Proctor & Matthews for its larger Steepleton Retirement Community in the Cotswold Area of Outstanding Natural Beauty, where a village hall at the centre of the 113-apartment development contains communal facilities and individual homes are grouped around landscaped courtyard gardens that encourage residents to participate in gardening and other activities.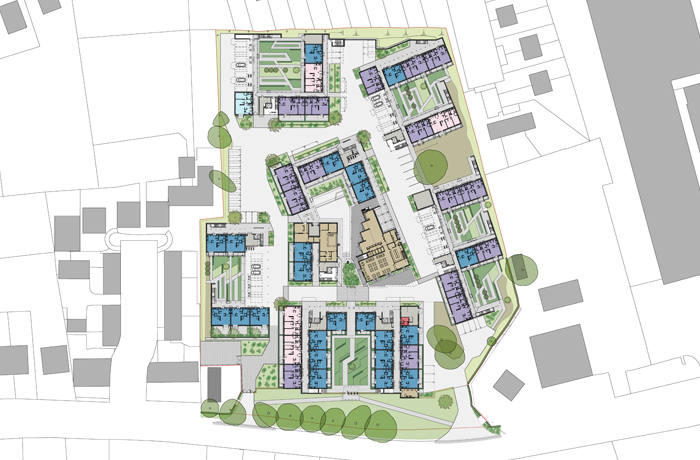 Last year, a Levitt Bernstein study trip visited the Ørestad Retirement Home, a colourful landmark building in Copenhagen's Ørestad development area. It stands out with its generous and quirky, boxed balconies; well-used and highly practical in this windy district.
Designed by local architect JJW ARKITEKTER for the municipality and a local housing association, the subsidised housing complex of 114 apartments is a prime example of the 'household' approach to layout and living arrangements achieved though combinations of shared and private space.
Ørestad arranges its apartments into 'household groups' of 10-12, clustered around a bright, stylish communal living/eating/cooking space that opens onto a balcony. The two room apartments open up to a single, large space with a sliding, glazed door.
Personalisation is encouraged from letterboxes to private entrances and interiors. Familiar classic Danish furniture sits well in the contemporary communal spaces and evokes memories of former home life in its older residents.
Because places are allocated on the basis of need, a large number of the residents of this subsidised-rent extra care home are living with dementia. The design and detailing of the building is dementia-friendly but avoids a clinical feel.
'It has fantastically intuitive signage, feels very safe due to the household arrangement and people have plenty of space to walk around without any risk of getting lost. It's a lovely scheme,' says Park.
'We've noticed a general trend away from institutional approaches; the idea of grouping residents into households is part of this. There are different ways of approaching it and we're seeing it in care homes too'.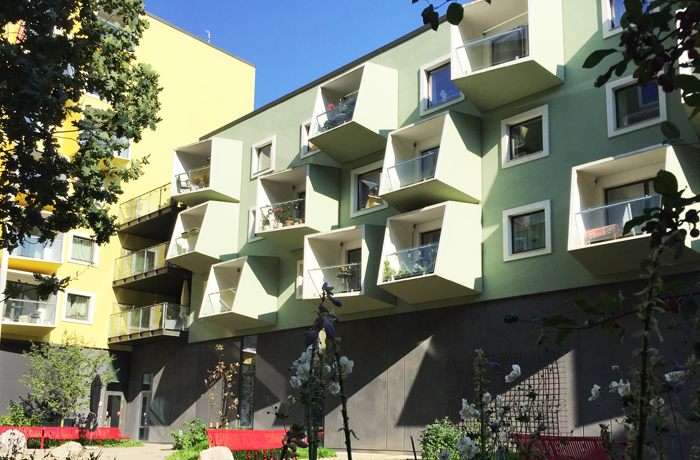 One approach that has been generating particular attention is the De Hogeweyk dementia care village in Weesp, Holland, where residents with severe dementia are grouped according to their former lifestyles.
Comprising 23 apartments, or 'households', each accommodating six or seven residents, the village was conceived by the management team of a traditional care home and designed by Molenaar&Bol&VanDillen Architecten. It offers a choice of four themed environments: 'urban' for town and city dwellers, 'traditional' for former homemakers, 'cosmopolitan' for theatre and cinema goers, and 'formal' for the more conservative.
The four typologies have their own interior characters, play different types of music, serve different food and so on in an attempt to offer familiarity as well as comfort. Each household has its own team of trained staff who support residents on a daily basis, wearing ordinary clothes to keep life as normal as possible.
'Well-considered later living accommodation can help to combat loneliness and nurture a sense of community by encouraging neighbourly interaction both between residents and with the existing local community', Constanze Leibrock concludes.
Thanks to Julia Park, Head of Housing Research, Levitt Bernstein and Constanze Leibrock, Associate, Proctor & Matthews Architects.
Park is co-author of 'Age Friendly Housing: Future design for older people' with Jeremy Porteus, recognised national expert on housing for older people, to be released by RIBA Publishing in June. They hope the book will be seen as the design-based sequel to the original 2009 HAPPI report, often credited as the first publication to feature examples of age-friendly housing that most people could imagine choosing to live in.
Text by Neal Morris. This is a Professional Feature edited by the RIBA Practice team. Send us your feedback and ideas
RIBA Core Curriculum Topic: Design, construction and technology
As part of the flexible RIBA CPD programme, Professional Features count as microlearning. See further information on the updated RIBA CPD Core Curriculum and on fulfilling your CPD requirements as an RIBA Chartered Member.
Posted on 22 March 2018.