An illustrated invitation to a private view in Edinburgh 1896
05 December 2016
Who was this invite sent to?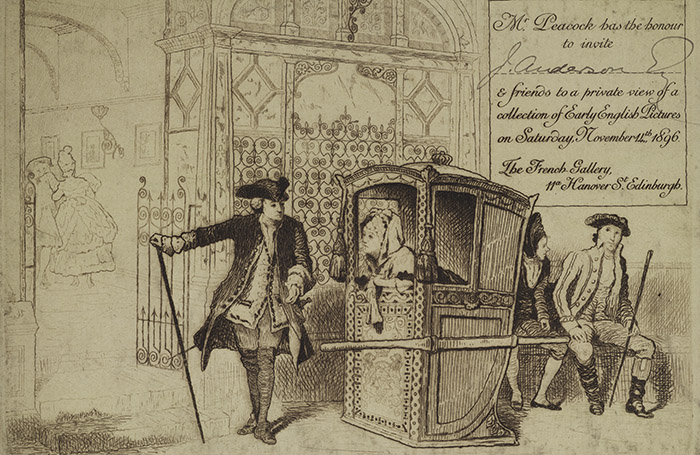 This interesting object from 1896 was found amongst an accession of drawings relating to the architect Sir Charles Barry and was presented by the descendant of Barry's son John Wolfe-Barry, an engineer. We don't know who J. Anderson was but he could have been an associate of Wolfe-Barry.
Mr Anderson was invited a private view at the French Gallery, Hanover Street, Edinburgh. The gallery was founded by picture dealer and print publisher Ernest Gambart in 1854 in Pall Mall, London. It held annual spring exhibitions of French paintings and winter exhibitions of British art. They also had premises in Montreal, New York, Toronto, and Ottawa.
The jolly image depicts a scene an 18th-century lady and gentleman arriving by sedan chair. Costing 6d a journey, these chairs were particularly useful to wealthy residents who wanted to travel the narrow alleys of Edinburgh without having to walk through the filthy streets. They were carried by two 'chairmen'; typically fit and strong Highlanders who came down to the city seeking employment.
Image: Printed invitation with illustration showing a man in Georgian costume escorting a woman from a sedan chair, to a private view of English pictures at the French Gallery, Hanover Street, Edinburgh, Scotland, 1896: image from RIBApix (number RIBA36790)
Credit: RIBA Collections
Article by Catriona Cornelius, RIBA
5 December 2016
Discover more
This is just one of over four million items in our world-class architectural collections at the RIBA Library – it's open to everyone and access is free. Visit the library to explore our collections of books, periodicals, drawings, photographs and models:
Drawing
Invitation from Mr Peacock to Mr J. Anderson to a private view of English pictures at the French Gallery, Hanover Street, Edinburgh: illustration showing a man in Georgian costume escorting a woman from a sedan chair on her arrival at a ball.
Call/Ref. no. PB384/25