Architect led home manufacturers to debut Dutch style custom build
22 February 2017
The first example of the Dutch approach to volume custom-build is to be provided in the Cornish village of Pool near Redruth, where plot owners will be able to choose from a pool of six architect-led 'home manufacturer' teams that will customise and then build their fully-finished home.
Led by joint venture developer Carillion Igloo, the Heartlands project (formerly known as Trevenson Park South) is being supported by the Homes and Communities Agency and so will also be something of a trial for the government's policy of promoting higher volumes of self-build.
The six practices involved, working within a masterplan and design code drawn up by HTA Design, have had to devise business models to underpin their partnerships with manufacturers while allowing a bespoke design service to be offered.
After a design ideas competition, the six teams originally chosen by Igloo were: HTA and kit-home manufacturer Potton; a local partnership between architect AOC and Cathedral Builders; architect/developer Dwelle; Mae with prefabrication specialist Riko; White Design with Cadfan Developments and straw bale panel manufacturer Modcell; and Ash Sakula with timber-frame manufacturer Frame UK.
The process at Heartlands, where the first plots will be offered for sale shortly, will see the customer select and purchase a plot, select a 'home manufacturer', choose a size of home from the ranges on offer, have it customised to their own specification and then see it built fully-finished.
Mae principal Alex Ely says his practice has a profit-share agreement with Slovenia-based Riko, where Mae will put in for its costs, Riko will put in for manufacture and build costs and the two partners will share the uplift:
'It was always a design-led project. We developed our design knowing it would suit Riko's system and presented it to Igloo. Riko then took our Stage 3 design and developed it for their CAD/CAM fabrication,' says Ely.
'We will be the customer-facing partner and look after their customisation needs and then issue the instruction for completion to Riko.'
Kit-of-parts homes are nothing new in the UK, what is new at Heartland is that it is being done at scale with 54 custom-build homes. Ely thinks it will prove popular with homebuyers once model developments have been built, people see that custom-build is mortgageable and low risk, and see the build quality on offer.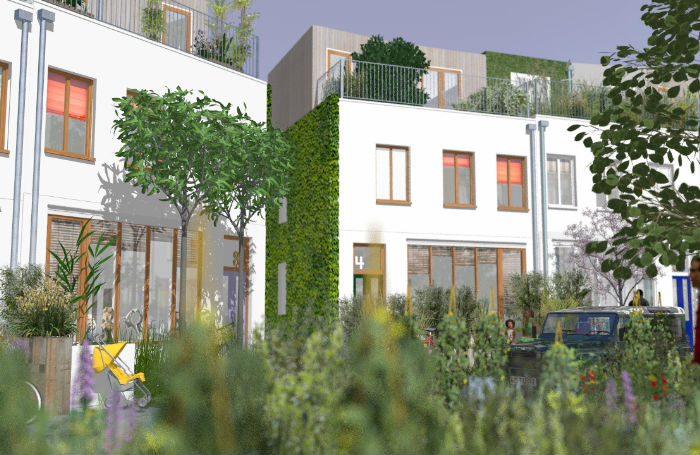 Cany Ash of Ash Sakula, which is the designer of 'Lightbox Houses' for Heartlands, reports that their partnership has moved on since the planning delays that initially slowed down the project. The practice has struck up a new partnership with local Cornish contractor Fox Construction and has drawn up a list of timber-frame manufacturers that they are happy to work with. So theirs is not so much a manufacturer partnership as an architect-led contractor partnership:
'Everything is in our BIM models. From there we can place orders for cutting and prefabrication and delivery on site. We will be providing the mortgage guarantee and the contractor will guarantee construction,' says Ash.
'Custom Build is in many ways recapturing the power architects have seen eroded through modern procurement. More contact with customers and very direct relationships with a dozen companies in the supply chain can only deliver better and more affordable houses.'
With servicing of plots nearly complete at Heartlands, plot selection and purchase should soon be in full swing, so the UK's first attempt at a Dutch-style, custom-build development at scale should be arriving this year.
Thanks to Alex Ely, Principal at Mae Architects and Cany Ash, Founding Partner at Ash Sakula.
Text by Neal Morris, © RIBA