Architects must take the design lead right from the start
22 November 2018
Great design makes a difference; it is transformational. Yet making sure that good design is integrated into construction projects ­– and makes it through to their end – is often a struggle.
The battle for good design starts way before the design process, attests Sadie Morgan, Chair of the independent design panel for HS2. Too often, essential decisions that predetermine a project's design are being made by lawyers and procurement budgets without any input from architects or designers.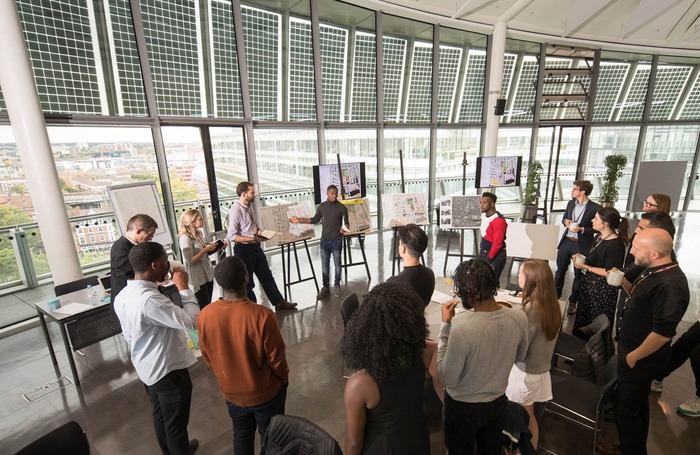 At the RIBA's Guerrilla Tactics conference in November 2018, Morgan was a fervent champion of good design during her keynote speech, enthusiastic about its vital impact on people, places and our time. But she explained that design is often fatally compromised early on; during stages of a project that architects might not even consider to be design-related.
In Morgan's work with the huge infrastructure project that is HS2, this overshadowing begins with the political process. But many architects will have faced similar obstacles and attitudes in projects of much smaller sizes that they have undertaken for public sector, developer or private clients.
Morgan gave an instructive example from HS2 of the consequences resulting from an absence of input from designers or architects at early stages. Following public consultation and negotiation, lawyers had committed to a certain noise limit in an area HS2 would be running past. This had the unforeseen result of a massive concrete noise barrier in an area of outstanding natural beauty.
Dan Hill, Head of Arup Digital Studio, was the second keynote speaker at Guerrilla Tactics. He echoed Morgan's theme, affirming that design decisions are in effect being taken before the design, and they frame everything that follows. Hill highlighted the value that architects can add at what he termed 'RIBA Stage -1'. the pre-design, pre-briefing stage where key decisions are made and policies are shaped.
We need to position ourselves more 'upstream', he stated, where there is often a distrust of design. At this point, architects might fare better here by talking about achieving public good, rather than about constructing the best building.
Morgan has adopted similar strategies. When pushing for good design at HS2, she found that politicians and economists were most interested in metrics and votes.
Accordingly, she learned to present design as 'problem solving', with a critical role to play that goes beyond colour, style and aesthetics.
Both Morgan and Hill are adamant about the communicative power of images at early stages; something architects and designers can excel at. 'Get to the human scale in your drawings,' Hill advised, 'and make tangible the impact of otherwise unseen things'. His team often use sketch videos for this: an easy, simple way to communicate ideas that can be made quickly on a smartphone.
'It's about finding the right tool to unlock the right conversation at the right point,' he says. 'It could be through drawing, augmented reality or even an event'.
The decision makers need to be shown what good design looks like, Morgan attested. The best way to embed design in the process is to demonstrate at the outset what a powerful tool it can be.
In a much wider context, she believes that architects should be doing more to convey the value of their work to a wider audience and demonstrate their relevance to society, instead of talking only to other architects.
Architects should be at the heart of the debate about how cities work, challenging the codes that write the city, Hill argued. As good integrative thinkers, architects are well-placed to tackle these issues.
Thanks to Sadie Morgan, Founding Director, dRMM Architects; Dan Hill, Head of Arup Digital Studio.
Text by Neal Morris. This is a Professional Feature edited by the RIBA Practice team. Send us your feedback and ideas
RIBA Core Curriculum Topic: Places, planning and communities.
As part of the flexible RIBA CPD programme, Professional Features count as microlearning. See further information on the updated RIBA CPD Core Curriculum and on fulfilling your CPD requirements as an RIBA Chartered Member.
Posted on 22 November 2018.