02 August 2017
If provision of electric vehicle charging points in new buildings was not yet on architects' policy watch lists, it should be now, following the government's announcement that there will be no new petrol or diesel vehicles in the UK from 2040.
Active RIBA CPD provider POD Point, one of the UK's leading providers of electric car charging systems, reports that seminars are booked solid and considers expanding its programme to meet rising interest.
So why do architects need to know about the electric vehicle industry?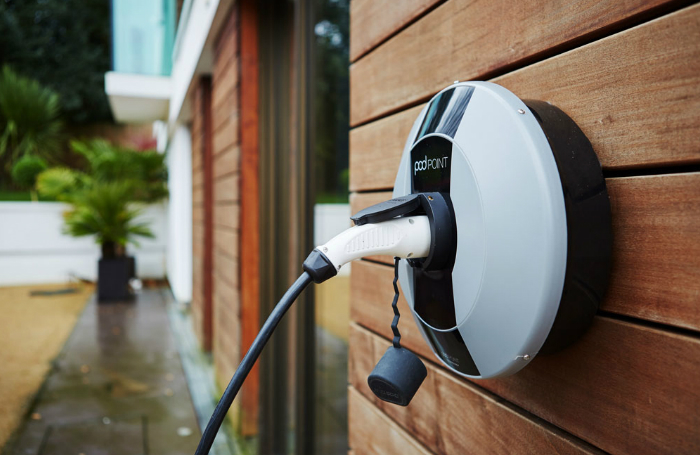 For James Stevens, POD Point's Head of Built Environment, the great switchover is already here when planning ahead for the entire building lifecycle.
'Looking ahead thirty years plus, designers need to assume that every car will be electric, so it is prudent to plan for provision of a charging point for every parking space to save retrofit costs down the line,' he says.
Demand for charging points is set to become a feature of building management long before that. Anyone moving into an apartment building in the future with an electric car will expect a charging point, a demand that landlords and managing agents will not be able to ignore, Stevens suggests.
While no national planning guidance exists on provision for electric vehicle charging infrastructure, it is increasingly mandated by individual local authorities.
Boris Johnson, while Mayor of London, got the ball rolling by introducing a planning condition in the London Plan for 20% of parking spaces to have charging points, with the potential to add a further 20% in the future. The first larger scale projects meeting this condition began to appear in the capital from 2013-14 onwards.
Other metropolitan authorities have since followed suit with planning conditions in place in Leeds and parts of Manchester, Newcastle, Liverpool, amongst others.
Stevens says architects will increasingly be asked about electric vehicle provision by developers at the outset of projects because it is set to become a key component of how buildings function in the future.
'Architects in conjunction with the charge point manufacturers need to educate the developers and councils on the need for this infrastructure to be installed for future provision and advise on how best to implement it,' he says.
Ease of installation at a particular bay location is probably the key question, along with practicality, says Stevens. Wall-mounted units are the first choice.
Architects need to appreciate that charging bays tend to be used continuously, rather than sporadically, which has implications for electricity loading, access and layout, cable hazards and so on.
POD Point believes that the incorporation of micro generation technologies, predominantly solar, together with battery storage will soon become advisable. Charging points will also be expected to communicate, whether by Wi-Fi network, hard wiring, or phone signal.
POD Point is part of the school of thought that thinks the electric vehicle revolution will happen much more rapidly than public policy makers anticipate.
According to the 'technology adoption curve', the inflexion point at which new technologies take off rapidly is around 7%. Electric vehicles currently make up around 2% of new vehicles, but Stevens says his company expects to see price parity between electric and petrol/diesel cars arriving as early as 2020, after which electric cars will become progressively cheaper, and the rest, as they say, will be history.
For information on the POD Point seminar click here.
Thanks to James Stevens, Head of Built Environment, POD Point.
Text by Neal Morris. This is a 'Practice News' post edited by the RIBA Practice team. The team would like to hear your feedback and ideas for articles: practice@riba.org