21 October 2019
Shireen Hamdan, Global Director & Senior Principal at Populous was named a RIBAJ Rising Star in 2016. We interviewed her for our BAME Award Winners campaign.
"I love what I do, and I love what sports and performance arts can bring to people's lives, especially in the Middle East. I remember the first football game I went to in The Maracanã, Brazil; the atmosphere you get, the feeling of being a part of a group — it makes your hair stand on end. It's amazing."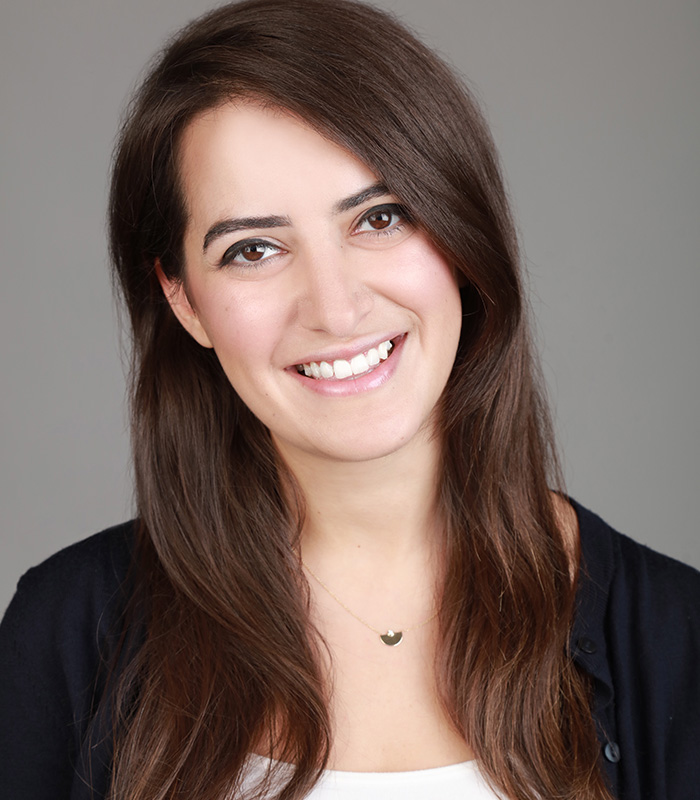 "I finished studying at the Architectural Association in 2008 and at that time, with the London 2012 Olympic Games only a few years away, the country was gripped by 'Olympic fever'. I wanted to be part of that movement, and that's when I joined Populous. They were working on the main Olympic stadium and all the temporary venues, which were incredible exciting projects to become involved with as a young architect. What some people don't realise is that there is so much more to entertainment leisure architecture than what first meets the eye. With stadiums for example, the building form and the seating bowl garner the most attention, but beneath the macro design is an incredible level of fine detail, not to mention all the work that goes into enhancing infrastructure and community facilities on these projects. I loved it and I stayed here.
I am the first female board member in the UK and globally for Populous — a company of nearly 700 people worldwide, and that's something I'm really proud of. I knew what it meant for me, but I didn't realise what it meant for other people within the practice as well — I try very hard to be a role model and approachable to all our staff. It's a role I take very seriously.

Winning the RIBAJ Rising Star award — it was awesome being recognised by my peers and within the industry as well. I felt that I had more of a voice, I felt appreciated, especially within a big practice. It was a nice wake up call. Within the industry it's definitely raised my profile and I've had more media enquiries as a result. RIBA are obviously very well recognised in the Middle East so winning the award has also helped with the work I've been doing there, too. It's also been a great talking point with clients.
I'm originally from Lebanon, and I've spent most of my life travelling with my parents. I've seen the potential of what the Middle East has to offer, and I want to be part of that. Recently there has been a big push to create more sports infrastructure, more entertainment infrastructure, in places like Saudi Arabia, and the rest of the GCC (the Cooperation Council for the Arab States of the Gulf). That's really important culturally. We're trying to push the practice forward and be part of that movement, because it means a lot to me on a personal level but it's also a great opportunity to do something meaningful for the region as well.
My biggest challenge has always been how self-critical I am. When you study architecture you always end up pulling late nights and you're never satisfied with the end product — you always feel like you could do more. I had to gradually learn that you have to stop at some point.
What benefited me was mentorship. I had the founder of our company, Rod Sheard and our Managing Director EMEA, Christopher Lee, and the other directors were amazingly supportive in helping me develop. I was lucky enough to be at the right place at the right time, but I also worked hard for it. I think part of it was also being from the Middle East, it gave me a different point of view, and I voiced that point of view, which gave them food for thought as well. Initially we thought: what does being a female architect in the Middle East mean? It actually helps you stand out even more; it's a misconception that it might be a detriment. You are respected for what you bring to the table, not for your background.
One of the things I have been trying to do at Populous since becoming a board member is introduce a lot of new training schemes. We have a training initiative where the more junior staff are taught by senior staff on things like running projects and practice, and more technical skills, leadership skills. We've also introduced the personal development budget. Every employee has a budget to go and do what they think will help them within the practice. We have a couple of people doing stand-up comedy because it helps them become more comfortable speaking in front of people; it's a stepping stone towards helping them to feel more comfortable presenting and speaking to clients.
I've also been doing the global design reviews for the practice, so getting people comfortable having their work critiqued, that's very important, because architecture is a very collaborative process. It's trying to make sure that everyone feels included. It's not just for the architectural and technical staff, it's for everyone within the practice: from administration, to HR, to finance.
Practices and the industry at large need to showcase their BAME architects to illustrate that we are an accessible and forward-thinking sector. You have amazing architects like Sir David Adjaye, who are global ambassadors for that, but as a sector, we have to do more. There are a lot of great BAME initiatives out there, like the Stephen Lawrence Foundation, which supports young people of BAME backgrounds to become architects through funding and mentoring. We should promote more of that within the industry as well. The best teams are the most diverse ones, and that is diversity in all of its forms. Having diverse project teams can only enrich projects; bringing different perspectives is so important to creating a rich scheme that meets the needs of everyone who uses it, especially with the types of large public assembly buildings we do.
What advice would I give myself? I think I could pause a bit more and appreciate what I've done. Making sure you learn from your peers is important. I'd probably ask more questions, and I think people should voice their thoughts or voice an opinion. Rest assured that your hard work will be rewarded."