16 October 2019
Interviewed here for our BAME Award Winners campaign, Director of Our Building Design, Tumpa Husna Yasmin Fellows was named a RIBAJ Rising Star in 2017.
"When I started studying architecture, I absolutely loved the course, but it was hard for me to make friends in the architecture department. It was very noticeable that people grouped together in their ethnic background. It was hard to find non-white students because there were only a handful of them. I started joining societies and through that I made loads of friends who were studying other subjects. As I studied more, I realised that there's a division between the students even at that early age. I think it's a survival mechanism — when you're in a new atmosphere people tend to stick with what they're used to.
When I started working, it was great; I had great support, and really good exposure to architectural practice. When I did my Part 3, I started to realise that I wasn't receiving the same level of support and opportunities as others. For whatever reason, I was held back from attending important client meetings or meetings where I could represent the firm I was working for. Instead, someone who wasn't involved — usually a white male — would represent me, and that used to really bug me. I moved practices and that helped me to position myself in the right environment where I could build a strong career and where I could be challenged with a good high level of responsibilities."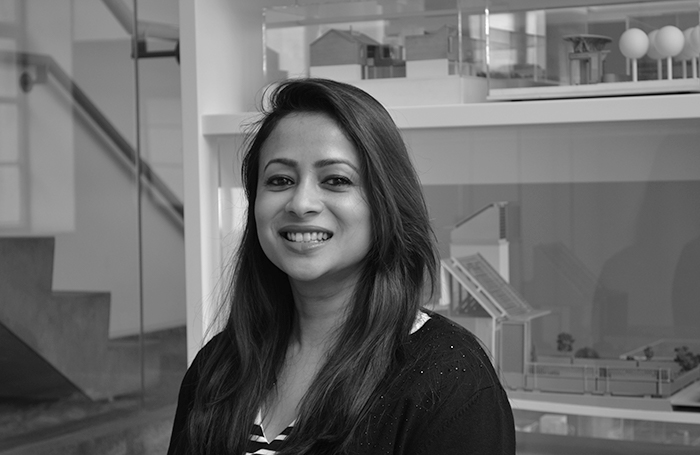 "I started my own charity to create the opportunity for me to do work that would benefit the disadvantaged. I am proud of the fact that I co-founded the UK-based charity Mannan Foundation Trust, which is a platform for transdisciplinary and collective contributions. It's a platform for various professionals to come together to help low income communities. One of our completed community-focused projects in a remote village in Bangladesh is the Rajapur Community Building for Women's Literacy and Healthcare. It addresses women's health issues in rural Bangladesh, the empowerment of women, the lack of literacy, etc. This project enabled us to devise alternative community participatory methods, including setting-out the building at 1:1 as a live design tool; local appraisals of construction types; and a domestic brick-making programme generating income for skilled local women.
It was important to create these opportunities to give a voice to those who don't have a voice in that social structure, challenging the social hierarchy. Now we're looking at our current projects that are addressing the changing climate along with social transformation, in high risk areas, working with low income communities in Bangladesh. Our research highlights that they go hand in hand; the unequal distribution of responsibilities are imposed on low income communities and there is a greater burden on women in these communities to respond to the threats of extreme climate. It's the unfair distribution of responsibilities that people have to take on the burden of climate change. Architectural design is a crucial tool to reimagine an alternative for us and address the climate crisis faced by the most vulnerable communities."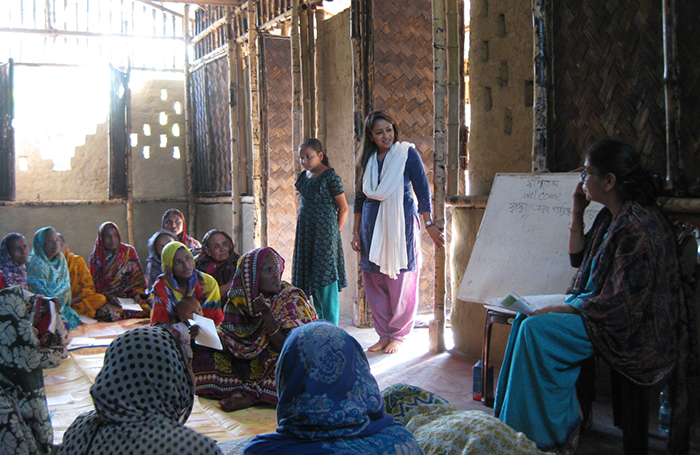 "The person I would like to thank for mentoring me is Emeritus professor Christine Hawley, my university tutor during my MA in architecture at The Bartlett. We kept in touch since I left university and we would meet once or twice a year and I would share my ambitions and the challenges I faced at work. She would understand my vision and provide the support I needed at the time. I admire her achievements as a practitioner and as an academic, despite the challenges she has faced in her career as a female architect. Knowing how she has overcome these was extremely encouraging for me when I was facing challenges at my own work.
Winning a RIBA Award gets you noticed, and it validates your talent. It's given me a great boost in confidence to take on the next challenges in my career and to start my practice, teaching and a practice-based PhD. I'm a big advocate of sharing my practice-based research, because I think it's important to share and disseminate some of these largely 'unspoken' and very local methods and networks of knowledge, to assist in building support systems for the most vulnerable to enable self-sufficiency and resilience, to adapt to the changing climate - particularly in Bangladesh. It is important to share what you've found so that others in the same field benefit from it, and that benefit can have a ripple effect. The sharing of research provides a valuable contribution to the knowledge for international professional designers who interact with local communities on the ground, particularly in the unique situations which form part of the global picture of the climate crisis.
One idea I have is for some sort of compulsory requirement for RIBA Chartered Practices where senior management attend RIBA workshops which raise awareness of the issues faced by BAME architects. I think that some of the senior management in the offices I've worked in weren't aware of what was going on. These kinds of workshops would raise awareness of the difficulties BAME architects face and there should be a requirement of membership to demonstrate a commitment to take action to improve representation in practice."