01 October 2021
This summer we were delighted to partner with architecture student blog :scale to offer a free place courtesy of RIBA Future Architects on their new two week live online course :scale Studio. Our participating student was Caoimhe Sweeney, who is currently studying for her RIBA Part 1 at Liverpool John Moores University.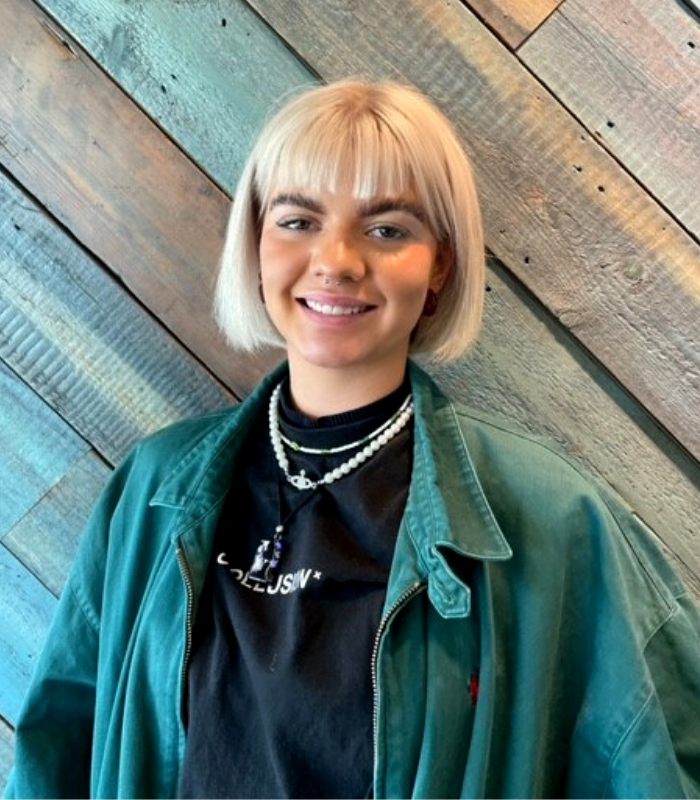 Caoimhe, what's your journey into architecture looked like so far? What inspired you to study?
My favourite subjects at school were geography, art, technical graphics and maths. Teachers pushed me to go for fine art for many years in school, but I always know that deep down architecture was the one for me. Ireland's culture, architecture and landscape helped me in my decision. From a young age, I always appreciated architecture and was drawn to the workings and influence a space has on your mood. Architecture also opened my eyes to the influence we can have on climate change and protecting our natural landscape.
Originally, I wanted to study in Ireland, but I was many points short to do so. I didn't get any offers; I was lost and devastated. It took a few months to get my motivation back, but one online course later (Cambridge Online Education) and many months of travelling across Asia and Europe, saw me on my way to Liverpool John Moores University with a community scholarship in hand.
That year changed my attitude to architecture, and I realised just how much I wanted to be in the studio. I've never looked back since and I've loved every second of it. Overall, I think if you want something bad enough, there will always be a way.
What issues do you believe are the most important for architecture students today?
COVID-19 has really made me realise the importance of living as part of a community and embracing different cultures. Human communication and creating connections are so important and should be something to embrace in all design.
This last year I have felt a stronger connection to the architecture student community. There has been a greater online presence for all students – from asking questions, to tips on more efficient working and general support. I felt that this architecture student presence, especially through platforms such as Instagram, really contributed to a somewhat studio environment. I've been particularly inspired by Thomas Rowntree (@tomrowstudios) and Sana Tabassum (@to.scale) as they have really helped to break down student life, job hunting and the aspects of studying architecture that university does not teach you.
I also think human connection to the environment will have a large impact on our future. The climate crisis is a constant battle that needs to be our main objective – it's our future and I feel I need to play my part in protecting it.
The future of architecture looks complicated, but as architecture students, if we wanted easy, we wouldn't have chosen this career path.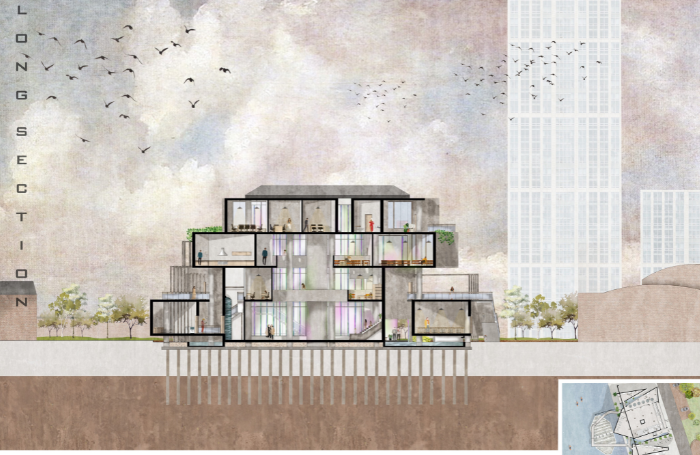 You recently took part in :scale Studio, a two week online course designed to develop your skills and implement habits that will prepare you for your architectural career. What were your top takeaways from the course?
I was thrilled to be selected to take part in the first ever :scale Studio by one of my online inspirations @to.scale. I was aware that the objective of the course was to give us insight into vital skills that you would not necessarily learn through a traditional university experience, but I was not expecting to take away from the course the values that I did. Meeting 20+ students, teachers and advocates from across the world was an amazing experience.
Here are my top three tips for future architects:
"Finding your why" and presenting with confidence
On the first few days of the course, we went through the topic of presenting and language. These are skills that I had never been taught in university, which I find strange as good communication skills are vital to our career progression.
In order to connect with an audience, we were taught to always start with why. Humans tend to be compelled by their reasons for doing something and need that sense of purpose as motivation. We studied a TED talk by Simon Sinek which goes into more depth about the importance of why when presenting – I believe it would benefit every architecture student to watch it.
:scale Studio taught me a lot about the power of values and the importance of presenting your own values as a person and as a designer in your presentations.
Learn more:
Practice is everything
When it comes to learning software or drawing skills, practice is key. If you don't know where to start, take advice from your tutors or those in the year above. Software such as Sketchup and Adobe programs are valuable to learn if you want your work to stand out.
Learn more:
Understand the job application journey
:scale Studio offered many modules on job hunting as an architecture student. We covered the power of the elevator pitch to help you articulate your value, CV writing and presenting, mock job interviews, the importance of building your LinkedIn presence and tips on portfolio creation through both online systems and traditional physical portfolios.
Learning to articulate your value and also knowing the value of the practice you're applying for is a vital skill. Combining and comparing your values with those of an architecture practice you're applying for will help you to decide if you are suited to work there, and also allow you to tailor your CV and portfolio so that it stands out at interview. Be aware of your own value, realise your achievements and celebrate them, no matter how small.
Learn more: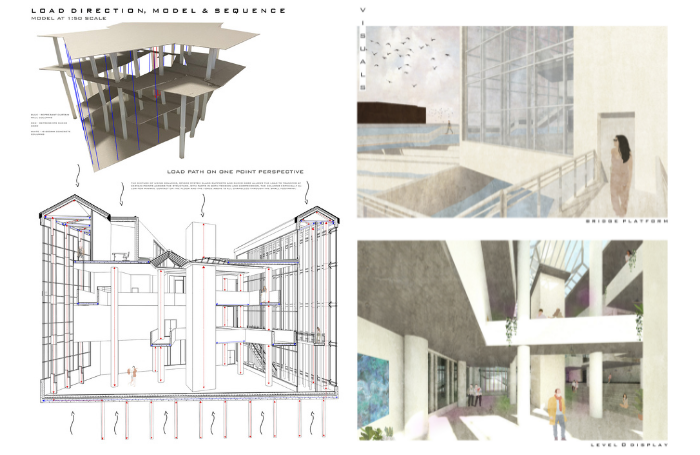 Tell us about a project you're most proud of. Where can we go to find out more about your work?
My end of year project was titled 'Seeing Water in a Different Light'. My design included a modern water treatment facility in the unused docklands of Liverpool, supplying mineralised and chemical free drinking water to the local community. The treatment involves reusing water from the docklands and using sand as a filtration method. Parabens are killed in highly oxygenated glass rods and UV light is used to kill parasites, proving more effective than any chemical. The treatment of water takes place in a constant loop, replicating the natural water cycle.
This project challenged me in many ways and has been a highlight of my architectural journey so far. You can view more about this project on my website.
Want to keep up to date with Caoimhe's work? Follow her on Instagram @caoimhe_architecture_.
RIBA Future Architects is a network and a community for future and emerging architects, designed to support, inspire and provide a voice as you transition from study to practice. Join us as a RIBA Student Member or view our resources.