06 June 2017
An interactive installation to encourage unity, a portable dining space for refugees, an optical viewing device, and a project that links communities either side of Belfast's Peace Wall will be exhibited in Liverpool and London next month as the result of the RIBA Beyond Borders open call.
As part of its International Week (3 to 7 July), the RIBA invited architects to propose ideas that reach beyond borders. Four selected architects will now work with the RIBA Young People's Forum to develop and build site-specific installations. The projects that have been selected and will be exhibited next month are:
Humanity is Unity by Doing Bits Studio
RIBA North, Liverpool
4 July to 17 September
Doing Bits Studio's project is an interactive installation, developed with local asylum seekers and refugees, as a symbol of inclusivity and social integration. Visitors are encouraged to weave coloured fabric through the structure, allowing the installation to develop over the course of the exhibition period. Gradually, an entangled and evolving symbol of acceptance, integration and unity is produced. Once deconstructed, the installation will be unwoven and the material utilised to run a series of craft activities for asylum seekers and refugees.
Interface to Place – a process of transforming a 'Peace Wall' by MMAS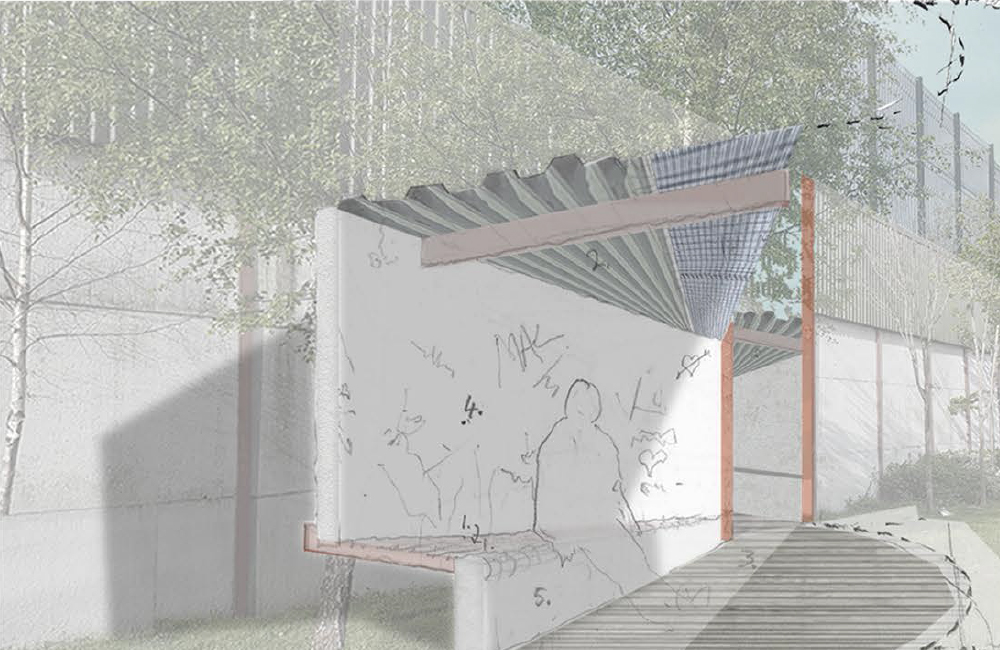 RIBA, London, W1
3 July to 17 September
Designed to be situated at any interface structure in Northern Ireland, MMAS proposes adapting a section of wall into a pair of gates-come-benches that open to create a public space straddling the divide between neighbourhoods, some separated for several generations. The project corresponds with the government's strategic commitment to remove the interface structures by 2023. MMAS are currently working with communities at an interface in one area to develop their design idea. A documentation of their progress will be shown at the RIBA.
The Periscopic Pavilion by Max Dewdney Architects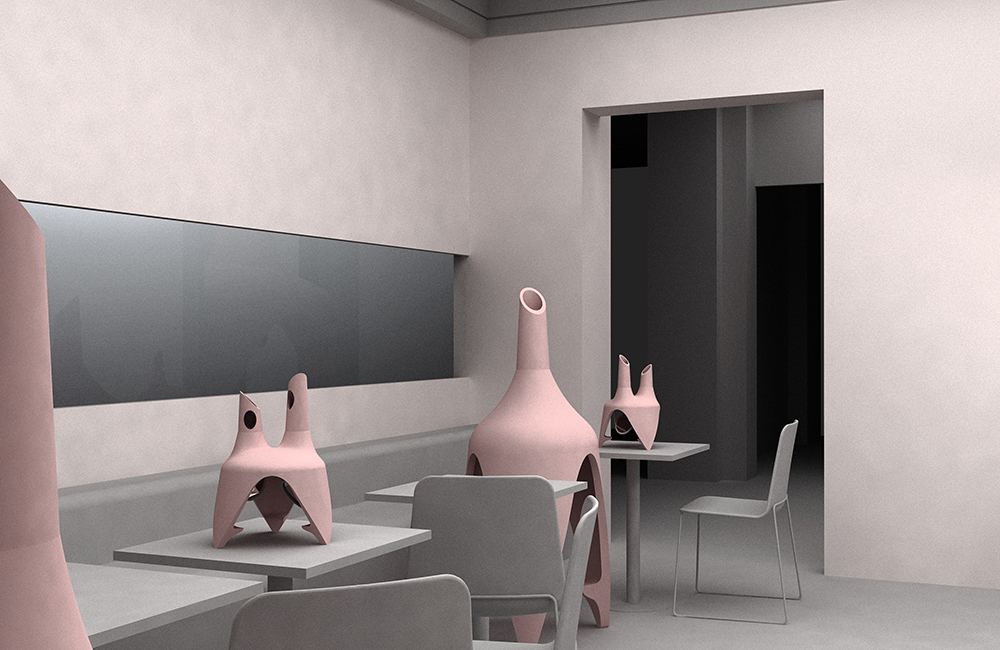 RIBA, London, W1
3 July to 17 September
The pavilion provides an intimate space with three periscopic viewing chimneys to look beyond physical boundaries, allowing visitors to see the world in new and unexpected ways. The concept of 'looking beyond' refers to both military instruments and to an unexpected form, aiming to challenge expectations of space and consider how perception is vital tool of understanding physical, political and cultural boundaries. It is intended that the pavilion will be semi-permanently installed at the University of Greenwich after September.
The Refugees and Befriending Project by Merrett Houmøller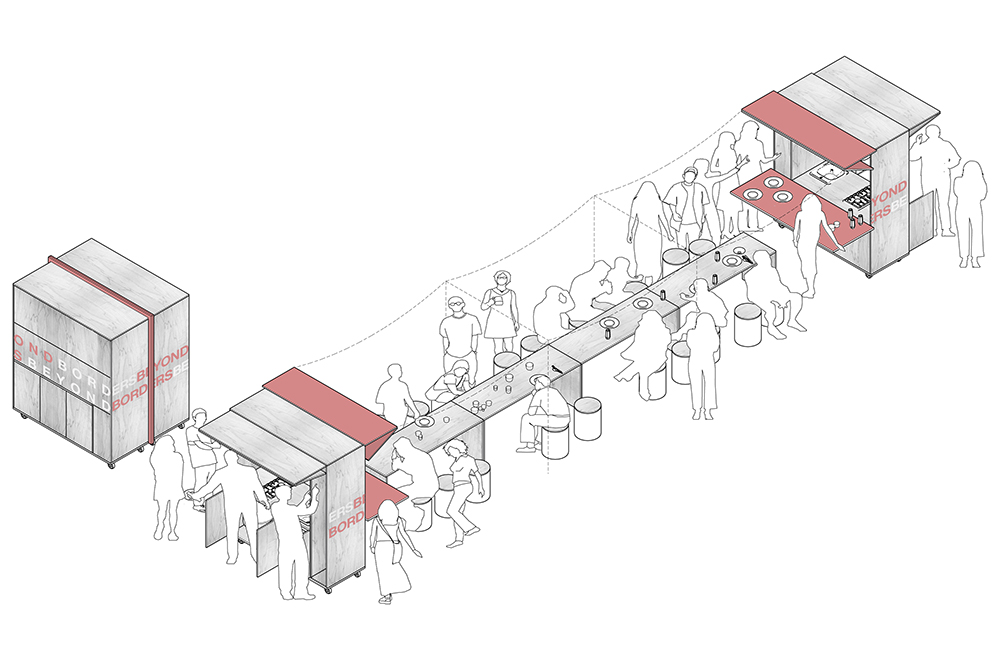 RIBA, London, W1
3 July to 17 September
This project brings vulnerable young people together who have crossed borders to get to the UK. Facilitated by British Red Cross volunteers and staff, the outdoor packaway unit provides space for young asylum seekers and refugees in the UK to gather, to cook and eat a meal, as well as the chance to have fun, build confidence and improve their English. Using mealtimes as a starting point, it attempts to address the shared tensions, aspirations and debate that surrounds immigration and the global refugee crisis. The mobile unit is designed to move between communities following its installation at the RIBA.
RIBA Exhibition Curator, Anna Holsgrove said: "Architecture encourages an exchange of ideas and promotes the sharing of languages, tools and technologies. These projects were chosen because of the imaginative way in which they soften or remove the physical and psychological borders that can divide society. We hope they will provoke debate and inspire new ways of engaging with architectural ideas in London and Liverpool."
RIBA Late
July 3, 6pm to 10pm
FREE entry (registration essential)
The Beyond Borders installations will be launched with a RIBA Late event during RIBA International Week on the evening of 3 July at RIBA HQ in London. The evening will take an experimental format, featuring events ranging from film to performance, with open bars and live DJs. The Beacon of Light, a specially commissioned interactive installation by Dessi Lyutakova, which signifies the invisible force of the UK economy that drives the country, will also be on display.
Beyond Borders Exhibition, 7 to 25 June 2017
53-55 East Street, Elephant and Castle, SE17 2DJ
Thursday - Sunday 12pm-7pm, (preview Wednesday 7 June, from 6pm-9pm)
Eleven commended responses to the RIBA's open call will feature in this exhibition of images and small models, as part of London Festival of Architecture. In partnership with the Peabody Trust, architecture practice Studio Gil and community group Carnaval del Pueblo are developing three vacant shop units on East Street in Elephant and Castle. One of these units will become the temporary exhibition space for the Beyond Borders exhibition featuring work by:
WUH Architecture
Erin Poppy Whalley
Intervention Architecture
Studio MORGENWIRDSBESSER
PUG
Studio Cullen Williams & Benjamin Kee
ENDS
Notes to editors:
If you are a member of the press requiring further information contact the RIBA Press Office:
pressoffice@riba.org | 020 7580 5533
Further information about the open call is available here:
The RIBA is a registered charity and it relies on the generosity of individuals, companies, trusts and foundations to preserve its world-class collections, to maintain free public access to its exhibitions and develop a diverse and exciting public events programme.
Architecture Open is sponsored by Cosentino.
The selection panel was:
Rachael Davidson – Associate Director, HUT Architecture
Suzy Jones – Director, RIBA North
Marie Bak Mortensen – Head of Exhibitions, RIBA
Rebecca Roke – Architecture writer
Susanne Tutsch – Erect Architecture (2016 winner)
Chris Bryant – Director, Alma-nac and Chair of RIBA Small Practice Group