BIM in Wolves, the first event of the new RIBA West Midlands BIM Expo series, saw a dozen BIM architects and architectural technologists present to over 150 built environment professionals and architecture and design students at the University of Wolverhampton. Through this series, the RIBA aims to educate, inform and showcase work from talented BIM Managers from across the West Midlands.
Below, Anthony Woodsford of Corstorphine + Wright discusses his experience at the event.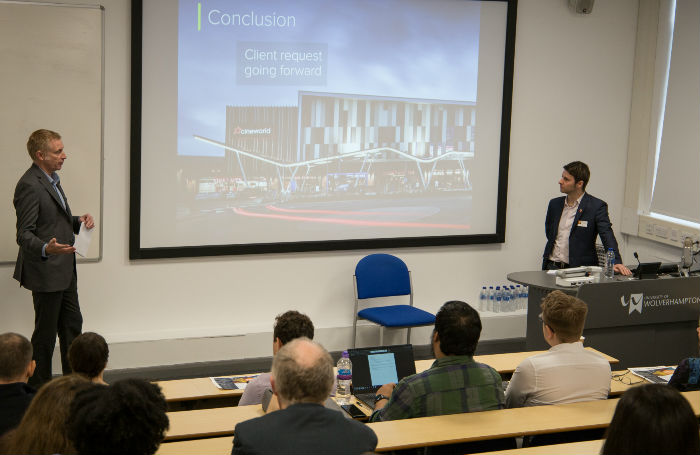 "On 7 November 2018, I attended the BIM in Wolves event at Wolverhampton University to give a talk on BIM-sceptical clients. It included methods on how we convinced the client BIM could benefit them, and how to ensure buy-in from the design team and contractor. We received some great feedback from students and practitioners alike - so a good job done. A massive thanks for our graphic designer for compiling and carrying out the creation of our slideshow, and a big thanks to Simon Crosby, one of our directors, who took part in the talk with me.
I always enjoy these types of events as I get to catch up with counterparts and specialists from other companies. Plus, it's a chance to see what technologies they are utilising, and if they find them successful.
One thing that was very noticeable was the push from industry specialists to simplify BIM to the non-initiated. Acronyms and complicated (on the surface) workflows seem to be holding back BIM's integration as 'business as usual' in practices, especially in smaller or SME practices, due to software costs and training.
Lydia Moth from Architype gave a great simplified presentation of what BIM is in general terms, and how it's not as intimidating as it may first appear.
I then attended Derek Lawrence from Arup's presentation on Simplified BIM when built. This was a great look at how to give the client what they need, not what they think they want. If you get chance to see this, then I highly recommend it. There's even a look into what his mum has been up to (it's relevant, believe me).
One presentation I was eager to get to was by Alexa Woodward from Glancy Nicholls about BIM in historic building environments. This is one presentation that I've been trying to see for ages, and I found it was worth the wait. It was a really interesting look at how using the right technologies, and the learning curves with these methods are relevant.
Unfortunately, due to both presenting and the split rooms, I didn't get to see all the presentations. However, the method works well, with everyone being able to attend workshops that may meet their needs or interests, rather than a single set agenda.
In conclusion, the event was well set up, and had some great speakers on, where I learnt some new ideas to incorporate into Corstorphine + Wright's workflows. Thanks to Conor from the RIBA and Olive from Wolves Uni, and also the rest of the team for arranging the event."
To keep up to date on all announcements you can follow @ribawestmids and @archeducate on Twitter.
Contact the organiser: Conor Nolan, RIBA Project Manager.