24 September 2020
With the recent rise of remote working, the attractions of well-designed homes and places have once again come into focus. But what are the building blocks of place-based identity and how can we support its creation in new settlements?
This blog post, part of a series published for the Future Place programme, discusses strategies for embedding good design into new neighbourhoods. Drawing on insights from the award-winning Northstowe development in Cambridge, it explores strategies for creating great places in new settlements.
Creating new neighbourhoods
Creating great places and well-designed homes where people want to live is at the core of Homes England's mission. We are committed to showing leadership on design in the sector and are using our powers, influence and expertise to drive up the quality and pace of development.
Our ambition is to create new neighbourhoods that are well planned, respond to the context of their surroundings, complementing the local character or forming a distinctive character of their own and, most crucially, serve the practical needs of their communities.
We are committed to working with housebuilders, local planning authorities, developers, landowners, MHCLG and the wider housing industry to promote better designed and higher quality homes, challenge orthodoxy and build better homes, faster.
Building momentum
Change of this scale takes time, but momentum is building behind the work the agency is undertaking, and we are partnering on some innovative and impactful schemes that show what can be achieved in collaboration with developers who are committed to creating great places.
As Homes England relies on its partners to build the homes the country needs, we work with people and organisations from across the housing industry to ensure homes delivered in conjunction with us are well designed, with usable green/blue spaces and the facilities communities need to thrive.
We adopted the Building for Life 12 (BfL12) principles in 2019 as a design quality assessment tool to benchmark good design through our land programmes, embedding them into our conversations with partners from the very start and throughout the lifespan of a project.
We have learned a great deal through the adoption of the principles and have implemented new tender processes to ensure consistency. Where our land is being developed by our partners, they are required to demonstrate how design has been considered and applied on all projects, and detailed layouts are assessed against the BfL12 criteria.
Assessing and delivering design quality
A design quality threshold is set for each disposal project. Through the tendering process, we use the BfL12 tool to assess schemes and offer comment and guidance to unsuccessful bidders – as well as improve the quality of the chosen scheme from outline to reserved matters consent.
This focus on design flows through every stage of development and forms part of our collaboration with development partners. The assessment tool is not used merely as a checklist at the end of the process. We contractualise design proposals along with other commitments, such as pace and modern methods of construction, to ensure there is no loss of quality between tender proposal and completion of the development.
We are constantly reviewing mechanisms to control design quality. Most sites are sold under a lease, requiring compliance with the design as agreed at bid stage. Any amendments to the scheme require approval. On some sites, particularly large-scale sites, we agree a design code which is a contractual requirement as well as a planning requirement.
We are also working to implement regular design review sessions at key milestones in the pre-application programme. This approach not only embeds quality but also builds confidence and credibility around the scheme with the local planning authority and can streamline the planning decision process.
Building for a healthy life
As part of our work to lead and challenge the sector, we recently supported the launch of Building for a Healthy Life, produced by Design for Homes, the latest iteration of Building for Life 12. This version has been written in partnership with NHS England and NHS Improvement, with input from Homes England and MHCLG.
This new assessment tool is designed to help promote healthy living through the design quality of new neighbourhoods, in terms of the way they look and function, and raises the consideration of creating walkable, sustainable places. The marked improvement in design quality coming from bidders has been extremely encouraging and some truly outstanding schemes have been selected.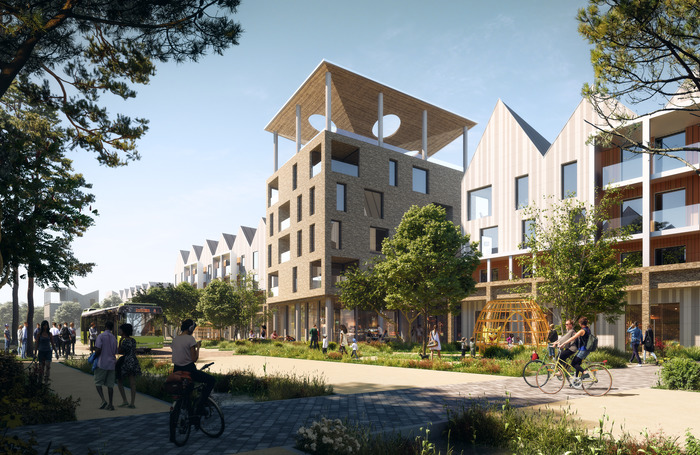 An award-winning development
One of those schemes delivering outstanding design quality in practice is Inholm, a new neighbourhood which has been created as part of the Northstowe development near Cambridge. As one of Homes England's strategic sites, Northstowe is England's most ambitious new town project since Milton Keynes and will eventually grow to a community of 10,000 homes.
Inholm is a sustainable urban neighbourhood of 406 mixed-tenure homes that sets pioneering townscape design principles for the wider new town of Northstowe. The new neighbourhood, which won a Housing Design Award this year, was master planned by Proctor and Matthews and was one of the first schemes to benefit from the implementation of Building for Life 12, the industry standard for the design of new housing developments.
Phase 2 of Northstowe was granted outline planning permission in January 2017 and provides 3,500 homes, a town centre and associated facilities. Masterplan principles were captured in parameter plans covering; land use, movement, landscape and open space, building heights, and density.
A holistic approach to place
A Healthy Living and Youth & Play Strategy has been established for the whole of Phase 2. A hybrid planning application was submitted comprising of reserved matters for 406 dwellings including affordable housing provision, non-residential floorspace, landscaping, open space and associated infrastructure.
The mixed-tenure homes at Inholm will be precision-built offsite using modular construction. Proctor and Matthews, together with Shedkm, are collaborating with regeneration specialist Urban Splash to research and develop innovative flexible homes, cluster arrangements, and a contextually informed materials palette for the scheme, referencing local archaeology, historic fenland vernacular and craft traditions.
The settlement edge dwellings are configured to provide a distinctive neighbourhood boundary silhouette which is important in nurturing a sense of identity within the neighbourhood and establishing a strong relationship between the clear hierarchy of streets, mews and squares, and the greenway 'Healthy Living' landscape which surrounds it.
We are continuing to work with local planning authorities and our development partners to raise the design quality of these housing-led development schemes and are moving towards introducing similar design quality assessment processes into our affordable housing and investment programmes.
About the author
Leigh Johnson is Head of Design & Master Development at Homes England, having initially joined in January 2019 as Head of Garden Towns and Villages. In her role, Leigh heads up an expert team with the emphasis on design quality and placemaking, underpinned by robust design and a delivery strategy in line with objectives of unlocking land and ensuring more quality homes and places are built. Her design background, coupled with a strong commercial focus, complements her creative approach in acknowledging how places and spaces impact on people's lives and wellbeing.