Bridging the gap
05 April 2018
It is a well-known fact that women remain in a significant minority in the architecture profession: even though Part 1 students at undergraduate level now make up 49% of the intake, only 26% of Registered Architects are women.
There is, however, reason to remain optimistic that inequality and the gender pay gap are starting to be tackled, as an increasing number of women move into leadership positions in practice. According to the most recent RIBA Business Benchmarking survey, the proportion of partners, directors and sole principals that are women has increased from 16 to 19%.
Diversity is becoming a must-have rather than a nice-to-have option in the fast-changing sphere of work and practice, as outlined by Clare Devine, Executive Director of Strategy, Design and Innovation at the Design Council:
'Within the next ten years we will see unprecedented shifts in the working world. The fourth industrial revolution will see the rise in advanced robotics, autonomous transport and artificial intelligence and machine learning, radically changing our ways of working, working environments and career paths.
'The World Economic Forum has recognised this, identifying key skills for 2020 including complex problem solving, critical thinking, creativity, coordinating with others and emotional intelligence.
'The biggest shift we need is a cultural one, across the globe from start-up enterprises to corporates, businesses are realising the value of diversity at every level. We need to foster this in our profession and sector, driving diversity and with it retention and progression to ensure we are engaged, responsive and relevant to the challenges society faces in the 21st century.'
Clare was one of the 30 senior mentors who lent her ear and her expert guidance and advice at the RIBA Women Leaders' Speed Mentoring Evening at Portland Place in London on 22 March to delegates and members after a Future Leaders seminar.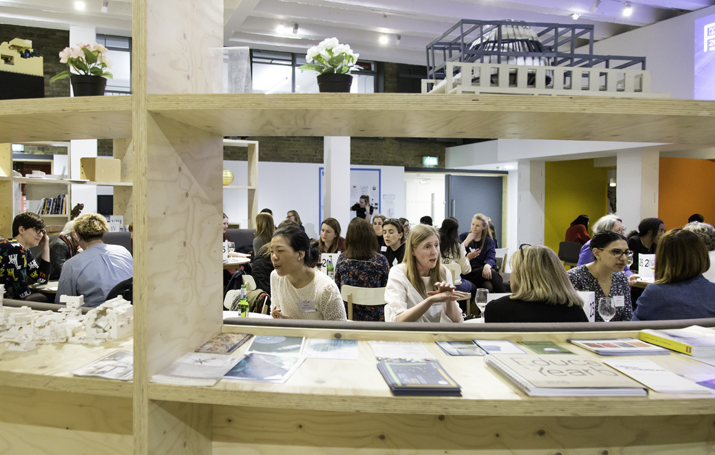 Caring responsibilities are commonly cited as a justification for the disparity in pay and position between men and women. One of the great strengths of mentoring, though, is that it recognises that people are different and so are the paths that they steer their professional careers.
Amanda Sexton, a Partner at employee-owned Make Architects, who completed her Part 3 just over a year ago, has been facing an all too common dilemma:
'My main challenge in the coming few years is to take the next step up in terms of project responsibility, and ideally run my own project, whilst also starting a family with my soon to be husband. Before the mentoring event, I felt that the two would be impossible to manage simultaneously, and I had that crushing feeling that I would end up having to stall my career development in order to fulfil the goals in my personal life.
'Through discussions with my three incredible mentors, I realised that I would be able to turn the hiatus in my career to an advantage. I now have a really clear vision of how to approach these next few critical years and my fears that a successful career and family life are mutually exclusive have been completely allayed.'
Kathy Basheva, founder and Director of Studio Basheva, a mentor at the event, describes the process of being able to help navigate someone else's life and career choices as an enriching experience that gives a new perspective on one's own challenges: 'It was incredible to see women of different ages and in different stages of their career consulting and seeking advice. We were all encouraged to share and support the growth of the person in front of us.'
'The questions asked could have been anywhere from the stage of the projects and their associated fees, setting up on your own and starting a family. The openness with which the mentees approached us asking for advice disclosed fragility and eagerness to learn and improve.'
The difference between individuals not only comes down to the varying route through practice that people choose, but also only too commonly how they perceive themselves. This is also something that mentoring can help to address, as highlighted by Amanda's colleague, Make Director Katy Ghahremani:
'The most common question that has come up in mentoring sessions is when mentees look around them in their workplace and see that they are different to others. This may be in their manner in meetings or the way they present an idea or project. They feel they need to copy their often more confident and louder colleagues. However, this difference is key to the creative process and needs to be celebrated rather than pushed out.'
For recently qualified Baldeep Heer, who works at Formation Architects, being surrounded by women leaders was a heartening experience, igniting her own ambitions: 'The event highlighted to me that there was a change in the number of women in senior and leadership roles and I told myself that this was where I wanted to be.'
Having access to female mentors in a male dominated industry is invaluable for women building their confidence in the workplace, as Anna-Lisa Pollock, Senior Architect at Penoyre & Prasad, testifies. For her, it has been the mentors prepared to ask hard questions that have helped her put into perspective what she values most and adjust her career goals accordingly.

Cindy Lau, Director at PLB Architecture, also welcomed the opportunity of meeting leading figures in architecture, such as Teresa Borsuk of PTE, Samantha Sandringham of the Architectural Association and Neena Thakkar of Rogers Stirk + Harbour at the event, and benefitting from their insight.
Jo McCafferty, Director at Levitt Bernstein, endorses this view by describing the event as buzzing with excitement and an uplifting experience for everyone involved.
As Clare Devine sums up: 'There is a community of knowledge, insight and expertise across our profession, with many people willing to give their time. Let's lever that spirit of generosity and inclusion to support us all, creating the profession we want and need.'
Thanks to: Clare Devine, Executive Director of Strategy, Design & Innovation, Design Council; Amanda Sexton, Partner, Make Architects; Kathy Basheva, Director, Studio Basheva; Katy Ghahremani, Director, Make Architects; Baldeep Heer, Architect, Formation Architects; Anna-Lisa Pollock, Senior Architect, Penoyre & Prasad; Cindy Lau, Director, PLB Architecture; Jo McCafferty, Director, Levitt Bernstein.
Text by Neal Morris. This is a Professional Feature edited by the RIBA Practice team. Send us your feedback and ideas
RIBA Core Curriculum Topic: Business, clients and services.
As part of the flexible RIBA CPD programme, Professional Features count as microlearning. See further information on the updated RIBA CPD Core Curriculum and on fulfilling your CPD requirements as an RIBA Chartered Member.
Posted on 5 April 2018.