12 October 2017
The huge global markets for gaming and smartphones have driven their technologies forward at such speed that other sectors are making their own great leaps forward just by hanging on to their coattails.
With a helping hand from cloud solutions, architects can now send design proposals and client pitches complete with high-resolution virtual reality (VR) walkthroughs for minimal investment in time, training and money. In fact, smart phones already look set to leapfrog dedicated VR headsets to bring immersive 3D models to clients and design team members.
Robert Sargent, director at Stride Treglown, had delegates looking at smartphone VR presentations at the RIBA's Smart Practice event in Bristol last week in a hands- on demonstration of how accessible VR has now become.
'Smartphones are becoming realistic alternatives to computer screens and raising the question of whether it is worth investing in VR helmets,' Sargent suggests.
Stride Treglown has live cloud-based VR client proposals right now that can be accessed either by a business-quality laptop – navigation via the mouse – or a smartphone with no special software beyond a browser – navigation by moving the smartphone around.
View a 3D panorama of Stride Treglown's UWE Bristol Business School produced with Enscape here.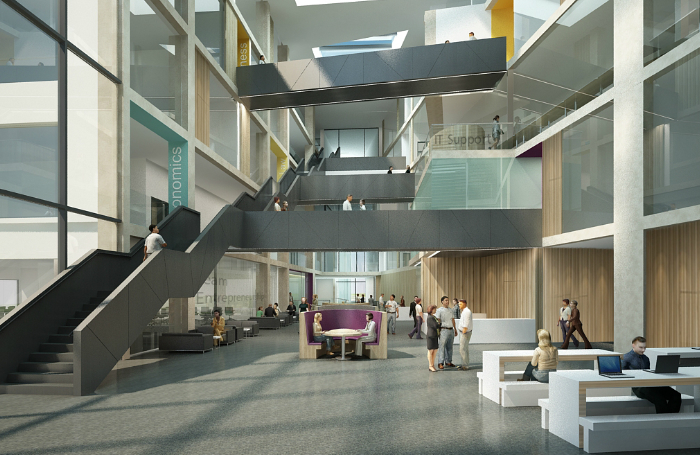 VR helmets are better, of course, and the investment is still relatively modest: around £500 for the Oculus Rift and £600 for HTC's Vive. But one needs to keep in mind that the costs dramatically increase into the thousands for the laptop or desktop with enough power to run them.
Samsung is already selling VR goggles to work with some of its latest smartphone models. For a tenner and upwards a smartphone VR headset can be purchased that simply holds a smartphone screen in place in front of one's eyes. It is not as crude as it sounds, because the quality of the image is limited only by the quality of the smartphone screen.
Viewing VR is one thing, creating immersive VR walkthroughs quite another, and only recently would have been farmed out to a specialist rendering and visualisation studio.
But this too has now been brought within reach of small practices with the arrival of easy-to-use rendering plug-ins for CAD software than can generate a 3D virtual walkthrough with a few clicks.
Sargent favours Enscape, a rendering plug-in that works with Revit and Sketchup which readily switches to a 3D view. Changes in Revit can be synched with Enscape, allowing renderings to be produced without extra effort during the design process, not only when complete.
Enscape VR presentations can be viewed on headsets such as the Oculus Rift, or via the internet (clients can be given a confidential link if required) on a laptop or PC with a quality processor and video card, or alternatively on a smartphone.
Architects can also generate a self-contained (.exe file) presentation that can be sent to anyone for viewing without their own Enscape setup and licence. If the client happens to be a gamer, they can even plug in their Xbox controller to walk around as if they are in a game environment.
Meanwhile the 'rising industry star' of CAD software plug-ins, according to Sargent, is Revizto. This can be used as a VR generator/viewer but is also an interactive design mark-up tool designed for BIM/CAD collaboration.
BIM/CAD models can be imported, with all BIM object data and linked files preserved. All members of a BIM team can share the navigable 3D model, assign and follow up tasks, and be updated on changes. Revizto's 'Issue Tracker' is its task tracking system that allows all project activities to be managed and accessed by the whole team.
'You can share the presentation and collaborate on it. You can use it on a flat screen in a meeting room, for instance, so it's a tool for discussion and collaboration. We've been using Revizto since it first came out, but now it's getting exciting,' says Sargent.
These new rendering and VR generator tools all claim to be readily usable by non-experts. They are all available for download on a free-trial basis and remain affordable if subsequently licensed. Sargent says the hardware is more of an initial outlay, as a high-end laptop with a good processor and video card are required to run VR smoothly.
But there is no question that VR presentations that until recently were the preserve of the biggest AEC heavyweights are now within reach of small practices. Sargent's advice to small practices is to get kitted up for a free trial and experience just how easy VR has become.
Thanks to Robert Sargent, director, Stride Treglown.
Text by Neal Morris. This is a 'Practice News' post edited by the RIBA Practice team. The team would like to hear your feedback and ideas for Practice News: practice@riba.org.
Posted on 12 October 2017.