Apprenticeships at CAM Architects
23 August 2019
RIBA East met with Jordan Smith, a 19-year-old Level 6 apprentice, and Kristian Molloy, architect at CAM Architects, in their offices off King Street in Norwich.
Jordan is a quiet and studious member of the team but Kristian explained that he's growing in confidence every day and is proving to be a very enthusiastic and dedicated member of CAM Architects.
Jordan is studying at London South Bank University and heads off to London one day a week. The rest of the time he's based in the office, close to where he lives.
"I see CAM Architects as a family, a nurturing and creative environment where I can learn from my colleagues who have so much experience," said Jordan. "I'm getting a much deeper understanding than college alone would offer me."
When asked about his background, Jordan smiled: "Well, I always loved playing the drums – but for A-Levels I took Design Technology, Music and Geography.
"I was not really sure what I wanted to do longer term, but I had a real interest in design and had gained CAD skills from my engineering-based course at City College in Norwich. But the apprenticeships available there were civil engineering-based courses aimed at general office duties – I didn't feel this was right for me. That was when fate intervened, and I met Evert."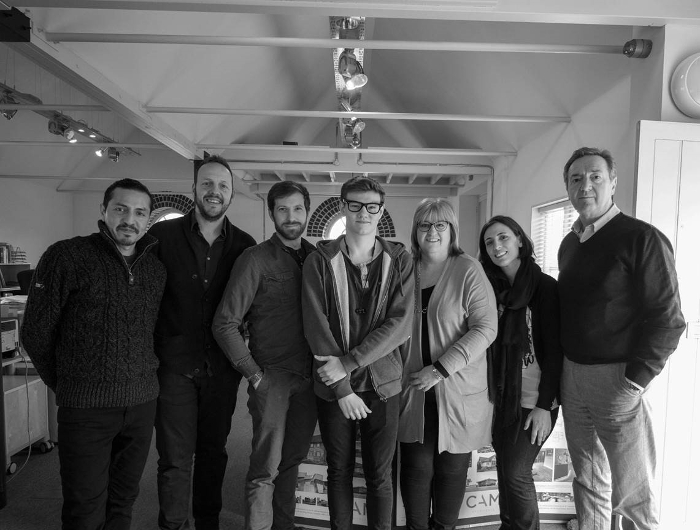 Evert is a Director with CAM Architects and he and Jordan got chatting when they were both attending a local karate club. It was clear to Evert that Jordan had a passion for architecture and he asked if he would be interested in an apprenticeship. The rest is history.
Jordan admits that he had to work really hard to push his application through in time, but that much of the admin of organising the apprenticeship was arranged online. CAM Architects offer a percentage contribution for travel and expenses and there is a combined contribution between government and practice for apprentice schemes to ensure that the learner and practice is helped and supported.
Jordan is enjoying university, but said he has to be very organised to juggle work and his course.
Kristian commented: "Jordan's doing really well. He's been involved with some very exciting projects and is being pushed to just the right level: we're really pleased to have him here and it's going so well that we're actually taking on another apprentice, Kate, in September. Kate chose to give up her half term during her A-Levels to gain some work experience with us. Kate so impressed the CAM team with her dedication and keenness to learn and grow that it felt like a natural progression for her to join us as a second apprentice.
"We see it as our responsibility to support the education of young architects and to help students to achieve, and what better way to do it than to become an apprentice.
"In the long run we'd be delighted if Jordan and Kate decide to stay with us, but either way, we're pleased to have them working with us for now and to be able to be a part of their journey."
When asked about college and timelines, Jordan became quite animated. "I have an organisation chart which has achievement timelines on it to help me to focus. It's pretty comprehensive - we had to print it off onto two A1 sheets and stick it together!
"One of my favourite projects so far was to redesign a pier on the Thames. I had to work hard on lots of detailed research and then prepare a presentation. I must say that I'm not very comfortable speaking in front of people, but I have time to work on my presentation skills and confidence and it's good to be challenged!"
Jordan explained that his course tutor is pushing hard to ensure that he works to the best of his abilities. 3D modelling seems to be an area in which he's excelling at the moment, and this is being encouraged.
Kristian admitted that having an apprentice was new to CAM Architects, but even though there was a steep learning curve, the process was not complicated and they were extremely glad they made the effort.
Kristian added: "We've always been the sort of practice which supports learning in all sorts of ways - with work experience students, colleges and universities, local community and education initiatives, so taking on an apprentice was a natural next step for us. We would definitely recommend that other practices try it!"
Jordan finished by telling us that his aspirations are to become a fully qualified architect. Initially he's looking forward to the time when he can work on a project on his own, but for now he's happy to be mentored by colleagues who have so many different biases in the profession. They're a close-knit team who take care of each other and what better place could there be for an aspiring architect to start out.
Find out more about apprenticeships in architecture.
CAM Architects
CAM Architects were founded in 1987 by university friends, one of whom was Ian Malton, Director at CAM. Their work includes a real mix of projects, from domestic extensions and loft conversions to schools, colleges, bars and medical centres and everything in between.
The office is open and welcoming, and each member of staff is invested in the ethos and soul of the practice. CAM Architects' growth has been organic and most staff have joined the practice by chance either by wandering through the door, CV in hand or via work experience. This has led to a warm, family atmosphere which clearly values each and every client.
Founding Director, Ian Malton has remained committed throughout. Ian's view of the future and understanding of how he wanted to the practice to develop has enabled them to come through some challenging times through recessions and dips in the market to arrive, positive but with a true sense of what it takes to survive and stay true to themselves as a practice.